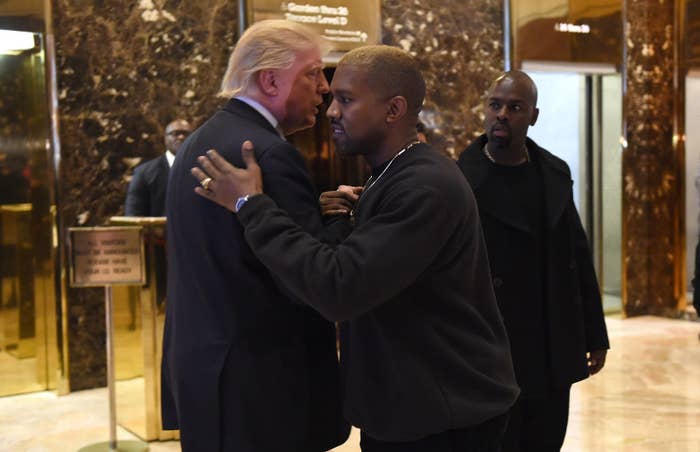 Kanye West is set to visit the White House Thursday to have lunch with President Trump and meet with his son-in-law and senior adviser Jared Kushner.
Press secretary Sarah Sanders said Trump and West will discuss manufacturing resurgence, prison reform, how to prevent gang violence, and what can be done to reduce violence in Chicago.
The rapper made headlines last month when he appeared as the musical guest on Saturday Night Live and went on a pro-Trump rant while wearing the president's signature red "Make American Great Again" hat.

"The blacks want always Democrats," West said. "You know it's like the plan they did, to take the fathers out the home and put them on welfare … Does anybody know about that? That's a Democratic plan."
The show was no longer broadcasting at the time, but comedian Chris Rock and others in the audience posted clips of the moment online.

"There's so many times I talk to, like, a white person about this and they say, 'How could you like Trump? He's racist.' Well, uh, if I was concerned about racism I would've moved out of America a long time ago," West said.
Trump then tweeted praise for West's SNL remarks, saying he was "leading the charge!"
The two previously met in December 2016 when West visited then president-elect Trump in New York.
"I wanted to meet with Trump today to discuss multicultural issues," West tweeted following that meeting. "I feel it is important to have a direct line of communication with our future President if we truly want change."

In April 2018, the rapper expanded on his newfound love for the president when he tweeted, "You don't have to agree with Trump but the mob can't make me not love him. We are both dragon energy. He is my brother. I love everyone. I don't agree with everything anyone does. That's what makes us individuals. And we have the right to independent thought."

West is not the only person in his household who has met with Trump.
Previously, Kim Kardashian West met with the president to discuss the pardoning of Alice Johnson, who was serving a life sentence for a first-time nonviolent drug offense.

On Monday, Trump blasted Taylor Swift for endorsing two Democrats in Tennessee, saying he liked her music "about 25% less now."
West famously interrupted Swift while she was accepting an award at the 2009 VMAs.