Judge Hears Arguments On Granting Chimpanzees Human Rights
A lawyer for the Nonhuman Rights Project argued that chimpanzees are "autonomous and self-determining beings."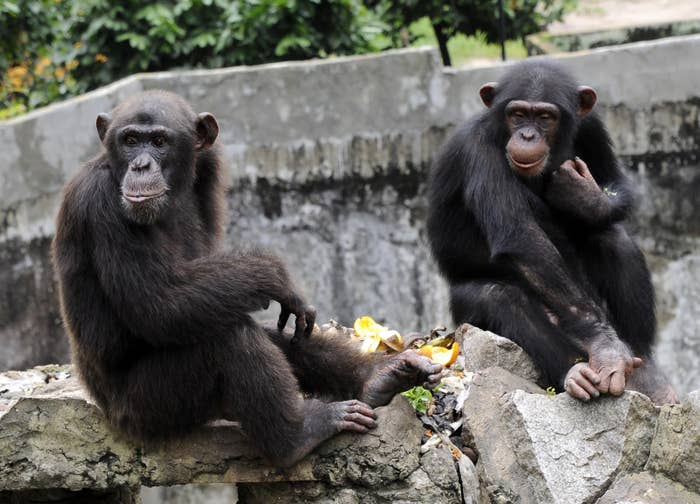 A New York City judge heard arguments over the rights of two chimpanzees, Hercules and Leo, that animal rights advocates hope to free from Stony Brook University.
Last month Manhattan Supreme Court Justice Barbara Jaffe granted a hearing on the chimpanzees' habeas corpus petition, leaving Stony Brook University to defend keeping them in captivity. Habeas corpus is a legal petition that detainees use to seek relief from unlawful imprisonment, and by granting habeas corpus to chimps, Jaffe endorsed the idea that they deserve the rights of human beings.
The chimpanzees are kept at the Long Island university, which is part of the State University of New York (SUNY) system, where they are used in locomotion studies.
Steven Wise, a lawyer for the Nonhuman Rights Project argued on Wednesday that chimpanzees are "autonomous and self-determining beings," that they have "personhood" rights.
"They are the kind of beings who can remember the past and plan for the future," Wise said in court as to why detaining the animals was wrong. "The chimpanzees are in prison, being exploited by Stony Brook, and they don't even know why they are there. We only do that for our worst criminals around us."
Wise later argued that Hercules and Leo are "essentially in solitary confinement, at the mercy of their keepers."
The state attorney general's office, who is representing SUNY, argued that the court should dismiss the petition because it should have been filed in Suffolk County and not in New York City.
Assistant Attorney General Christopher Coulston also said the petition should be dismissed because other court decisions have already ruled that chimpanzees do not have personhood rights.
"There is no precedent in nonhuman animals receiving this right," Coulston said.
He also said granting personhood rights to Hercules and Leo would create a "slippery slope" of where to draw the line on which animals are autonomous.
The Nonhuman Rights Project wants Hercules and Leo to be sent to Save the Chimps in Fort Pierce, Florida, where hundreds of other chimpanzees live in a sanctuary designed to replicate their natural habitat.
Jaffe did not make a ruling, and Hercules and Leo were not present during the almost two-hour hearing.
Similar cases have been filed for two other chimpanzees – Tommy, who lives in a cage on a used trailer lot in Gloversville, New York, and Kiko, who is held on a private property in Niagara Falls. Decisions are still pending in the New York Court of Appeals.