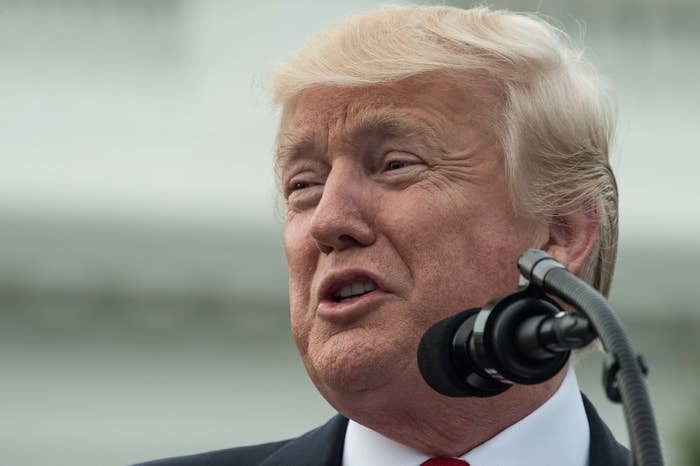 President Trump on Friday seemed to admit that he tweeted a threat about secretly recording his conversations with James Comey as a way to influence the former FBI director's testimony before members of Congress.
Fox News reporter Ainsley Earhardt asked Trump if his tweet about possibly recording Comey without his knowledge "was a smart way to make sure [Comey] stayed honest" during his congressional testimony.
"It wasn't very stupid, I can tell you that," Trump said.
(Remember that Trump's initial tweet about "tapes" on May 12, led Comey to leak his personal memos about conversations with the president, which didn't make Trump look good. Those memos, in turn, helped sparked the appointment of a special counsel, Robert Mueller, who is in part investigating whether Trump obstructed justice in the FBI's investigation into Russian interference in the 2016 election.)
In Friday's Fox News interview, Trump also suggested — in confusing language — that a third party, possibly another arm of the government, could have recorded the conversations without his or Comey's knowledge.
"But when [Comey] found out that I, you know, that there may be tapes out there, whether it's governmental tapes or anything else, and who knows, I think his story may have changed," Trump said.
Trump fired Comey on May 9. On May 10, Senate Intelligence Committee leaders invited Comey to testify about the circumstances of his firing — making headlines on cable news, which the President follows closely.

On May 12, Trump tweeted: "James Comey better hope that there are no 'tapes' of our conversations before he starts leaking to the press!"
After that, Trump and top White House aides repeatedly refused to provide a straightforward answer about whether tapes existed — until Thursday, when Trump finally admitted in two carefully-phrased tweets that he made no tapes of his meetings with Comey.
That's when he also introduced the new idea that a third party might have made recordings.
"With all of the recently reported electronic surveillance, intercepts, unmasking and illegal leaking of information, I have no idea......whether there are 'tapes' or recordings of my conversations with James Comey, but I did not make, and do not have, any such recordings," he tweeted.
The tweet had prompted the House Intelligence Committee, which is investigating Russian meddling in the election, to demand Trump turn over any secret recordings by June 23. On the day of the deadline, a White House aide sent a letter to the committee referencing Trump's tweets that he did not make any tapes.
Trump's top aides on Friday rushed to bolster Trump's comments. White House press secretary Sean Spicer said on Fox News that by bringing up the idea of tapes, Comey came to think, "I better be honest."
"The reality is that he wanted to make sure that the truth came out and by talking about something like tapes made ... Comey in particular think to himself, 'I better be honest, I better tell the truth about the circumstances regarding the situation,'" Spicer said.
And in an interview with CNN on Friday, Kellyanne Conway refused to say why it took Trump 42 days to admit that he knew he didn't record Comey, but also left open the possibility that recordings may exist.
"He answered definitively yesterday that he has not made such tapes ... but there could be," Conway said.
During his June 8 testimony before Congress, Comey said he kept memos of his conversations with Trump out of fear the president would lie about their meetings.

"I was honestly concerned he might lie about the nature of our meetings, so I thought it important to document," Comey said. "That combination of things I had never experienced before, but it led me to believe I gotta write it down and I gotta write it down in a detailed way."
"Look, I've seen the tweet about tapes. Lordy, I hope there are tapes," Comey added.
Trump did not provide a direct answer when asked if Mueller should recuse himself from the investigation because of his friendship with Comey, instead calling the special prosecutor's connection to the former FBI director "bothersome."
"I can say that the people that have been hired are all Hillary Clinton supporters," he said. "Some of them worked for Hillary Clinton. I mean the whole thing is ridiculous, if you want to know the truth."