Cop Who Staged Suicide After Stealing Also Suspected Of Trying To Arrange Hit On City Official
The death of Illinois Police Lt. Joe Gliniewicz set off a massive manhunt for the purported shooters. On Wednesday, officials deemed it a "carefully planned suicide" after seven years of theft.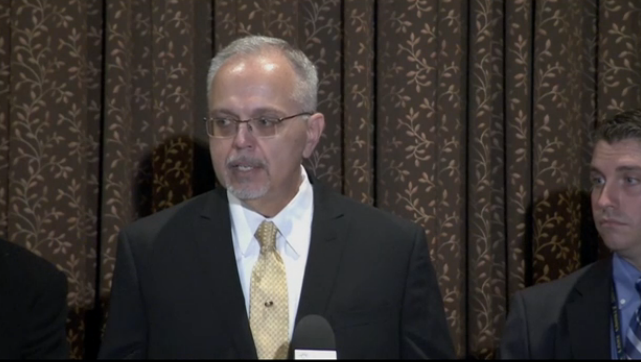 The death of Illinois Police Lt. Joe Gliniewicz was deemed a "carefully planned suicide" after he stole thousands of dollars from his police department for personal items over a period of seven years, Lake County Major Criminal Task Force Commander George Filenko said Wednesday.

"This staged suicide was the end result of extensive criminal acts that Gliniewicz had been committing," Filenko said.
Gliniewicz was found dead in September after radioing that he was stopping three suspects and that they were hostile. His death prompted a massive manhunt for the purported suspects, and dozens of law enforcement agencies became involved in the investigation.
But Gliniewicz had actually been stealing and laundering money from the police department for at least seven years, Filenko said. He reportedly stole from a police department program that mentored young people wanting to become police officers. He reportedly used the money for personal expenses, mortgage payments, facilitating personal loans, and adult websites.
Two other people are being investigated in connection to this criminal activity, but Filenko did not provide further details. Fox 32 later reported those people were Gliniewicz's wife and son.
The lieutenant's involvement in criminal activity was discovered by thousands of text messages recovered from his personal and work cell phones, emails, and bank statements.

"There are no winners here," Filenko said. "Gliniewicz committed the ultimate betrayal to the citizens he served and the law enforcement community."
Gliniewicz was under heavy stress believing that a routine audit of the police department would lead to his financial malfeasance, Filenko said. The audit was not looking into Gliniewicz's behavior prior to his death.
On Thursday, officials said Gliniewicz tried to arrange for a gang member to kill a police administrator because he feared she would discover his wrongdoings, according to the Associated Press. Gliniewicz apparently sent a text message to a woman asking her to arrange a meeting with a gang member.
Lake County Sheriff's Office spokesperson Christopher Covelli also told the AP that investigators found packets of cocaine in Gliniewicz's desk.
Filenko and the Lake County coroner said Gliniewicz appeared first to shoot himself to cause a nonfatal injury — the bullet hit his cell phone and lodged into his bulletproof vest. The second shot, which hit his upper left chest, was fatal.
Gliniewicz also set up the scene to make it look like a crime, Filenko said. When backup officers first arrived after Gliniewicz radioed for help, they found a canister of pepper spray with the safety taken off. A few feet away they discovered Gliniewicz's expandable baton and his glasses laying on the ground. That is where they also discovered a shell casing. Gliniewicz's body was discovered a few feet away, Filenko said.
"This is classical use of force continuum," Filenko said. "You start with physical presence, and you move on to weapon — the pepper spray, the baton — to make it seem like there was an ongoing struggle at the scene."
Filenko added that despite the scene, there was nothing to indicate a struggle occurred, adding that even in instances of minor force, an officer's uniform is likely to be disheveled, or a vest moved out of place.
"There are all sorts of indicators," he said, "but in this case there was none of that."
Read text messages found on Gliniewicz's cell phone:
Download PDF