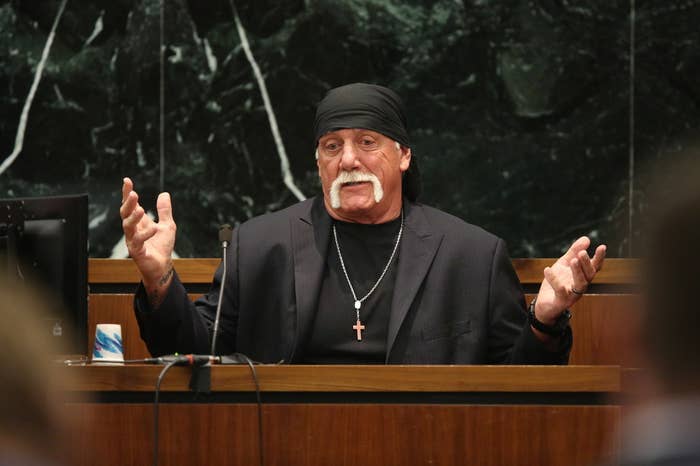 Hulk Hogan testified Tuesday that the sexually explicit interviews he did on TMZ and various radio shows — including discussing the length of his penis — were done in his wrestler persona and didn't reflect his real-life self.
After playing audio clips from the Bubba The Love Sponge Show and the Howard Stern Show where Hogan — whose real name is Terry Bollea — discussed his sex life, Gawker's lawyer, Michael Sullivan, asked the former wrestler if he in fact said those things.
"I do not have a 10-inch penis," Hogan said, referring to an interview he did in character. "Terry Bollea's penis is not 10 inches."
"I was totally Hulk Hogan [during the interviews] because I wasn't at home in my private house," Hogan said.
Hogan is suing Gawker Media for $100 million for publishing a video, without his consent, showing him having sex with Bubba The Love Sponge's wife, Heather Clem. It causes him "severe emotional distress and harm," his lawyers said, though Gawker's lawyers on Tuesday sought to portray Hogan as someone who was comfortable discussing his sexual escapades.
In the second day of trial, Hogan said "Hulk Hogan" gave up his privacy "as soon as he walked out the door." He insisted that the character he portrayed was a public figure, and that his real identity, Terry Bollea, is private.
He said that when conducting interviews, he took "artistic liberty" as his wrestler character. He said he embellished his stories, often exaggerating or sometimes lying.
The second witness to take the stand Tuesday was Hogan's former publicist, Jules Wortman, who said she booked her client on shows as Hulk Hogan and not Terry Bollea.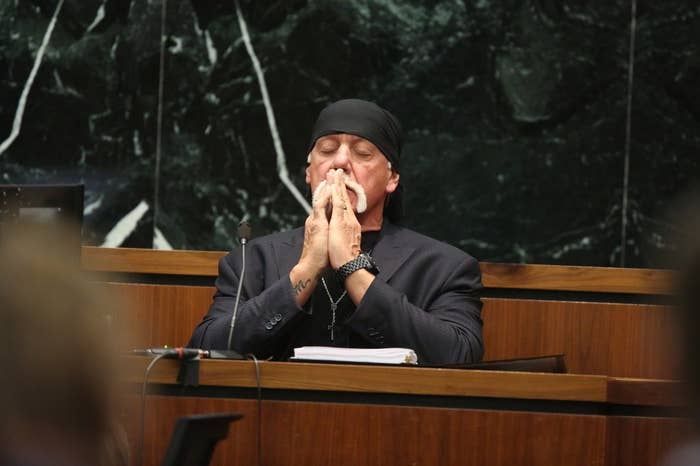 Hogan said he did not have an expectation of privacy for his character and didn't have a problem with media outlets discussing the existence of a sex tape.
He said it was when Gawker posted a 90-second clip of the tape his "life was turned upside down."
"I never had a problem with the article," Hogan testified. "My problem is the videotape. It's on the Internet. It lives forever."
Hogan reiterated what he said in court yesterday, that he suffered and felt humiliated once the tape was released.
" I haven't been able to get myself back up since the Gawker sex tape," Hogan said. "I'm not the same person since all this craziness happened."