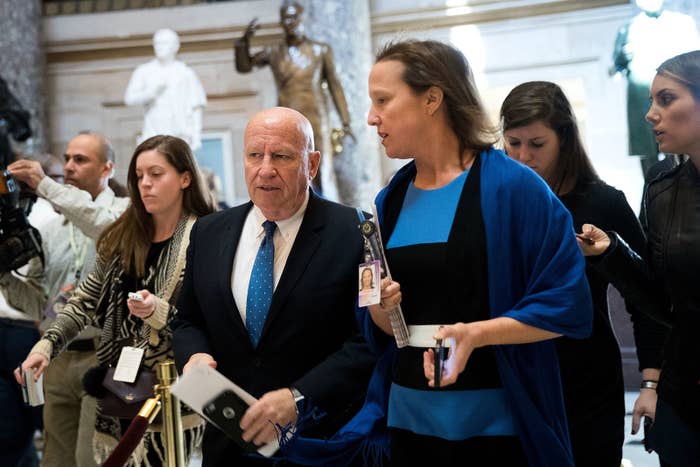 Senior officials at the Centers for Medicare and Medicaid Services received an email in late January from a House Ways and Means Committee staffer informing them that communication between the two government entities belongs to the committee — and are therefore not subject to Freedom of Information Act requests, BuzzFeed News has learned.

This is the second such letter that has come to light. On Thursday, BuzzFeed News exclusively reported that the chairman of the House Committee on Financial services sent a similar letter last month to the head of the Treasury Department.
"The fact that this is happening in respect to more than one government agency and more than one [congressional] committee is troubling, really, because if Congress doesn't want certain things to be subject to FOIA, there's a way to do that, and that's to change the law," Adam Marshall, attorney for the Reporters Committee for Freedom of Press said.

CMS, a sub-agency of Health and Human Services, received the notice by email from House Committee on Ways and Means staffer Nicholas Uehlecke. According to the email viewed by BuzzFeed News, Uehlecke was letting the CMS staffers know that a signature block will now be added to emails from committee members.

"Hey hey - so Just FYI — going forward just so you are not surprised — the below signature block will be rolling with our emails to Agency as a response to the stuff this week. Fun right? Hope you all had a better week than me — and happy weekend," Uehlecke wrote.

Uehlecke did not immediately respond to a request for comment. Messages to CMS, Health and Human Services, the White House, and the House Committee on Ways and Means were not immediately returned.
The email also included the text to be added to email signatures, which states that all correspondence between the two offices will remain in the committee's control.
"This document and any related documents, notes, drafts and final legislation, recommendations, reports, or other materials generated by the Members or staff of the Committee on Ways and Means are records of the Committee, remain subject to Committee's control, and are entrusted to your agency only for use in handling this matter. Any such documents created or compiled by an agency in connection with response to this Committee document or any related Committee communications, included but not limited to any replies to the Committee, are also records of the Committee and remain subject to the Committee's control. Accordingly, the aforementioned documents are not "agency records" for purposes of the Freedom of Information Act or other law.
The letter sent to the Treasury, on official committee letterhead, states that since the Committee on Financial Services has legislative and oversight jurisdiction over the department, all records of communication between the two offices and any documents produced remain the committee's control — even when in the physical possession of the Treasury Department.

The Freedom of Information Act ensures that any person has the right to request access to federal agency records or information. There are a number of exemption categories that allow an agency to withhold information including personnel and medical files and if the records are classified, among others.

While Congress itself is exempt from FOIA, its correspondence with agencies is subject to disclosure and is commonly requested through the Freedom of Information Act. By trying to retain ownership of the records, the committees are attempting to classify the communication and documents to be congressional records.
"FOIA exists to ensure that the American public knows what the executive branch is up to," Marshall. "To the extent that individual committees within Congress are taking steps to interfere with the mandate of disclosure, that raises serious questions for the American public as to why these requests for secrecy are being made.
If you work for a congressional committee or a government agency and have sent or received a note about declining FOIA requests, email maryann.g@buzzfeed.com or contact BuzzFeed News securely and anonymously here.