This is Peter Thiel, a Silicon Valley billionaire who co-founded PayPal and was one of the earliest investors in Facebook.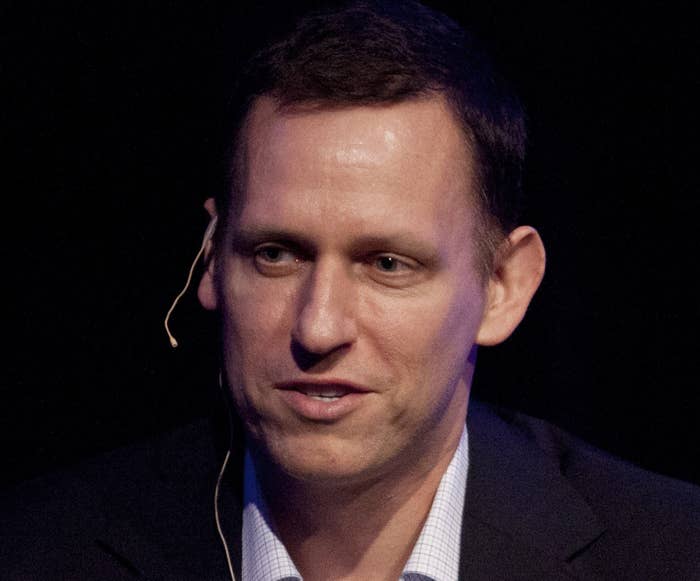 Oh, he also founded three venture capital firms — Founders Fund, Mithril, and Valar — and the secretive data analysis startup Palantir.
Thiel, a self-described libertarian, was also named a California delegate for Republican presidential nominee Donald Trump earlier this month.
He stirred controversy in 2009 when he penned a column that seemed to suggest it was a mistake to give women the right to vote, writing:
Since 1920, the vast increase in welfare beneficiaries and the extension of the franchise to women — two constituencies that are notoriously tough for libertarians — have rendered the notion of "capitalist democracy" into an oxymoron.
He later updated his post, saying he does not want to "disenfranchise" women:
It would be absurd to suggest that women's votes will be taken away or that this would solve the political problems that vex us. While I don't think any class of people should be disenfranchised, I have little hope that voting will make things better.
In 2007, Valleywag, a former Gawker Media blog both revered and reviled for its reporting on Silicon Valley and its major players, published an article headlined "Peter Thiel Is Totally Gay, People."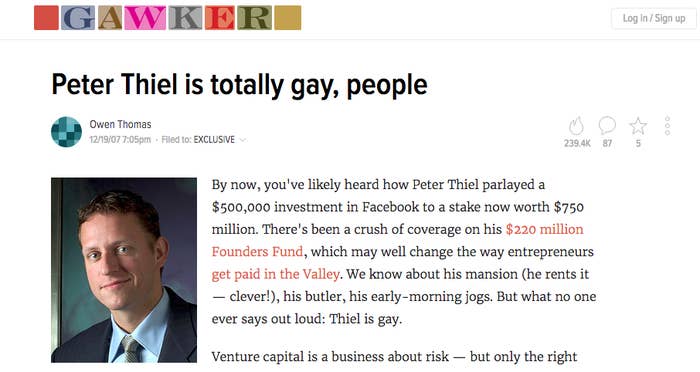 The blog post suggested that Thiel kept his sexuality a secret because the tech industry is run by straight, white men.
One of the first comments under the post was by Gawker founder Nick Denton, who questioned why Thiel would be so paranoid about revealing his sexuality.
"[Thiel] was so paranoid that, when I was looking into the story, a year ago, I got a series of messages relaying the destruction that would rain down on me, and various innocent civilians caught in the crossfire, if a story ever ran," Denton wrote.
According to a profile in The New Yorker, Thiel came out to his friends in 2003 and has been public about his sexual orientation since 2010.
Owen Thomas, the former editor of Valleywag, who authored the post on Thiel, insists he did not out the tech billionaire.
"I did discuss his sexuality, but it was known to a wide circle who felt that it was not fit for discussion beyond that circle," Thomas recently told the New York Times. "I thought that attitude was retrograde and homophobic, and that informed my reporting. I believe that he was out and not in the closet."
Over the years, Gawker has written a number of unflattering stories about Thiel, including pieces spanning 2008 through 2011 about his now-defunct hedge fund, Clarium Capital Management.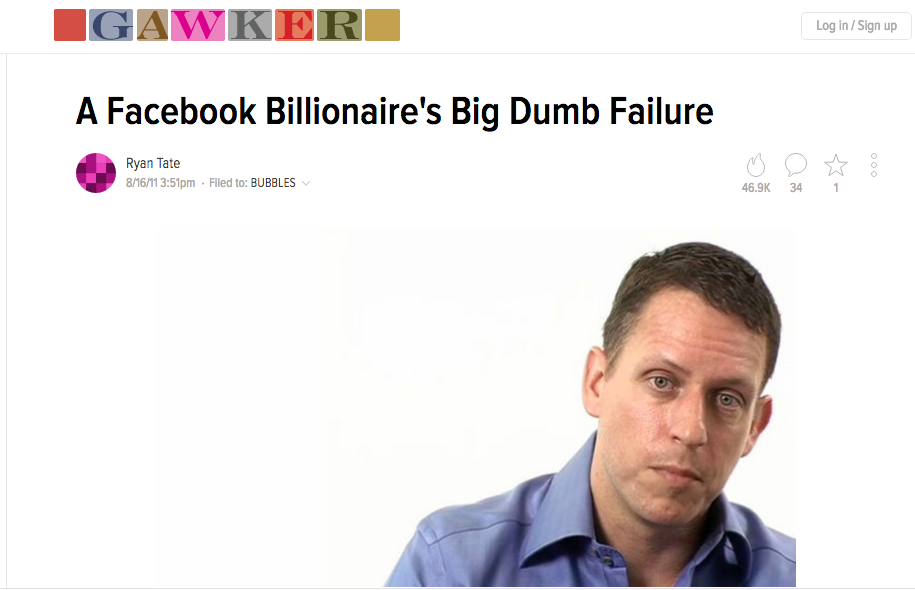 And Thiel made it very clear he was not a fan of Valleywag. In 2009, he told a PE Hub reporter that the blog "is the Silicon Valley equivalent of Al Qaeda ... I think they should be described as terrorists, not as writers or reporters."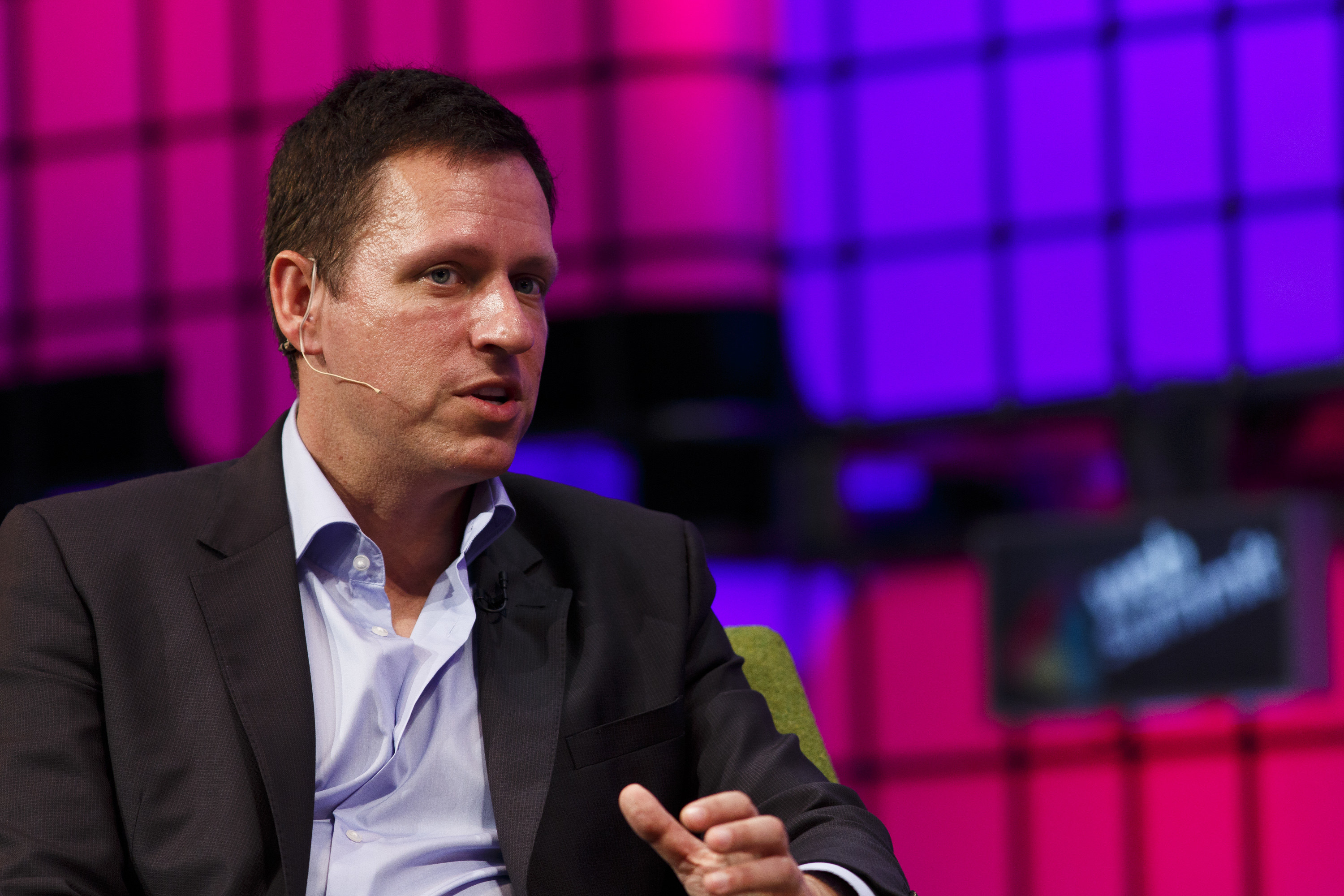 But Thiel has supported some journalists. That same year, the Committee to Protect Journalists — a nonprofit which, among other things, funds legal expenses for journalists who are facing prosecution for their reporting — announced that Thiel had donated a "substantial" amount of money.
Fast-forward to 2012: Gawker obtained and published footage of pro wrestling legend Hulk Hogan having sex with the wife of his best friend at the time, Bubba the Love Sponge. The edited clip was posted under the headline "Even for a Minute, Watching Hulk Hogan Have Sex in a Canopy Bed is Not Safe For Work but Watch It Anyway."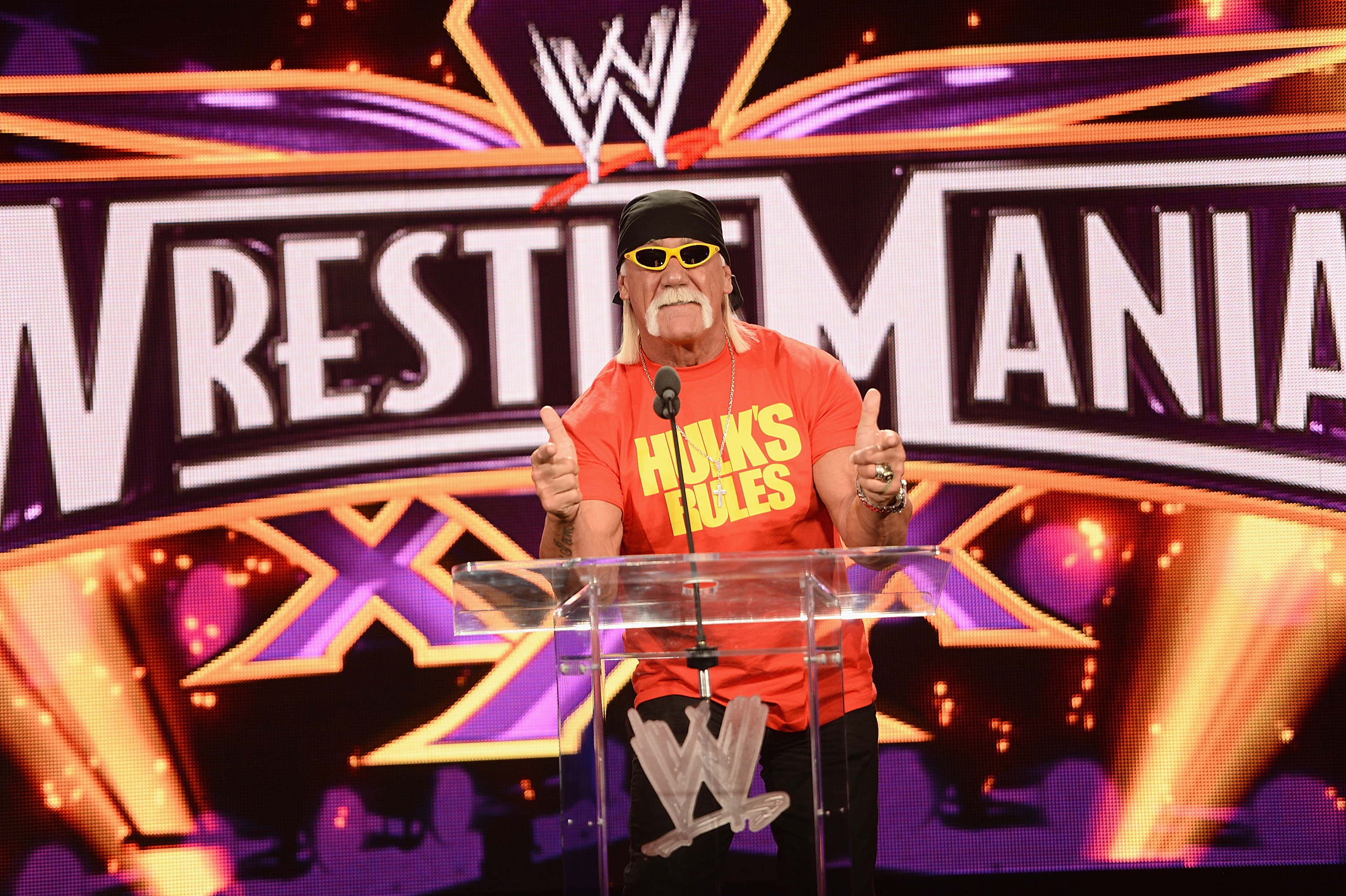 This ignited a fierce legal battle between Hogan, who claimed that his privacy was invaded and demanded $100 million in damages, and Gawker, which defended itself as a champion of the First Amendment.
The parties battled it out in a Florida court for more than three years — and that was before the actual trial began. It exploded into several different cases — some in state and some in federal court — which included Hogan's working with the FBI to set up a sting on the alleged sex tape broker.
The trial was set to begin in July 2015 but was postponed days before jury section began due to a legal technicality.
The trial finally began in March 2016, and Hogan took the stand to testify. He said he "was completely humiliated" by the sex tape.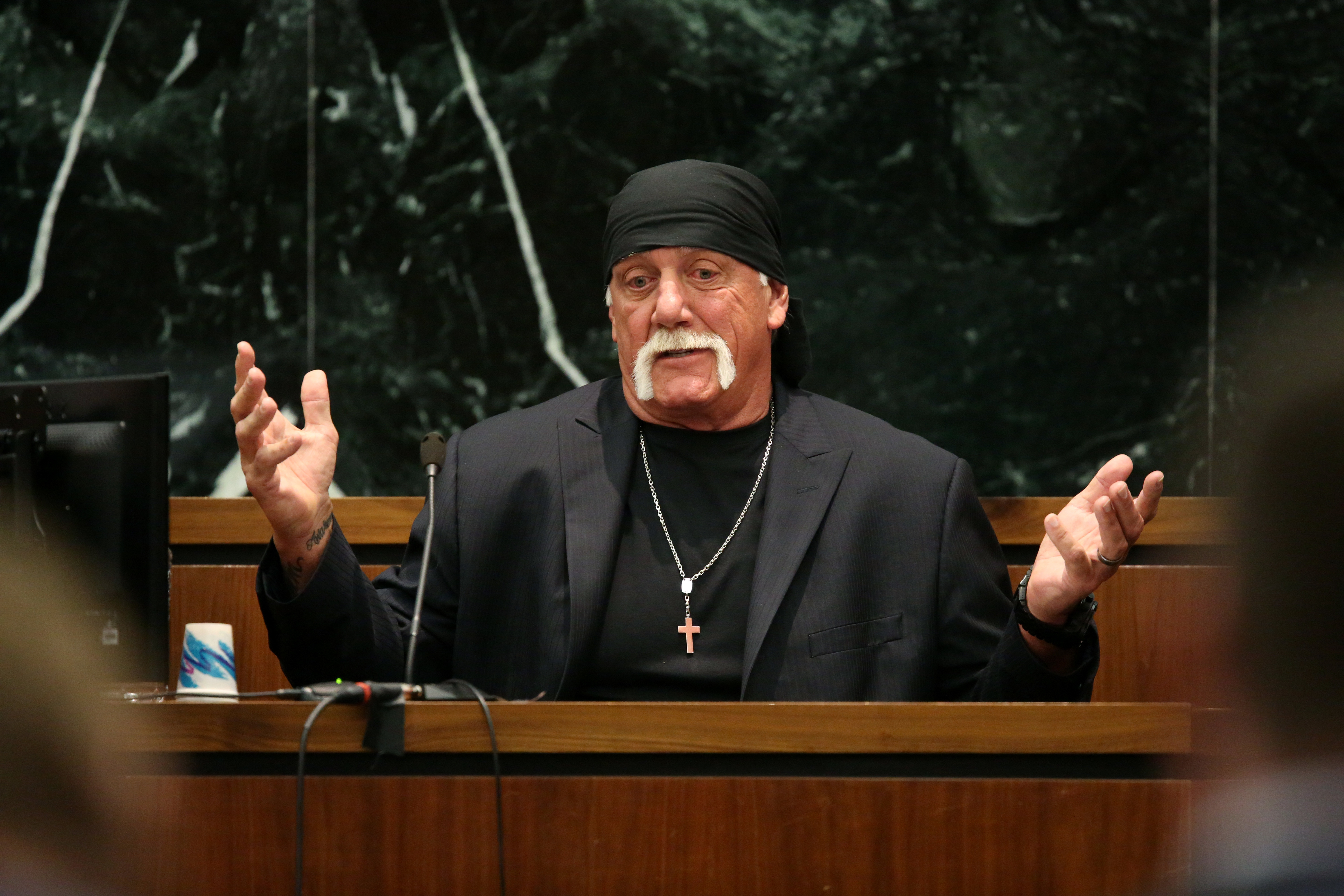 The three-week trial was a doozy. Denton and AJ Daulerio — the former Gawker editor who posted the video — claimed Hogan's personal life was fair game because he had openly discussed his sex life in graphic detail on radio and television programs.
Hogan testified he was in character during those interviews and embellished things that were not true — like when he claimed he had a 10-inch penis. Terry Bollea, Hogan's real name and persona, he said, is more modestly endowed.
Let's do that math: $115 million + $25 million = $140 million. That's $40 million more than what Hogan initially sued for.
In the punitive damages, Gawker was ordered to pay $15 million, Denton was ordered to pay $10 million, and Daulerio, who is $27,000 in debt, was ordered to pay $100,000. Gawker's lawyers said they will appeal the verdict.
Rumors swirled during the trial that a secret benefactor was footing Hogan's legal bills — Denton initially dismissed them as conspiracy theories.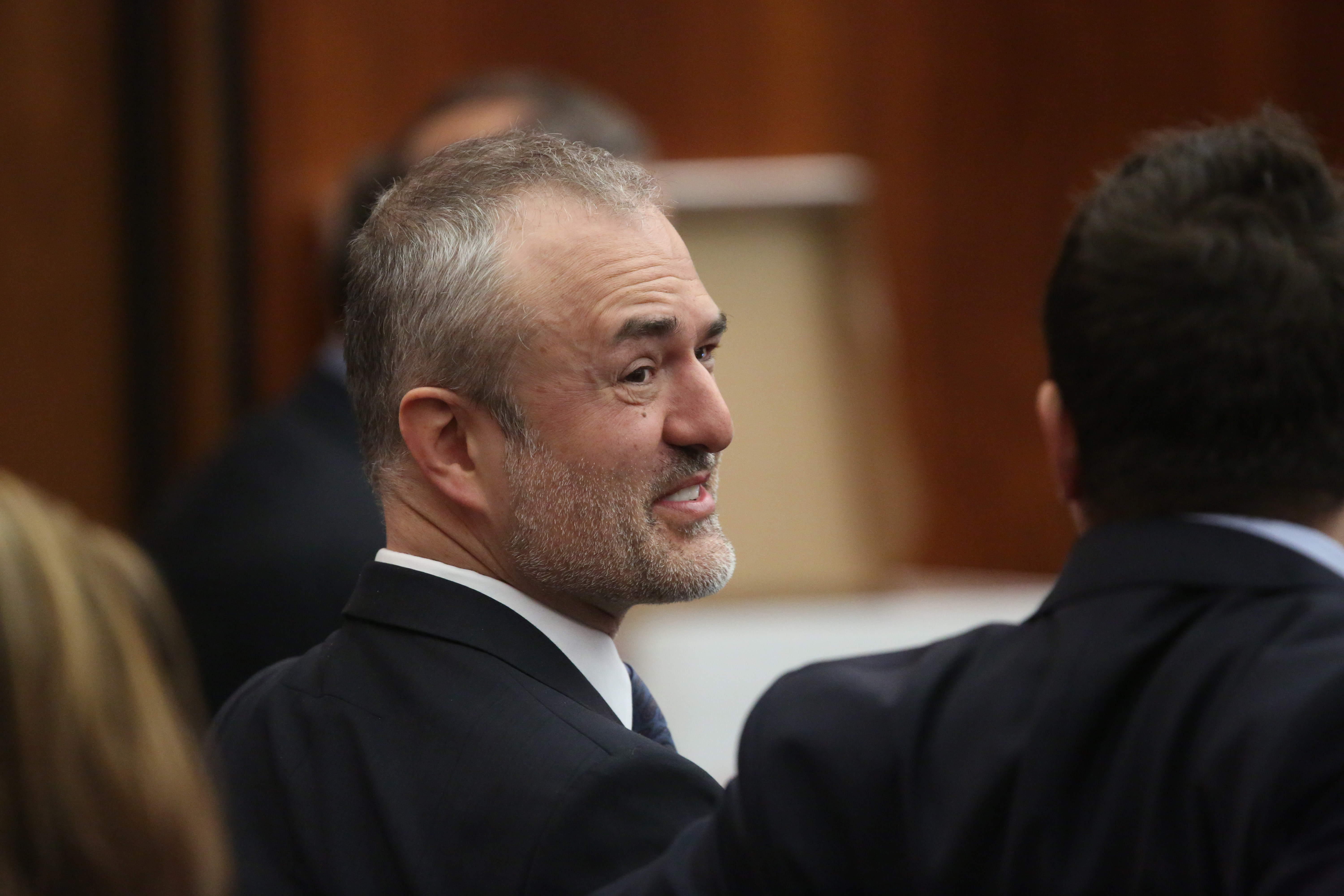 But Denton became suspicious, according to the New York Times, when Hogan's lawyers dropped a claim for negligent infliction of emotional distress — which would have allowed Gawker's insurance company to help pay for damages. This was an unusual move: Most plaintiffs would hope to reach deep into insurers' wallets.
Earlier this week, Denton said he suspected someone in Silicon Valley was bankrolling the suit — and a day later it was revealed that Thiel was that person.
So, here we are, having come full circle on this almost decade-long battle.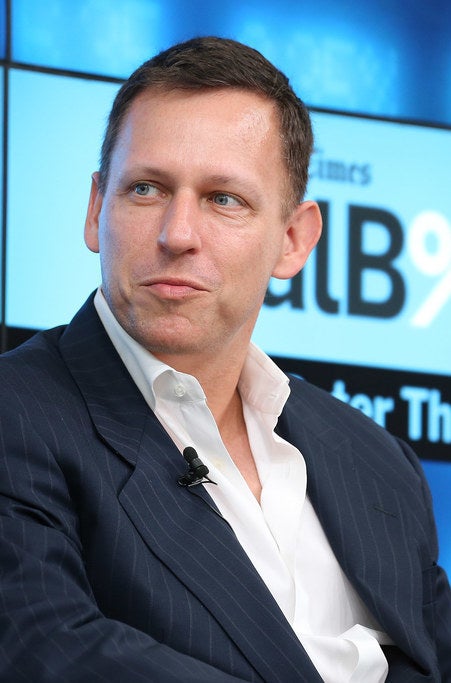 In an interview with the Times on Thursday, Thiel said Gawker "ruined people's lives for no reason," and that several years ago he began funding a team of lawyers to find and help "victims" of Gawker.
"We would get in touch with the plaintiffs who otherwise would have accepted a pittance for a settlement, and they were obviously quite happy to have this sort of support," Thiel told the Times.
He also told the Times that one friend in particular urged him to take action. While many have speculated that friend is Sean Parker, the creator of Napster and first Facebook president said it's not him.
"I didn't know he was doing this until very recently," Parker told BuzzFeed News in a text message.
He estimates that he has spent approximately $10 million so far in the Hogan suit.
Thiel did not elaborate on which other cases he has helped fund but said "it's less about revenge and more about specific deterrence."
Thiel said that financially backing cases against Gawker is "one of my greater philanthropic things that I've done." Gawker has said it will appeal.
Gawker also said this week it wanted time to investigate Thiel's funding the lawsuit, but the judge said she will not rule until the media company files a motion.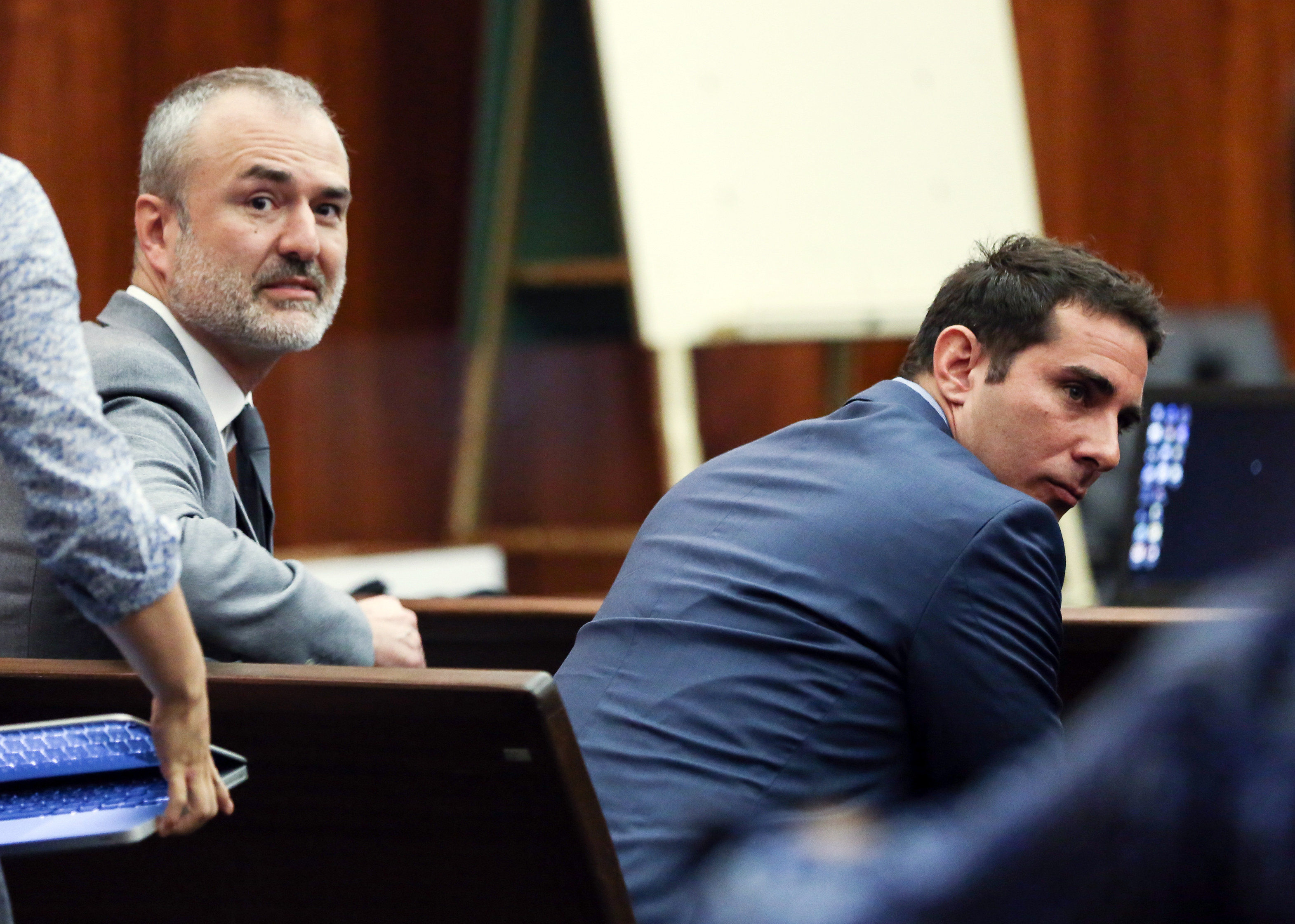 On Thursday, the Wall Street Journal and New York Post reported that Denton has begun looking into possibly selling the company.
According to the reports, Denton hired Houlihan Lokey media banker Mark Patricof to explore strategic options — including a sale. Denton now owns 68% of the company after bringing in an outside investor earlier this year to help cover the legal costs of the Hogan suit.
He sold a minority stake for $100 million to technology firm Columbus Nova Technology Partners.
Later Thursday, Denton threw cold water on those reports.
"Everyone take a breath," Gawker said in a statement. "We've had bankers engaged for quite some time given the need for contingency planning around Facebook board member Peter Thiel's revenge campaign — that's how the Columbus Nova investment was arranged. We recently engaged Mark Patricof to advise us and that seems to have stirred up some excitement, when the fact is that nothing is new."
Denton also penned an open letter Thursday, calling Thiel "a thin-skinned billionaire who, despite all the success and public recognition that a person could dream of, seethes over criticism and plots behind the scenes to tie up his opponents in litigation he can afford better than they."
Next month at Facebook's stockholder meeting, the company's CEO Mark Zuckerberg will be faced with a symbolic vote on Thiel, who is listed as being up for re-election on Facebook's preliminary proxy statement.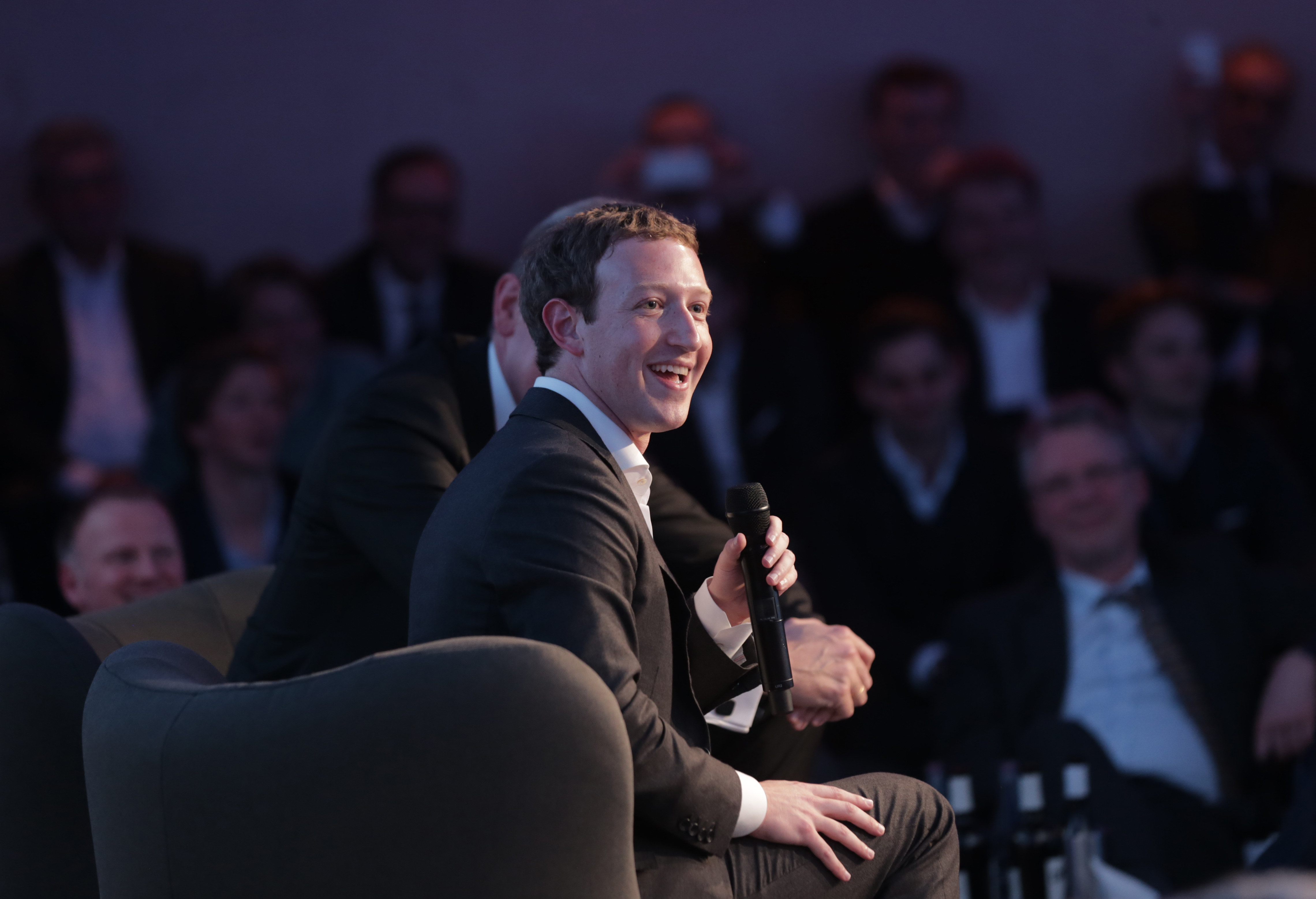 So far Zuckerberg has remained silent on his board member's actions. BuzzFeed News' requests for an interview were turned down along with those of many other media organizations.
On June 1, Facebook COO Sheryl Sandberg confirmed that Thiel will not be removed from Facebook's board.
"There's been no implication that [Thiel] was doing this for Facebook so we didn't have to comment.," she said at Code, an annual tech conference.
While it's unclear whether Gawker will indeed file a motion in trial court related to Thiel, one thing's very clear: This case is nowhere near over.