Here Are The Athletes Protesting During The National Anthem
Since San Francisco 49ers quarterback Colin Kaepernick remained seated during the national anthem, a number of other athletes across the country — from high schoolers to pros — followed his lead.
San Francisco 49ers quarterback Colin Kaepernick stirred controversy and launched a renewed form of nationwide protest when he remained seated during the national anthem at a preseason game against the Green Bay Packers on Aug. 26.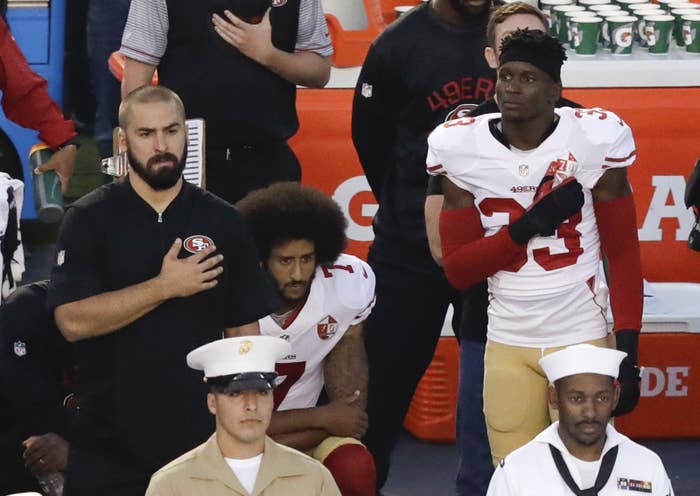 Kaepernick told NFL Media he refused to stand for a country that oppresses black people.
"To me, this is bigger than football and it would be selfish on my part to look the other way," he said. "There are bodies in the street and people getting paid leave and getting away with murder."

Kaepernick's refusal to stand during another preseason game, on Sept. 1, elicited boos from the crowd and both criticism and praise.
President Barack Obama said the quarterback was "exercising his constitutional right to make a statement." Meanwhile, Republican presidential nominee Donald Trump said "maybe [Kaepernick] should find a country that works better for him."
A number of athletes of all ages — from high school to pro — across the nation followed suit by sitting, kneeling, or raising a fist when the national anthem was played at their respective games. Here's how the silent protests have unfolded.
Sept. 1: Colin Kaepernick and Eric Reid, San Francisco 49ers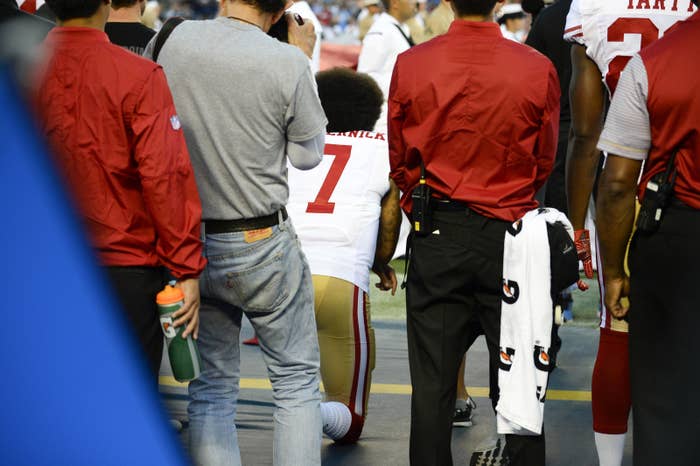 Safety Eric Reid joined Kaepernick in taking a knee during the national anthem at a second 49ers preseason game against the San Diego Chargers.
"My goal is to bring awareness to issues of our country and helping to effectuate positive changes for the betterment of our communities," Reid said in a statement he posted on Twitter. "In kneeling, I hope to accomplish that goal and relate the act to that of the flag being at half mast."
Reid said one of the issues he's protesting is police brutality and police discrimination. "It is important to note that I do not believe all police take part in these acts, however, there has been vast injustice for the people in situations that they do," Reid wrote.
Sept. 1: Jeremy Lane, Seattle Seahawks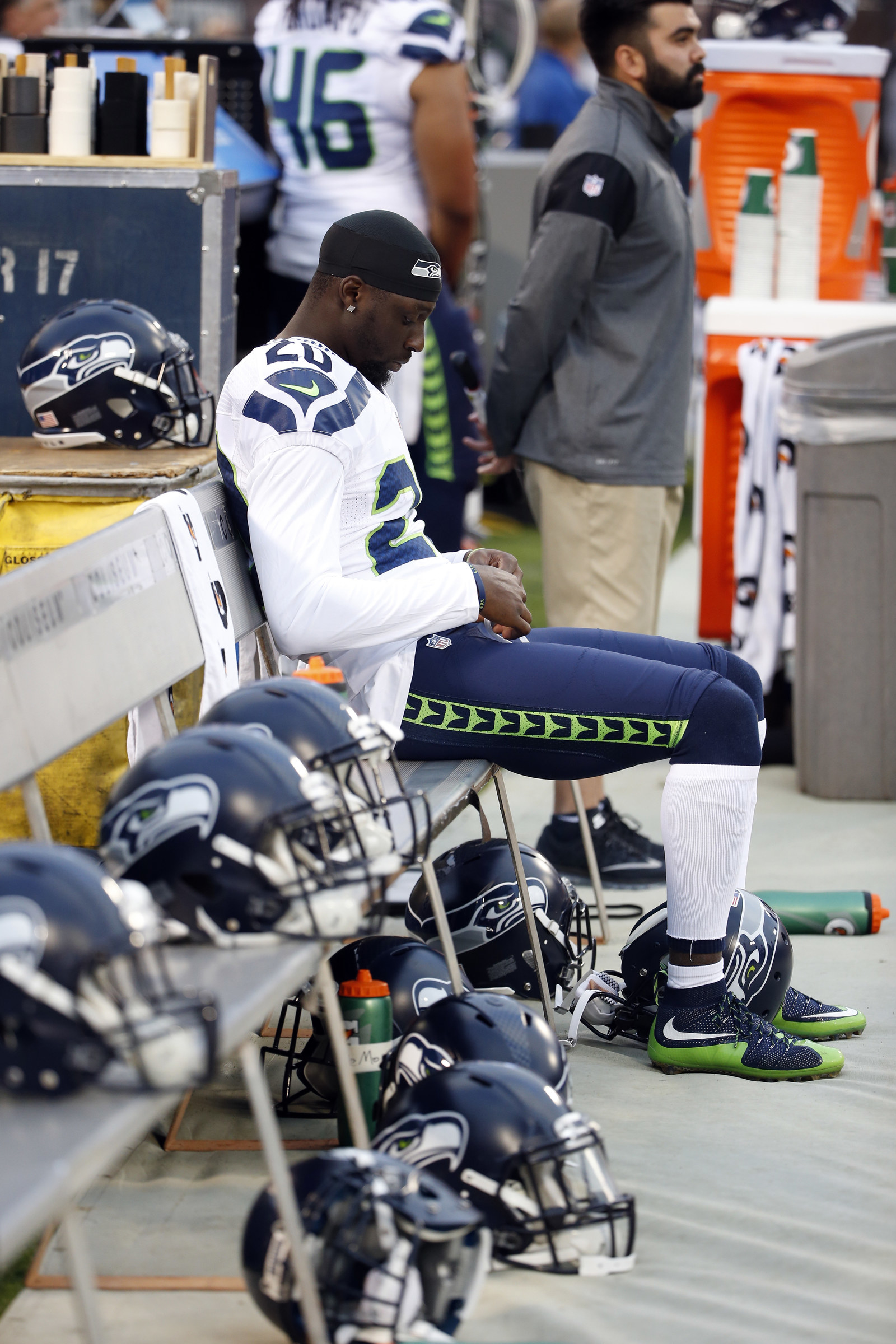 Seattle Seahawks cornerback Jeremy Lane sat during the national anthem before a preseason game against the Oakland Raiders.

"I thought about it for a week or so and I just think it's okay for me to do it," Lane said at the time. "I wasn't trying to say anything, just standing behind Kaepernick."
Lane said he plans on sitting during the anthem, "until I feel like justice is being served."
Sept. 2: Rodney Axson, Brunswick High School in Cleveland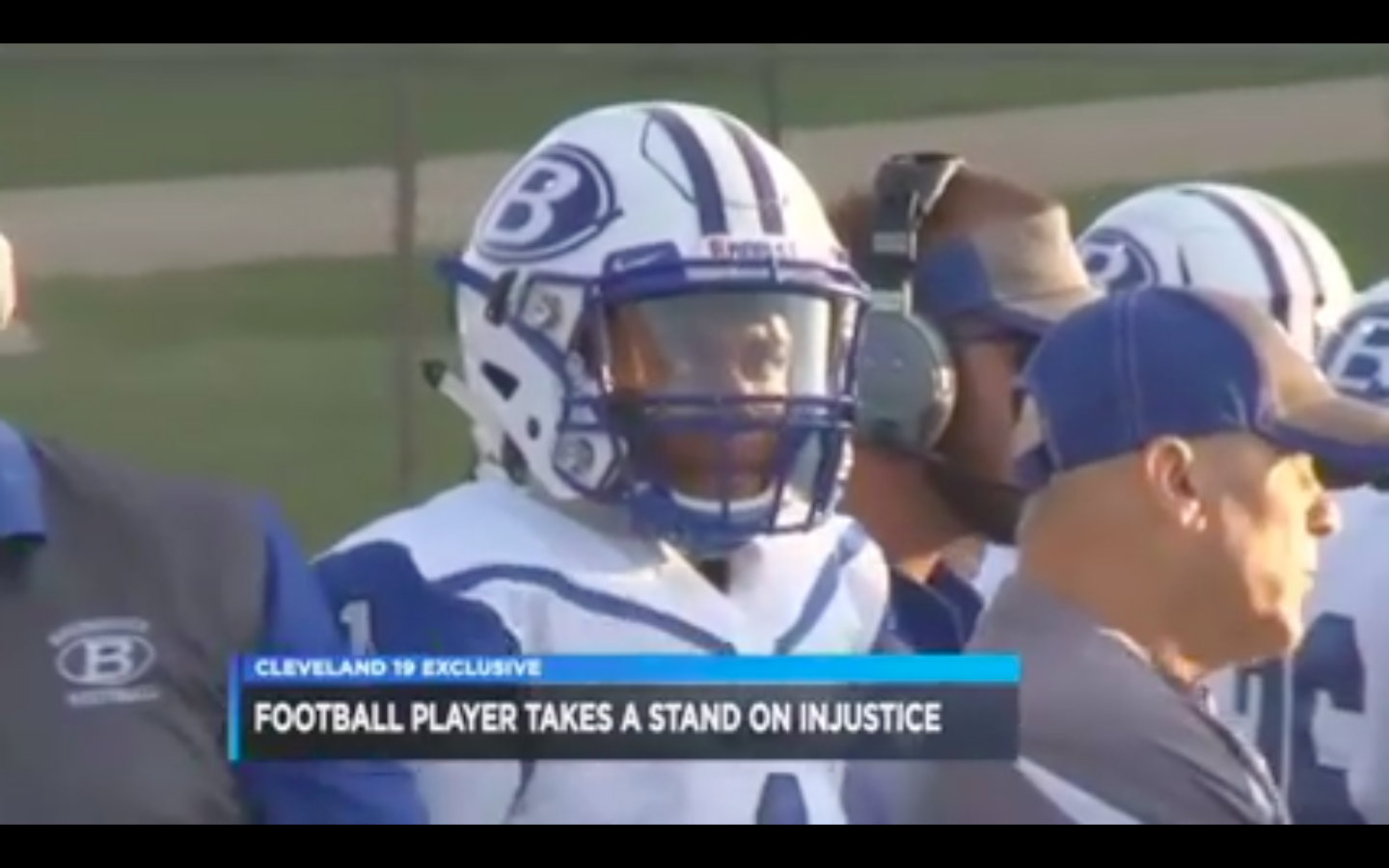 Rodney Axson, a 16-year-old football player from Ohio's Brunswick High School, took a knee during the national anthem to protest racial slurs used against him.
Axson said he overheard two teammates use the N-word in the locker room, so he protested the racial injustice by sitting during the anthem.
Axson told the New York Daily News his protest was not preplanned.
"I didn't show up to the game thinking that I would kneel for the national anthem," he said.
The teenage football player said the racial slur was used against him in the following days as well.
Sept. 4: Megan Rapinoe, Seattle Reign