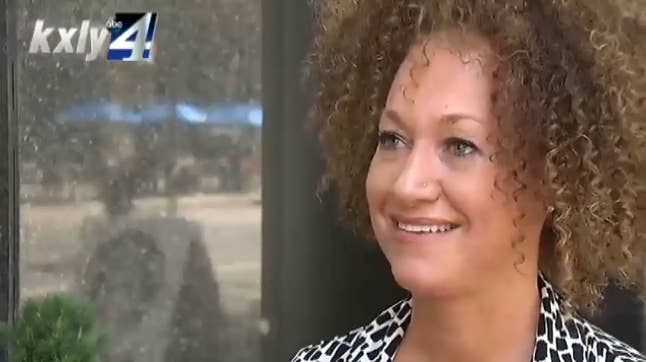 Rachel Dolezal, the Spokane, Washington, NAACP chapter president, has provided few answers amid questions over her race after her parents earlier this week said she is actually white, not black, as she claims.
In interview with two local television stations on Thursday, Dolezal was pressed to explain or clarify her racial background.
When asked by a KXLY reporter if the black man in a picture was her father, Dolezal responded, "Yes, that is my dad."

The reporter follow up with: "Is your father an African-American man?"
Dolezal responded: "I don't know what you are implying."
The reporter then asked her directly: "Are you African-American?"
Dolezal then walked away after telling the reporter she didn't understand the question.
But in a subsequent interview with KREM-TV, Dolezal said, "If I was asked, I would definitely say that yes, I do consider myself to be black."
When asked about her relationship with her family, she said, "There is a lawsuit that's been going on for almost a year, where I supported my younger sister in allegations against her older brother."
And when the Spokesman-Review asked her, she said:
"That question is not as easy as it seems," she said after being contacted at Eastern Washington University, where she's a part-time professor in the Africana Studies Program. "There's a lot of complexities … and I don't know that everyone would understand that."

Later, in an apparent reference to studies tracing the scientific origins of human life to Africa, Dolezal added: "We're all from the African continent."
And according to her application for Spokane's police oversight commission, which she currently chairs, Dolezal marked her ethnic origin as being white, black and American Indian. She also marked "Two or More Races."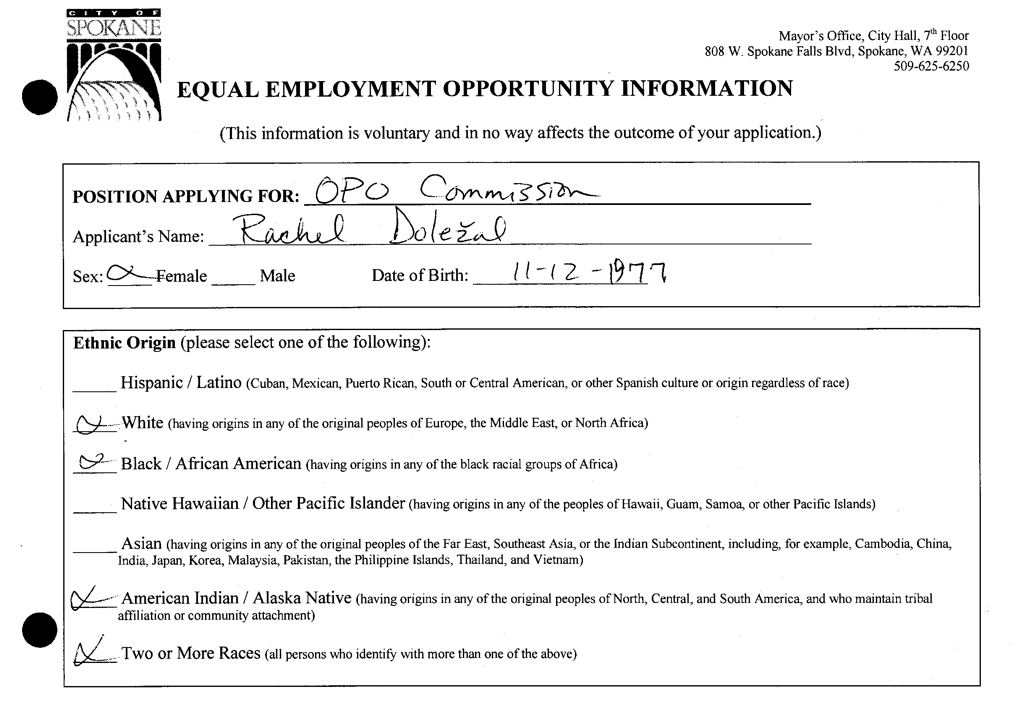 The question of Dolezal's ethnicity stems from a recent investigation into allegedly racially charged threats made against her and the NAACP.
Dolezal claims to have received a number of threatening letters and pictures of lynching in the NAACP's P.O. box — but the letters did not have date stamps or barcodes, according to the Spokane Police Department. The only way the letters could have been placed in the mailbox would have been via someone with a key or a USPS employee. Police said they have ruled out postal employees as suspects.
"Well, I say that doesn't make sense to me," Dolezal told
KREM
. "Mail doesn't get into your post office box only if you have a key."
She said that two pieces of mail were sent from Oakland, California, and neither she nor anyone else at the Spokane NAACP know anyone who lives there.
The letters "seem to be more frequent when I'm involved in human rights and civil rights work," she said. "I don't think that's it's only happened to me ... this type of harassment has a long history."
When asked if she might have overreacted to the letter, she said her reaction was appropriate.
"Nothing comes to mind as far as an overreaction," she said. "It's fair game to wonder if I misinterpreted something. When it comes to my kids, I don't think anything is an overreaction."