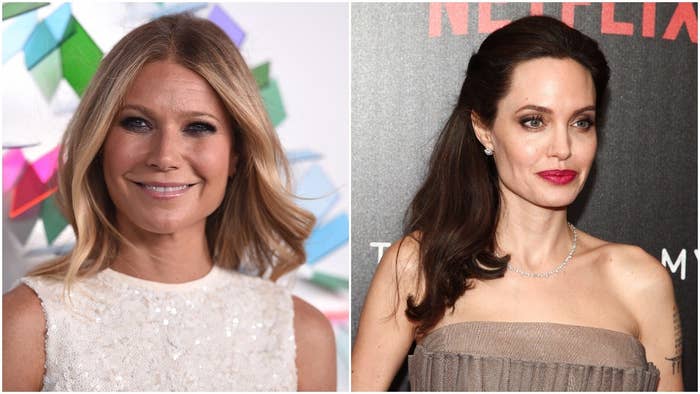 Gwyneth Paltrow and Angelina Jolie, in an interview with the New York Times that published Tuesday, said film mogul Harvey Weinstein sexually harassed them when they were young actors.
The A-listers join a growing group of women who have accused the film executive of inappropriate sexual behavior. Last week's Times story detailing decades of sexual harassment allegations against Weinstein and that the film executive settled at least eight cases, including a $100,000 payout to Rose McGowan after an alleged 1997 incident.
Paltrow told the Times when she was 22 and cast as the lead in the Jane Austen adaptation of Emma, Weinstein invited her to his suite at the Peninsula Beverly Hills hotel for a work meeting, which ended by him putting his hands on her and proposing massages in the bedroom.
"I was a kid, I was signed up, I was petrified," Paltrow told the Times, adding that she was afraid of losing her role in the film.
Paltrow confided in Brad Pitt — whom she was dating at the time — who then confronted Weinstein about the incident, telling him to never touch Paltrow again. Pitt's representatives confirmed the story with the Times.
Weinstein then called Paltrow and yelled at her for telling people about the incident. Even after she won an Academy Award in 1999 for her role in Shakespeare in Love — a movie released by Miramax — Paltrow said very few people knew about Weinstein's advances.
"I was expected to keep the secret," she said.

Jolie also she had a "bad experience" with Weinstein while working on the 1998 film Playing by Heart. "I had a bad experience with Harvey Weinstein in my youth, and as a result, chose never to work with him again and warn others when they did," Jolie told the Times in an email. "This behavior towards women in any field, any country is unacceptable."
Weinstein was fired from his position as co-chair of the Weinstein Company days after the initial Times article was published. On Tuesday, The New Yorker published additional allegations of harassment, and for the first time, rape.

Actor-director Asia Argento alleged that Weinstein raped her in 1997 when she was 21 and they were working together on the movie B. Monkey. In another account, aspiring actor Lucia Evans alleges Weinstein forced her to perform oral sex on him. A third allegation of rape was made by an anonymous colleague of Weinstein's.
In a statement Tuesday, the board of the Weinstein Company denied any knowledge of the rape allegations.
"[We] are shocked and dismayed by the recently emerged allegations of extreme sexual misconduct and sexual assault by Harvey Weinstein. These alleged actions are antithetical to human decency. These alleged actions come as an utter surprise to the Board...We are committed to assisting with our full energies in all criminal or other investigations of these alleged facts, while pursuing justice for the victims and a full and independent investigation of our own."
Sharon Waxman, founder of The Wrap and a former New York Times reporter, claimed earlier this week that she reported on Weinstein and the head of Miramax's Italian office, Fabrizio Lombardo, while working for the newspaper in 2004. Waxman wrote in The Wrap that TImes editors "gutted" the story after Matt Damon and Russell Crowe called her, leading many to speculate if the actors knew about the allegations against Weinstein and whether they tried to stop the Times from running the story.

Times executive editor Dean Baquet has said that the paper's former editors do not recall being pressured to kill Waxman's story. Her direct editor at the time, former Times editor Jonathan Landman, denied gutting the story, noting to Politico that "Sharon has now had more than a decade to pursue this story unencumbered by me or any New York Times editor."
On Tuesday, Matt Damon, who has starred in a number of Weinstein's films, claimed he did not try killing the 2004 story, saying that he called Waxman to share his experience working with Lombardo.
Damon told Deadline that Weinstein asked him to vouch for Lombardo's professionalism in what he called a "hit job" story the Times was reporting. "For the record, I would never, ever, ever try to kill a story like that," he claimed. "I just wouldn't do that. It's not something I would do, for anybody.
He went on to say that he feels sick to his stomach after reading the allegations against Weinstein.
"This type of predation happens behind closed doors, and out of public view," Damon told Deadline. "If there was ever an event that I was at and Harvey was doing this kind of thing and I didn't see it, then I am so deeply sorry, because I would have stopped it."