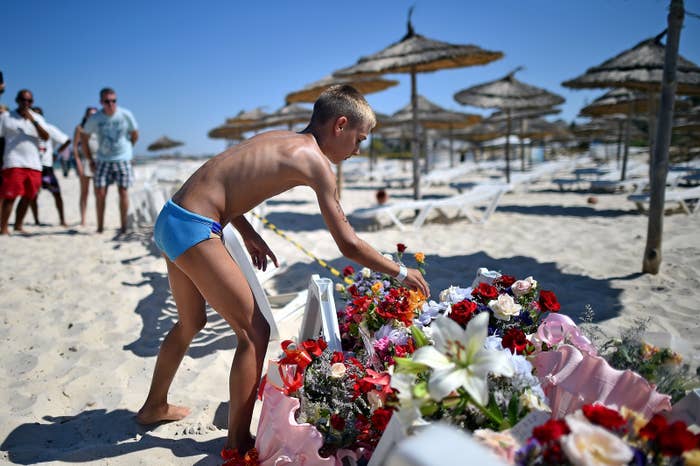 British Prime Minister David Cameron has said the U.K. is "a nation united in shock and grief" following the deaths of dozens of British tourists in Tunisia.
The current number of confirmed British deaths stands at 15, but the figure is expected to rise to at least 30 once formal identification is completed, the BBC reported.
Writing in the Daily Telegraph on Monday, Cameron said Britain would not be cowed and would show "unshakeable resolve".
"We must be stronger at standing up for our values – of peace, democracy, tolerance, freedom. We must be more intolerant of intolerance – rejecting anyone whose views condone the Islamist extremist narrative and create the conditions for it to flourish," he added.
Home Secretary Theresa May is due to arrive in Tunisia Monday to visit Sousse and to meet with government officials, Cameron told BBC Radio 4's "Today" programme on Monday.
At least 39 people were killed in the terrorist attack at the beach resort on Friday.
Foreign Minister Tobias Ellwood told reporters Saturday: "Sadly, I can confirm that at least 15 British nationals were killed in yesterday's atrocity, but I can confirm the number may well rise as several more have been seriously injured in this horrific attack."
"This is the most significant terrorist attack on British people since [the 2005 London bombings] and highlights the ongoing threat of ISIL," he said, using an alternative acronym for ISIS.
Cameron met with his emergency Cobra committee to discuss the attack on Friday.

"We are working with the Tunisian authorities to identify a final number on the British casualties, but I'm afraid that the British public need to be prepared for the fact that many of those killed were British," Cameron said in a Facebook post on Saturday.

ISIS reportedly claimed responsibility for Friday's beach massacre. The attack was carried out at two hotels near the beach in the resort town of Sousse.

A gunman died after reportedly exchanging fire with police on the beach, according to Reuters. ISIS claimed responsibility for the Tunisian attack in a post on social media, and urged followers to step up assaults during Ramadan.
"Our brother, the soldier of the Caliphate, Abu Yihya al-Kairouni, reached his target the Imperial hotel despite the security measures," the statement said, according to Reuters, claiming he killed 40 "infidels."
The attack left bodies scattered on the beaches. Witnesses told Sky News they heard loud blasts at the hotel and were told to get inside. One witness told Sky News that people are hiding in the rooms and gathering in the hotel's reception area.
"There are people crying and going hysterical," Susan Ricketts, who was at the Tunisian hotel, told Sky News.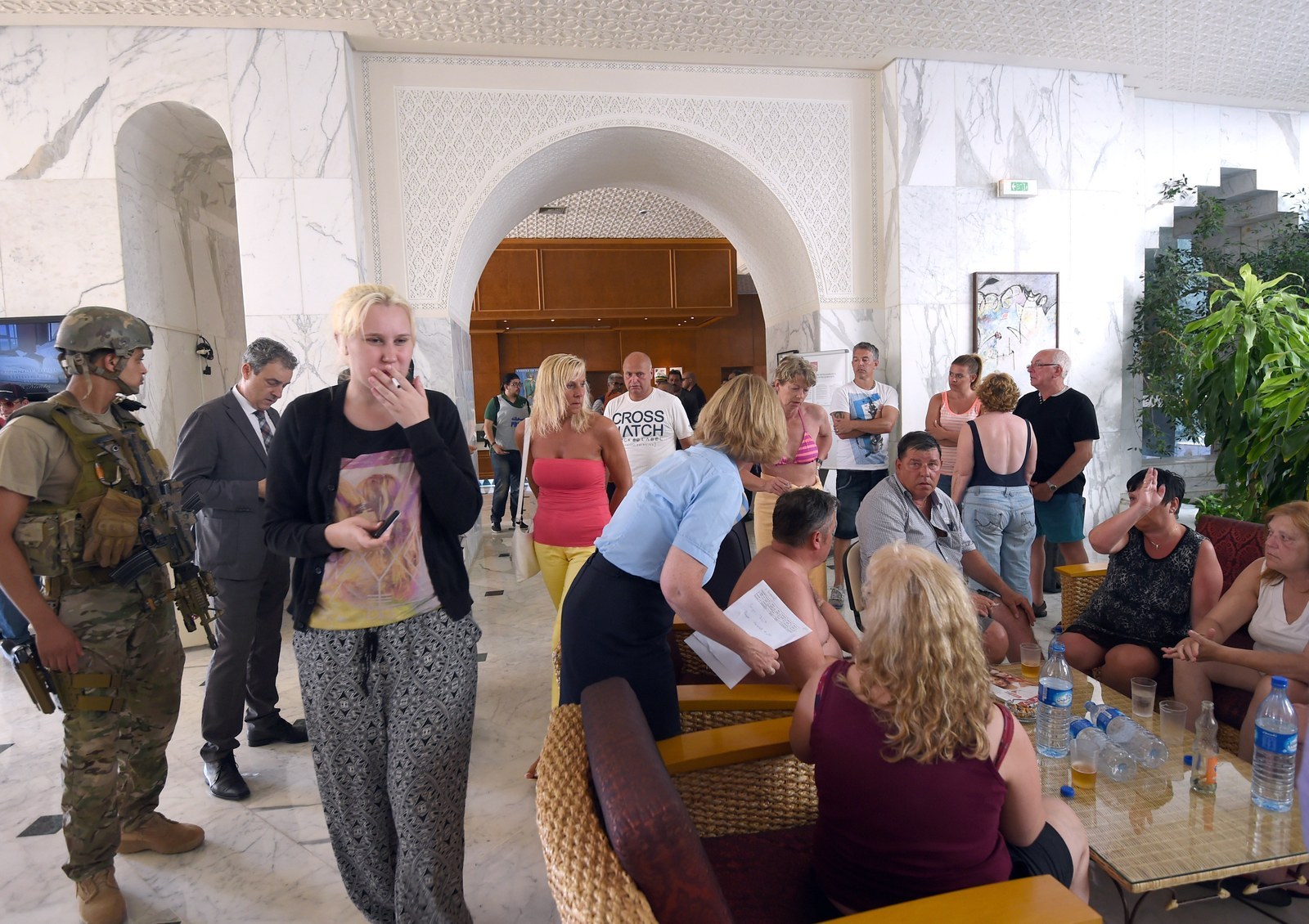 Photos of an alleged gunman shot dead were posted on Twitter. (WARNING: Link contains graphic image).†

Sousse is a popular beach town located about 100 miles from Tunis that attracts tourists from Europe and North African countries.
The Riu Imperial Marhaba Hotel released a statement saying there were 565 guests at the hotel at the time of the attack, most from the United Kingdom and other central European countries.

Irish Minister of Foreign Affairs Charlie Flanagan confirmed that Lorna Carty, an Irish citizen was among those killed.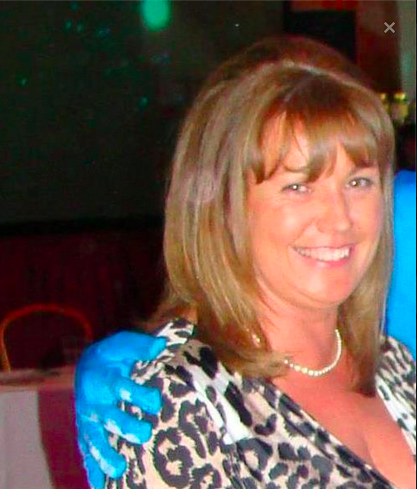 According to the Irish Times, Carty, from Co Meath, was a former school nurse, who had travelled to Tunisia with her husband, Declan. The couple had been given the holiday as a present.

Friday's attack was the deadliest in Tunisia's history, according to Aaron Y. Zelin, a fellow at the Washington Institute and a researcher focused on the history of the Tunisian jihadi movement.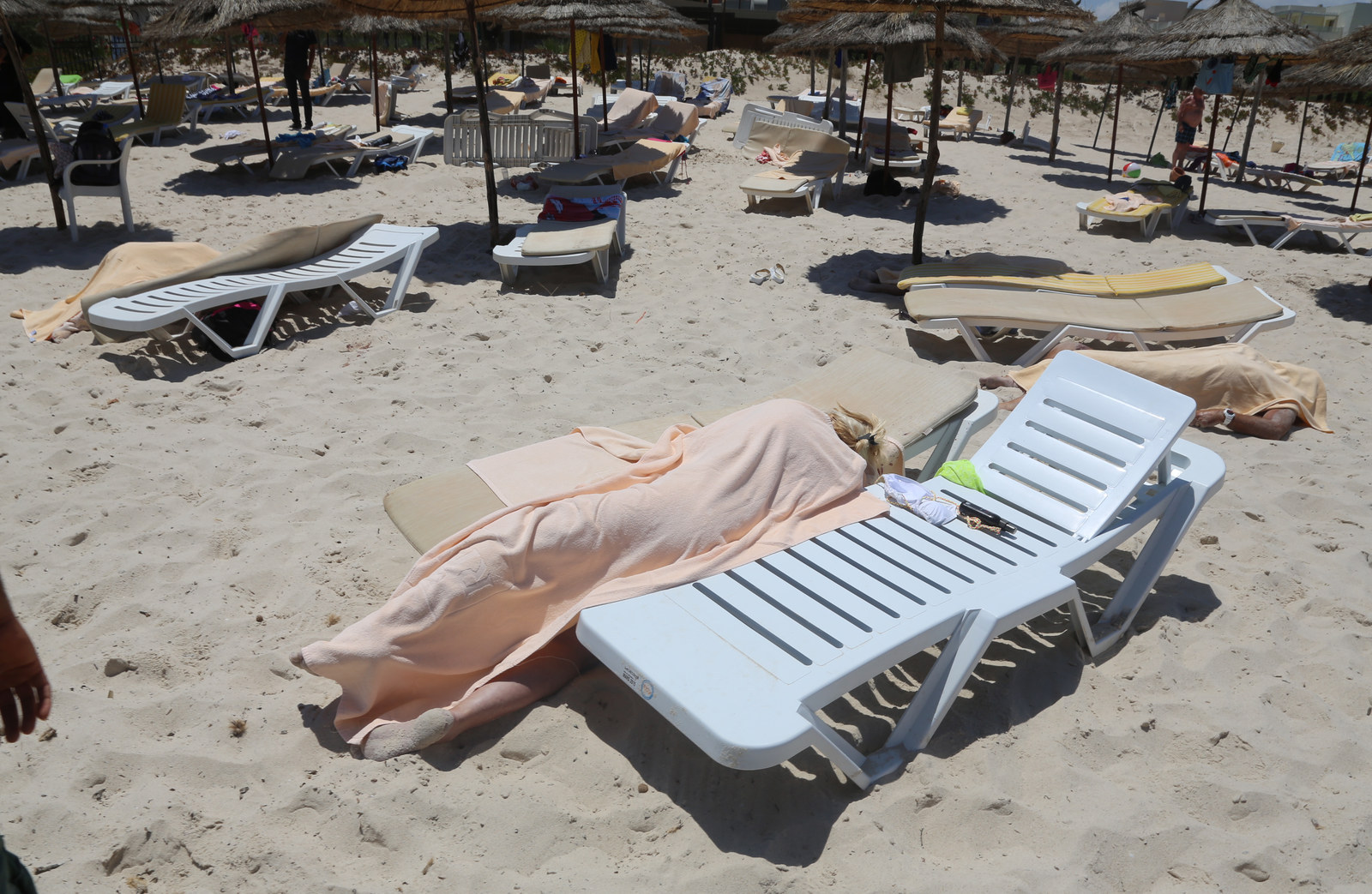 The attack on the hotels occurred on the same day a man was decapitated in an attack in Eastern France and 25 were killed in a suicide bombing in Kuwait. While they were all classified as terrorist attacks, there is no evidence that suggests ISIS was responsible.
"These were innocent holidaymakers, relaxing and enjoying time with their friends and families," Cameron said Friday. "Like the victims in France and Kuwait yesterday, they did not pose a threat to anybody. These terrorists murdered them because the terrorists oppose people and countries who stand for peace, tolerance and democracy wherever they are in the world. But these terrorists will not succeed."

The White House released a statement condemning the attack in Tunisia, as well as Friday's attacks in France and Kuwait.
The United States condemns in the strongest terms the terrorist attacks in France, Kuwait, and Tunisia today. Our thoughts and prayers are with the victims of these heinous attacks, their loved ones, and the people of all three countries. As the President has discussed with his French, Kuwaiti, and Tunisian counterparts in recent weeks, we are resolute and united in our shared effort to fight the scourge of terrorism.

We stand with these nations as they respond to attacks on their soil today, and we have been in contact with appropriate counterparts in all three countries to offer any necessary support. Terrorism has no place in any society, and the United States will continue to work closely with our international partners to combat terrorist actors and counter violent extremism around the globe.