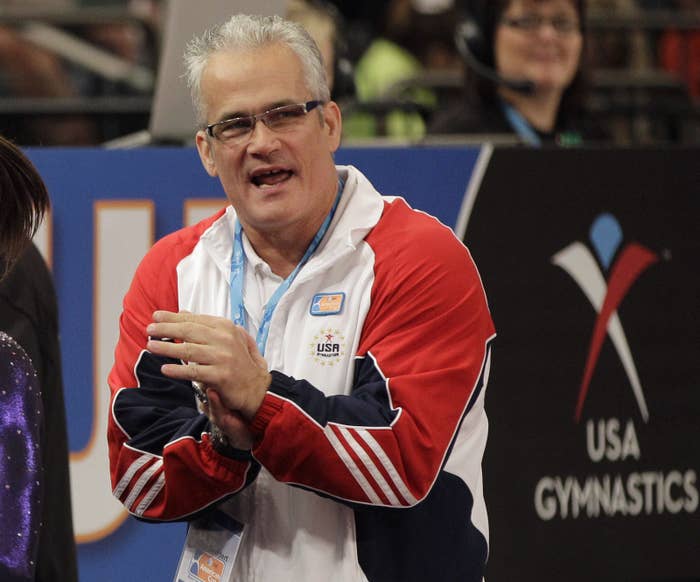 A former USA Gymnastics coach and the owner of an elite gymnastics club in Michigan, where Larry Nassar sexually abused several athletes, is under criminal investigation, a spokesperson for the Eaton County Sheriff's Office said Tuesday.
"We have had people coming forward, and our investigation is ongoing," Jerri Nesbitt told BuzzFeed News of the investigation. She did not disclose any additional details, such as when the investigation began.

John Geddert is the owner of Twistars, a gymnastics club in Michigan where dozens of women and girls said they were sexually abused by Nassar. Several gymnasts said they had no choice but to see Nassar when they suffered a sports injury.
Nassar pleaded guilty to sexually abusing more than 100 girls and women and was sentenced in two separate courts to decades in jail.
Geddert, who coached the 2012 USA "Fierce Five" in the London Olympics, was suspended from USA Gymnastics last month. The day after his suspension he announced he was retiring from Twistars. Geddert has denied having any knowledge of Nassar's abusive behavior. His lawyer did not immediately respond to a request for comment.
During Nassar's sentencing hearings, where more than 150 women delivered impact statements, several gymnasts spoke about Geddert's alleged physical and emotional abuse.
Former gymnast Makayla Thrush said in court that Geddert pushed her into a low bar, causing career-ending injuries.
"You told me to kill myself not just once, but many other times," Thrush said of Geddert during Nassar's sentencing. "After you ended my career, I tried."
She also said that Geddert would make gymnasts clean the bathroom floors at Twistars with a toothbrush if the coach caught the athletes eating certain foods, according to WILX.
Another gymnast, Bailey Lorencen, said Geddert made her continue practicing after she broke a bone in her back while training.
During her victim impact statement, gymnast Lindsey Lemke said Geddert was complicit in Nassar's abusive behavior.
"He would take girls by the shoulders, squeeze hard enough to leave marks, shake them and yell directly into their face," Lemke said in court. "There was specifically one time where he picked up the vault hand mat and hit me with it because I couldn't get my vault right that day, and this was already after I had crashed into the vault hard enough to bruise and bleed."
Lemke also said that Geddert would tell gymnasts who weighted 100 to 110 pounds they were fat.
CORRECTION
Makayla Thrush's name was misspelled in an earlier version of this post.