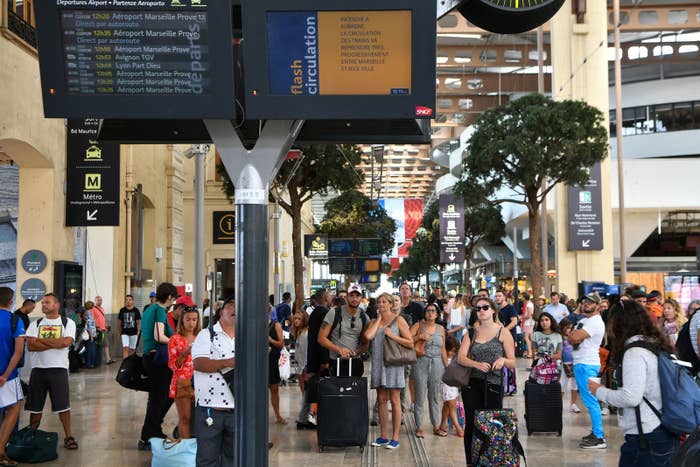 Four female Boston College students visiting France were attacked with acid at the Marseille-Saint Charles train station on Sunday, an incident authorities believe is unrelated to terror.

French police arrested a 41-year-old woman in connection to the attack, according to the Associated Press, which cited an anonymous source in the local prosecutor's office.
Two of the women sustained injuries to their faces and one of them has a possible eye injury, the prosecutor's office said. The other two women were also hospitalized for shock. All four women have been released from the hospital.
The prosecutor's office did not provide further details of the women — who are all in their 20s — but Boston College released a statement identifying them as juniors Courtney Siverling, Charlotte Kaufman, and Michelle Krug, who are enrolled in Boston College's Paris program, and junior Kelsey Korsten, who is a student at the Copenhagen Business School in Denmark.

The statement said that Boston College officials are in touch with the students and their parents. The statement also said that police had described the woman who had been arrested as "disturbed".

"It appears that the students are fine, considering the circumstances, though they may require additional treatment for burns," Nick Gozik, director of the office of international programs at the college, told the Boston Globe.

Michelle Krug has addressed the incident on her Facebook page late on Sunday night. She said the four students were "doing okay," and asked for prayers for the suspect.

"To fill in those who have not heard, three of my friends and I were attacked this morning at a Marseille train station by a woman suffering from a mental illness, Krug said. "She threw a weak solution of hydrochloric acid at us from a water bottle, which got in one of my eyes and one of my friend's eyes. We were all treated at a local hospital and are anticipating a quick recovery."
She added: "I ask that if you send thoughts and prayers our way, please consider thinking about/praying for our attacker so that she may receive the help she needs and deserves. Mental illness is not a choice and should not be villainized."
French authorities said they do not believe the attack is terrorism.

According to the AP, the suspect did not make any extremist statements. Local media in Marseille reported, citing unidentified police sources, that the alleged assailant has a history of mental health problems and that she allegedly told responding officers she was a victim of acid abuse and wanted others to suffer like she did.