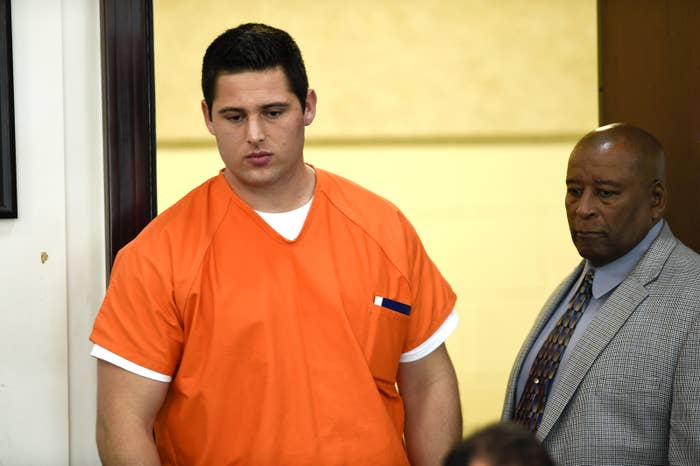 A former Vanderbilt football player convicted for encouraging his teammates to rape an unconscious woman in his dorm room in 2013 was sentenced to 17 years in prison Friday.
Prosecutors accused Brandon Vandenburg of pushing the victim — who he was dating at the time — to drink, and then encouraging his teammates to sexually assault her while she was unconscious while he passed out condoms.

Vandenburg's lawyers argued during the trial that he was drunk at the time of the assault and should not be held responsible for his teammates' actions. He was convicted in June on five counts of aggravated rape, two counts of aggravated sexual battery, and unlawful photography.
His former teammate, Cory Batey, was also convicted in April and sentenced to 15 years in jail — the minimum term under Tennessee law.
Vandenburg and Batey were originally tried and convicted in 2015 but the judge declared a mistrial because the jury's foreman did not disclose that he had been a victim of statutory rape.
Assistant District Attorney General Jan Norman read a statement on behalf of the victim who did not attending the hearing, according to the Tennessean.
"Please do not use my absence as an excuse for leniency, as it in no way diminishes the profound and insidious impact of Mr. Vandenburg on me and my life," Norman read. "I still ask that he receive the full sentence allowed under the law for orchestrating the sustained 30-minute gang rape against me, a defenseless woman who trusted him. The minimum sentence is not enough for what this man did to me."
Vandenburg, who has been behind bars in Nashville since June, will go to Bledsoe County Correctional Complex to determine where in the state he will serve his sentence, according to the Tennessean.