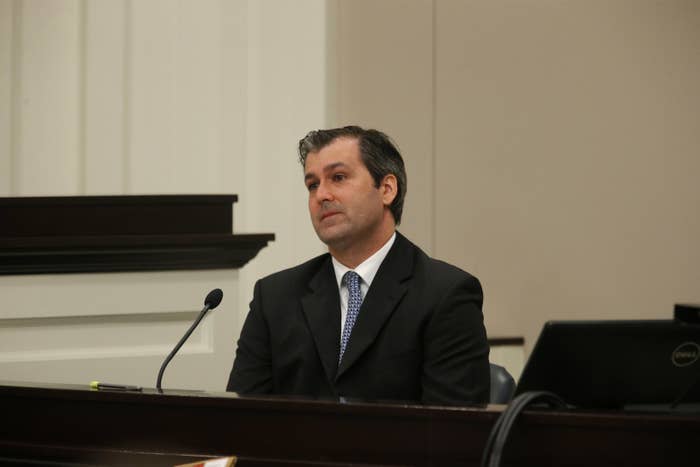 Former North Charleston Officer Michael Slager testified in court Tuesday that he was "in total fear" before shooting Walter Scott, an unarmed black man in the back in 2015.

Slager was charged with murder and manslaughter in the death of Scott, who he shot after a traffic stop related to a burned-out brake light in April 2015. Video captured at the scene shows Slager shooting Scott in the back as he ran away.

On the witness stand the former police officer detailed the traffic stop that would later lead to the fatal shooting, stating that after stopping the vehicle, he was going to write a warning ticket when Scott fled from his car.
"In my mind at that time was, people don't run for a broken taillight. There's always another reason," he testified. "I don't know why he ran. It doesn't make any sense to me."
Slager said he ran after Scott, yelling that he had his Taser out, which he then fired three times.
Once Scott fell to the ground after being hit by the stun gun, Slager said Scott grabbed for his Taser and took control of it.
"I saw that Taser coming at me and I knew I was in trouble," he said, adding that he felt in total fear. "I knew I was overpowered."

Scott, who began running again, was 18 feet away from Slager when the former officer fired the first shot with his firearm. Deputy Solicitor Bruce DuRant asked Slager whether Scott was a real threat to him from that distance.

Slager went on to say that Scott came after him with the taser. That's when he decided to use his firearm.

"He never stopped," Slager said of Scott. "He was still dangerous. I fired until the threat was stopped like I am trained to do."
In the now-infamous video of the incident, Slager is seen picking up something — which prosecutors have identified as his Taser — and dropping it next to Scott's body.
Slager testified he did that because officers are trained to account for their weapons, and denied he was planting evidence.
Slager faces 30 years to life in prison if convicted.