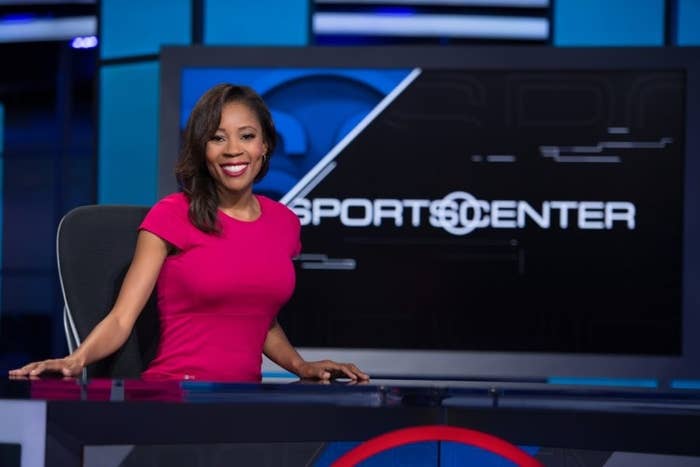 Former ESPN anchor and legal analyst Adrienne Lawrence filed a sex discrimination lawsuit against ESPN, alleging her contract wasn't renewed after she reported harassment against a SportsCenter anchor.

The first line in the lawsuit — filed Sunday in Connecticut federal court — states that ESPN is "a company rife with misogyny."
Lawrence's lawsuit alleges male employees at the network openly watched porn on their computers and kept a "scoreboard" of women they were targeting for sex.
According to the lawsuit, men would often make sexual comments in front of women, including discussing the women in the office "they want to fuck." In one instance, Lawrence alleges that in her presence, producers for SportsCenter openly wondered what Rihanna must "taste like," and "howl[ed] with excitement," forcing Lawrence to leave the room.
"But this has always been ESPN, as misogyny has permeated the atmosphere since the Company's inception," the lawsuit reads. "To this day, men think nothing of slowly ogling women up and down in a sexualized manner, texting women half-naked pictures of themselves, or offering mentorship and opportunities for growth but only in exchange for romantic encounters."
In a statement, ESPN said it conducted a thorough investigation and found Lawrence's claims to be "entirely without merit."
"Ms. Lawrence was hired into a two-year talent development program and was told that her contract would not be renewed at the conclusion of the training program," the statement reads. "At that same time, ESPN also told 100 other talent with substantially more experience, that their contracts would not be renewed. The company will vigorously defend its position and we are confident we will prevail in court."
Lawrence alleges in the lawsuit that she was ostracized and retaliated against for refusing sexual advances of longtime SportsCenter anchor John Buccigross.
After telling Buccigross that she was not interested in him romantically, the SportsCenter anchor allegedly stalked her on social media, sending her text messages with photos of himself half-naked, commenting on her legs, and calling her "dollface," according to the lawsuit.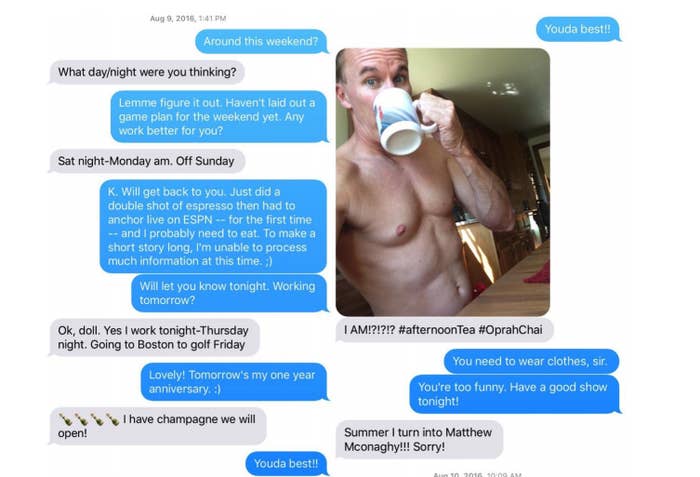 After Lawrence refuted his advances, Buccigross allegedly spread rumors that they were intimate and said she was "sleeping her way to the top."

"Like all other women at ESPN, Ms. Lawrence was expected to tolerate the predatory culture without protest and forced to go along and get along," the lawsuit states.
Lawrence claims in her lawsuit that she reported Buccigross to her supervisors and to human resources, but instead of investigating his behavior, they insisted to Lawrence that he was harmless, that he was "a good guy," and that she "should give him a chance."
When Lawrence complained to her direct supervisor, she was warned to "let it go," according to the complaint. Lawrence's contract was not renewed — something she perceived as direct retaliation for her complaints.
"After complaining about Buccigross's misconduct and raising concerns about HR's lack of an impartial and thorough investigation, Ms. Lawrence's superiors marginalized her and limited her opportunities," the complaint reads. "Despite Ms. Lawrence's continued stellar work performance and positive feedback, the marginalization and retaliation culminated in ESPN's decision to not offer her a permanent position at the conclusion of her Fellowship."
Lawrence first shared her story with the Boston Globe in December 2017, in an article about ESPN's culture.
The complaint also includes an accusation involving ESPN staffer Jemele Hill, saying ESPN personality Chris Berman allegedly left Hill a racially charged and threatening voicemail.
Hill took to Twitter Monday to refute that claim, saying Berman never left such a voice message, adding that she feels ESPN addressed her concerns swiftly.
"Frankly I'm more disappointed that someone I considered to be a friend at one point would misrepresent and relay a private conversation without my knowledge — in which I simply attempted to be a sounding board — for personal gain," Hill tweeted.