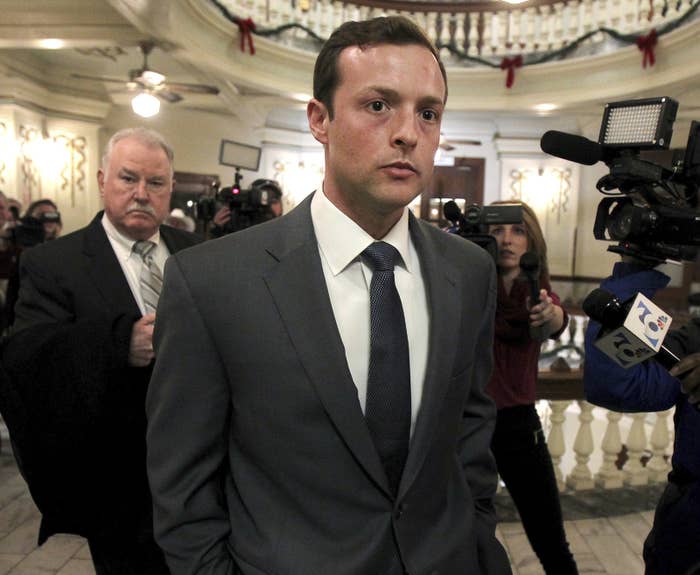 A former Baylor University fraternity president originally indicted for sexually assaulting a woman in 2016 will avoid jail time and being placed on the sex offender registry after pleading no contest to a lesser charge.
State District Judge Ralph Strother on Monday accepted the deal presented by prosecutors nearly two months ago in Waco, Texas, and sentenced Anderson to three years of deferred probation.
Anderson was accused of raping a 19-year-old female student at a Phi Delta Theta party in 2016. According to an arrest affidavit, the unnamed woman said she felt dizzy and disoriented after drinking a cup of punch. The affidavit said Anderson took her outside for her to get some air before he sexually assaulted her.
According to an arrest affidavit, the woman said she woke up alone, outside, facedown in her own vomit.
Anderson was expelled from Baylor and was indicted on four counts of sexual assault.
Anderson's lawyer and a lawyer for the woman did not immediately respond to requests for comment.
In a plea deal offered to Anderson in October, the district attorney agreed to dismiss the four sexual assault charges in exchange for Anderson pleading no contest to the third-degree felony charge of unlawful restraint.
The judge accepted prosecutors' recommendation of three years of probation, a $400 fine, and counseling. Anderson will not have to register as a sex offender.
"Our entire system failed this young woman," the woman's attorney, Vic Feazell, told reporters Monday. "In 40 years of law practice, I've never seen anything like this."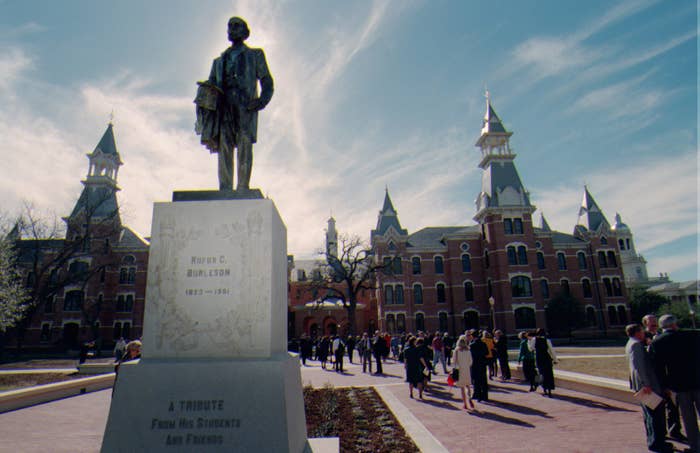 The plea deal, first reported on in October, was met with widespread criticism. Protesters demonstrated outside the courthouse, and an online petition urging the judge to reject the plea agreement received more than 45,000 signatures.
"There's a lot of intensive interest around this case fueled by the engine of social media," the judge said during Monday's hearing, according to the Baylor Lariat. "I have as good of information as possible from all perspectives of the matter. Being human, I can make wrong decisions. However, I cannot be uncertain about the decisions that I make."

Assistant District Attorney Hilary LaBorde issued a statement Monday saying she believes the plea agreement and sentencing were the best outcomes "given the facts of this case."
LaBorde's statement says there were conflicting evidence and statements that would make the case difficult to prosecute.
"This offender is now on felony probation and will receive sex offender treatment, a result which was not guaranteed, nor likely, had we gone to trial," the statement reads.
The woman also delivered a victim impact statement in court Monday, in which she said she is "devastated by [the] decision to let [her] rapist Jacob Walter Anderson go free without any punishment."
In the full statement, obtained by KCENTV, the woman recounted the night in question saying Anderson "violently and repeatedly" raped her and choked her.
"I had no control over my body and no way to stop him," her statement reads. "When he forcefully picked me up and shoved me into a wall to rape me vaginally from behind, he calmly and coldly said, 'It's fine. You're fine.'"
She said she eventually lost consciousness and that Anderson "dumped [her] facedown in the dirt and left [her] there to die."
"I have to live with the fact that my rapist will go home smiling and happy and laughing at me," she read in court. "He stole my body, virginity, and power over my body, and you let him keep it for all eternity."