A Connecticut man was charged with murdering his wife after police analyzed the woman's Fitbit and found the device recorded her movements after the time the man told investigators she was fatally shot by a home intruder.

Richard Dabate was arrested this month and charged with felony murder, tampering with physical evidence, and making false statements following his wife Connie Dabate's death in 2015, according to the arrest warrant.
At the time of Connie Dabate's death in December 2015, Richard Dabate told police he called 911 after a "stocky, obese" man with a deep voice like Vin Diesel's, who was dressed in camouflage clothing and wearing a mask, broke into their Connecticut home and demanded money.
Dabate told investigators at the time that the intruder shot his wife and tied him up to a chair with zip ties before fleeing the house, according to the arrest warrant.
Connecticut State police said they used data from the home's "alarm system, computers, cellphones, social media postings and Connie Dabate's Fitbit to create a timeline that contradicted Richard Dabate's statements to police," according to the arrest warrant.
Richard Dabate initially told investigators his wife had just returned home from her spin class at a local gym when the invader shot her. According to the arrest warrant, the fitness tracker recorded Connie Dabate walking around the house — it registered she walked 1,200 feet inside the home — for almost an hour after the time her husband told investigators she was shot.

According to the arrest warrant, the panic alarm for the home's security system went off six minutes after Connie Debate's Fitbit showed her idle. The panic alarm was activated from her husband's key fob.

Using cellphone records, Facebook messages, and the fact that K9 dogs found no scents of a foreign individual on the property, police were able to build a case to arrest and charge Richard Dabate.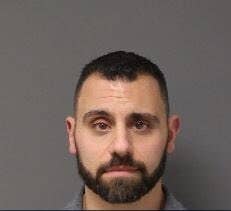 Dabate is free after posting $1 million bail but is expected in court on Friday. His attorney did not immediately respond to a request for comment.
This is not the first time Fitbit's technology has been used during a police investigation.
In 2015 a woman reported being raped by an intruder in Lancaster, Pennsylvania. She had told police she was sleeping and woke to find a man on top of her in bed. Her Fitbit records show that she had been awake and walking around the whole night, Lancaster District Attorney spokesperson Brett Hambright told BuzzFeed News.
"It's extremely rare that [Fitbit data] would become part of an affidavit," Hambright told BuzzFeed News.
"The publicity this specific case generated opened a lot of eyes in the country," Hambright said of the 2015 case. "In my opinion investigators know that if you come across a Fitbit, you now know what it can provide and how it can be crucial to supporting a charge."
BuzzFeed News has reached out to Fitbit for comment.