Ferguson Appoints Black Officer As Interim Police Chief
Andre Anderson joins the Ferguson police department form Glendale, Arizona.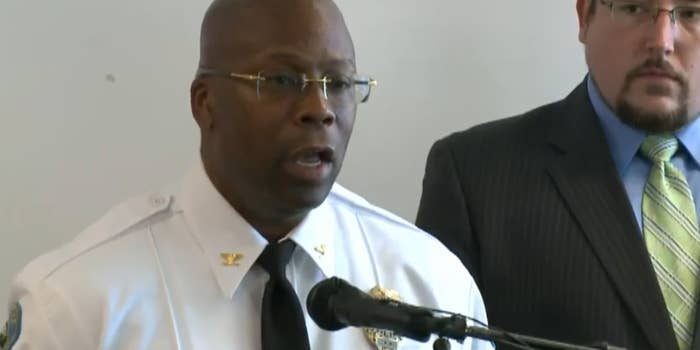 Officials in Ferguson, Missouri, announced Wednesday that Andre Anderson, a veteran African-American police officer from Arizona, will serve as the city's interim police chief, giving him jurisdiction over the 45-officer department that came under intense national scrutiny following the death of Michael Brown, an unarmed black teenager, almost one year ago.
Anderson will join the Ferguson department from Glendale, Arizona, where he has served for the past 24 years.
"Everything I do day to day will be about the community and police officers," Anderson said in a press conference Wednesday morning.
Interim city manager, Ed Beasley, who went to Ferguson from Glendale Arizona, said Anderson is an "expert in community policing and community outreach."

Prior to joining the Glendale police department, Anderson was an army veteran and successful boxer as a young man, but his career came to an end when he was hit by a car while fixing a flat tire, according the St. Louis Dispatch. He went on to coach at-risk youth at a boxing gym.

It is unclear how long Anderson will hold the post of interim police chief. He is the second person to hold the position since March, when Tom Jackson, who was chief at the time of Brown's death, resigned following a scathing report from the Department of Justice. Deputy Chief Al Eickhoff, who served as interim chief after Jackson's resignation, will remain in the department, according to the St. Louis Dispatch.

"I believe I am the right person for this particular job," Anderson said in a press conference. He said his first priorities are "to build trust, to develop community policing in this area."

He said he also wants to place emphasis on attracting and hiring qualified applicants that can "exemplify character, respect, and professionalism."
Anderson, who grew up in south Philadelphia, said he sees a lot of similarities between his hometown and Ferguson.
"I think it's important as an African American male, I have a responsibility to get in community and demonstrate that I can be a positive role model," he said.