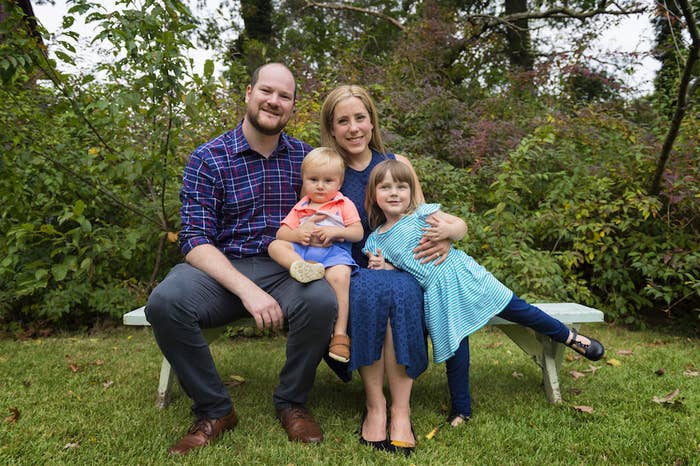 The Federal Election Commission on Thursday gave a woman candidate running for Congress the green light to use portions of her campaign funds to pay for child care.

Liuba Grechen Shirley, a New York mother of two young children running for Congress on Long Island, pays $22 an hour for a babysitter to take care of her toddlers for about 20 hours per week.
Last month she petitioned the FEC asking for permission to use campaign funds to pay for child care, citing two cases from 1995 and 2008 where male candidates asked to use campaign funds to pay for certain child care expenses in more limited circumstances.
In her letter to the FEC, Grechen Shirley wrote that prior to running for Congress, she worked from home as a consultant and was able to care for her 3-year-old daughter, Mila, and 2-year-old son, Nicholas, full time.
"It's a juggling act every day," Grechen Shirley told reporters on a conference call Thursday. "I take conference calls while nursing my son and while my daughter is running around and playing."
When she decided to run, she says she had to hire a part-time babysitter so she could focus on the campaign.
"As the primary election approaches, I expect to need full-time care for my children, along with additional support on evenings and weekends, so that I can devote the time necessary to run a successful campaign," she wrote in her letter.
The FEC's ruling applies to future candidates who, like Grechen Shirley, incur child care costs as a result of running for office.
"The Commission concludes that your authorized campaign committee may use campaign funds to pay for the childcare expenses described in your request because such expenses would not exist irrespective of your candidacy," the FEC wrote in its ruling.

Grechen Shirley said she's proud to be the first woman to spend campaign funds on child care, adding that she hopes the decision inspires other women across the country to run for office.
"There's a reason more than half of Congressmembers are millionaires: running for office takes a huge toll on a family's budget, especially while raising children," she said in a statement. "This groundbreaking decision will remove a major financial obstacle for working families and mothers at a time when women are increasingly considering elected office."

Former presidential candidate Hillary Clinton had previously sent a letter to the FEC in support of Grechen Shirley's request, writing that if the FEC denies the request it would discourage young mothers from running for office.
"Young women like Ms. Shirley are now running for office in record-breaking numbers. ... Under a plain reading of the law, as applied to Ms. Shirley's facts, the answer to her question can only be 'yes,'" Clinton wrote in the letter.

Grechen Shirley also had the support of 24 members of Congress who submitted a letter to the FEC, saying "as we work to build a political environment that is fair to candidates of all backgrounds, the Commission has a role to play in fairly enforcing and administering federal campaign finance laws."
Grechen Shirley said she hopes Thursday's ruling will inspire more women to run for public office.
"We need people of diverse socioeconomic backgrounds," she said. "We desperately need working women in Congress."