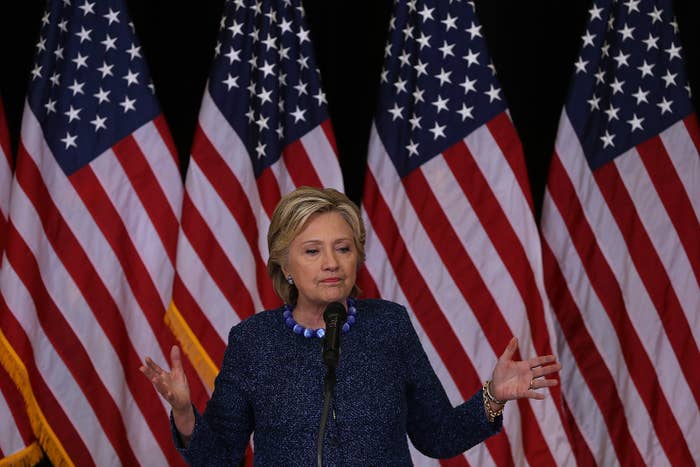 Hillary Clinton challenged the FBI on Friday to release more information about a new batch of emails related to the probe into her use of a private email server that were discovered while investigating former New York congressman Anthony Weiner.
The FBI announced the new email inquiry Friday in a letter to Congress.
"In connection with an unrelated case the FBI has learned of the existence of emails that appear to be pertinent to the investigation," reads a letter sent from FBI Director James Comey to Congress. Comey said it's unclear how long the review will take.

Clinton, however, said at a Friday news conference that she had no warning the FBI was looking into more emails, adding "we have not been contacted by anyone."
"Even Director Comey noted that this new information may not be significant," Clinton said at a news conference, "so let's get it out."

At a Saturday rally in Daytona Beach, Florida, Clinton said, "It's pretty strange to put something like that out with such little information right before an election."

"In fact, it's not just strange," Clinton said. "It's unprecedented, and it is deeply troubling."

Clinton called on Comey to "explain everything right away, put it all out on the table."
The FBI discovered the emails after taking control of devices owned by top Clinton aide Huma Abedin and her husband Anthony Weiner, authorities said Friday. Weiner came under NYPD — and apparently FBI — scrutiny after reportedly sexting a 15-year-old girl in North Carolina. Earlier in the year he reportedly sent texts to a woman with his young son in the photo, and Abedin announced her separation from him.
News of Weiner and Abedin's connection to the new emails was first reported by the New York Times.
Weiner didn't return several requests for comment by BuzzFeed News.
When asked at Friday's news conference about the potential content of the emails, Clinton responded that "your guess is as good as mine, and I don't think that's good enough."

"We don't know the facts," Clinton continued, "which is why we are calling on the FBI to release all the information that it has."

According to Capitol Hill sources, it did not appear that oversight committees on the Hill were aware of the new FBI probe before the letter was received Thursday. The FBI said it did not place any restrictions on the letter it sent to Congress, and said lawmakers were free to share it if they chose to do so.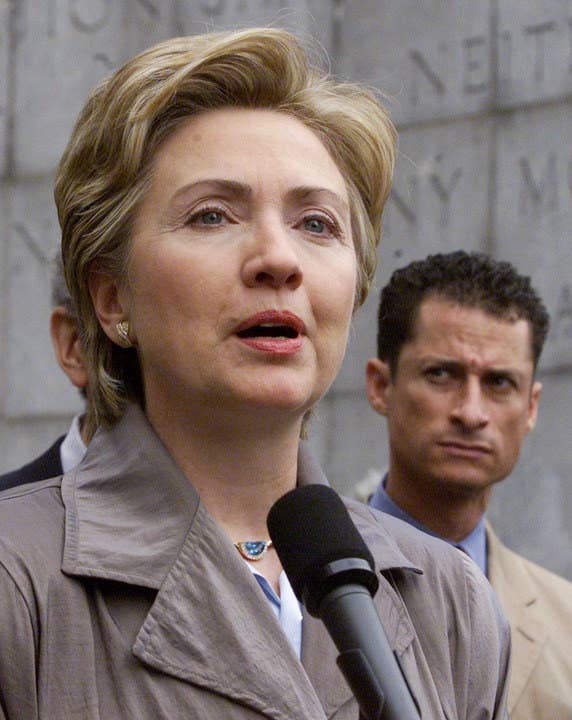 Clinton campaign chairman John Podesta issued a statement Friday saying, "FBI Director Comey should immediately provide the American public more information than is contained in the letter he sent to eight Republican committee chairmen. Already, we have seen characterizations that the FBI is 'reopening' an investigation but Comey's words do not match that characterization.
"Director Comey's letter refers to emails that have come to light in an unrelated case, but we have no idea what those emails are and the Director himself notes they may not even be significant," Podesta added. "It is extraordinary that we would see something like this just 11 days out from a presidential election."
At her news conference Friday evening, Clinton brushed off the possibility that the emails could impact the outcome in next month's presidential election.
"I think people a long time ago made up their minds about the emails," she said. "I think that's factored into what they think."
Rep. Jason Chaffetz, the Chair of the House Oversight and Government Reform Committee, tweeted, "The FBI has learned of the existence of emails that appear to be pertinent to the investigation.' Case reopened."

NBC reported that the FBI is not technically "reopening" the investigation, as it was never closed. The network further reported that while looking at Weiner's laptop, the FBI found Huma used it and that it held some pertinent emails.
Clinton, who was in flight without access to the internet when the news broke, waited 20 minutes after landing before exiting the plane. Photographer Annie Leibovitz exited after Clinton, leading some to speculate that a photoshoot was taking place.

Clinton's use of a private email server while in office has been a huge issue in the presidential campaign, and one of Republican nominee Donald Trump's most potent lines of attack on her.

In a campaign rally on Friday in Manchester, New Hampshire, Trump said Clinton's "corruption is on a scale we have never seen before," adding that the election "might not be as rigged a I thought," saying he believes the FBI is going to "right this ship."
"I have great respect for the fact that the FBI and the Department of Justice are now willing to have the courage to right the horrible mistake that they made," he said Friday. "This was a grave miscarriage of justice that the American people fully understood and it is everybody's hope that it is about to be corrected."
He then went on to call the email scandal "bigger than Watergate," as the crowd erupted in cheers and applause.

Trump tweeted frequently about Weiner's connection to Clinton via Abedin, writing at one point, "It came out that Huma Abedin knows all about Hillary's private illegal emails. Huma's PR husband, Anthony Weiner, will tell the world."
Speaker of the House Paul Ryan said Clinton has no one but herself to blame for this.
"She was entrusted with some of our nation's most important secrets, and she betrayed that trust by carelessly mishandling highly classified information," Ryan said in a statement.
The Democratic Senatorial Campaign Committee issued a statement saying, "Of course the officials should complete their review, and it's just as important that they provide Americans with clarity."
In July, after an investigation, the FBI recommended no criminal charges against Clinton but did say she and her team were "extremely careless" in handling classified information.
Comey's full letter reads:
Dear Messrs Chairmen:

In previous congressional testimony, I referred to the face that the Federal Bureau of Investigations (FBI) had completed its investigation of former Secretary Clinton's personal email server. Due to recent developments, I am writing to supplement my previous testimony.

In connection with an unrelated case, the FBI has learned of the existence of emails that appear to be pertinent to the investigation. I am writing to inform you that the investigative team briefed me on this yesterday, and I agreed the the FBI should take appropriate investigative steps designed to allow investigators to review these emails to determine whether they contain classified information, as well as to assess their importance to our investigation.

Although the FBI cannot yet assess whether or not this material may be significant, and I cannot predict how long it will take us to compete this additional work, I believe it is important to update your Committees about our effort in light of my previous testimony.

Sincerely yours,

James Comey
Ali Watkins contributed to this report.