FBI Director Previously Said "We Have A Collision" On Encryption
At a December 2015 press conference, FBI Director James Comey said encryption "is a very hard problem because it involves the collision of two things we all care about."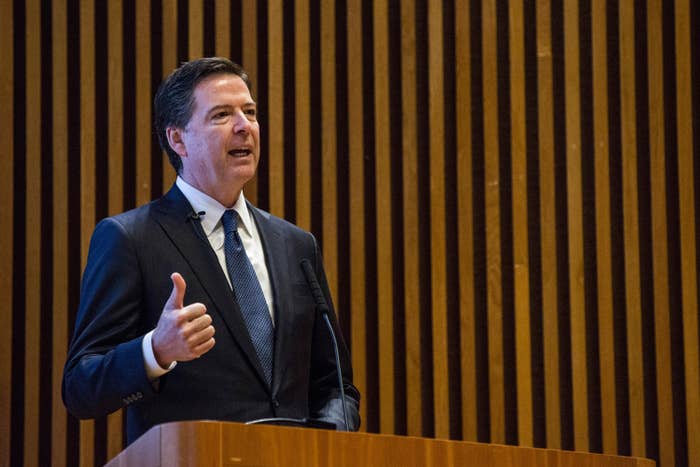 Just two months before a U.S. magistrate judge on Tuesday ordered Apple to assist federal investigators with unlocking an iPhone used by one of the San Bernardino attack shooters, FBI Director James Comey warned of "a collision" between public safety and digital encryption.
In a December press conference alongside NYPD Commissioner Bill Bratton, Comey addressed the issue of not being able to access a locked phone – even with a court order.
We cannot unlock that device because the manufacturer built it in such a way that even they can't unlock it. And so we have in our hands a device that holds information that a judge has already said is important to an investigation, we can't access it. That is the data at rest problem.
Apple CEO Tim Cook said the company will fight the judge's order, calling the request "an unprecedented step which threatens the security of our customers."
Comey at the December news conference addressed accessing both locked devices and encrypted texts sent through a messaging app.
We cannot read it because it's encrypted. This encryption's shadow is falling all across of our lives and it's going to affect all of our work. This is a very hard problem because it involves the collision of two things we all care about.
He went on to say that he's "a big fan of encryption," and that safety and security on the Internet is necessary. Comey said he wants his health care, banking, and background information, as well as government secrets to be protected.
I'm also a big fan of public safety. Those two battles, those two things we hold dear, are crashing into each other. We see that no more clearly than the threat that ISIL poses to us. The use of encryption is crashing into our need to achieve public safety.
Despite the collision between the two worlds, Comey said, "we are not at war with each other … Everybody cares about public safety and about security on the Internet."
Democracy has taught us about collisions and to work to find ways to resolve them. So the piece of good news that I offer you when we're talking about this is I think the temperature has come down and we recognize that we are all Americans.
The FBI director went on to say that law enforcement isn't "going to break the Internet," because he doesn't believe this is a technical issue but a problem with companies' business models.
When a judge's order for communication is served on them, they need to comply and still provide secure service to their customers because their business model allows them to comply with the judge's orders.

There are lots of other companies that have signed their business model away and said we can't comply. I actually don't think it's a technical problem, but a business problem. That doesn't solve it but at least I think that gets us focused on that which matters, which is figuring out ways for people who care about the same values to change the business model so that we can maximize those values, so we can still protect information that's found on wires and sits on devices.