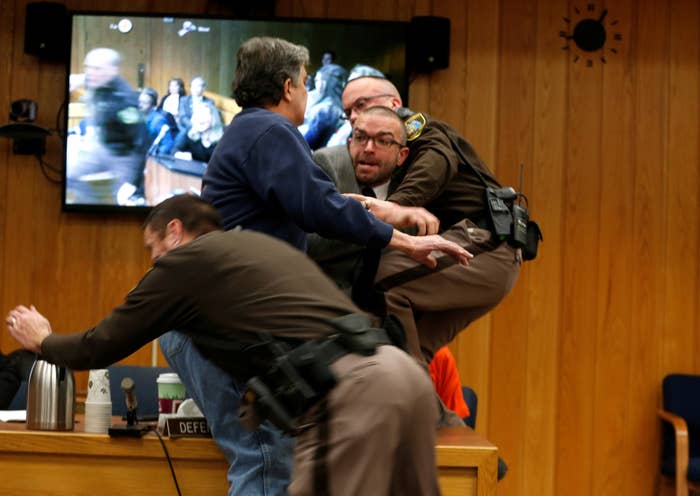 A father of three girls who were sexually abused by Larry Nassar tried to attack the former USA Gymnastics doctor in court during a sentencing hearing on Friday as court officers tackled the man to the ground and arrested him.

After two of his daughters delivered victim impact statements, Randall Margraves asked the judge to grant him five minutes alone "in a locked room with this demon."
Judge Janice Cunningham told Margraves that she could not do that, prompting the father to suddenly charge toward Nassar before being tackled to the ground by court officers.
"I want that son of a bitch," Margraves said as he was being tackled. "Give me one minute with that bastard!"
As he was being taken out of the room, Margraves asked the arresting officers, "What if this had happened to you guys?"
Assistant Attorney General Angela Povilaitis turned to the remaining victims in the Michigan courtroom, telling them they could not behave like this.
"This is letting him have the power over us," she said, urging people to use their words and not physical violence.
After a short break in the proceedings, Judge Cunningham returned to tell the court that they should allow "the criminal justice system to do what it's supposed to do."
"We cannot react by using physical violence and assault against someone who is and has performed criminal acts," Judge Cunningham said. "That's not how our system works."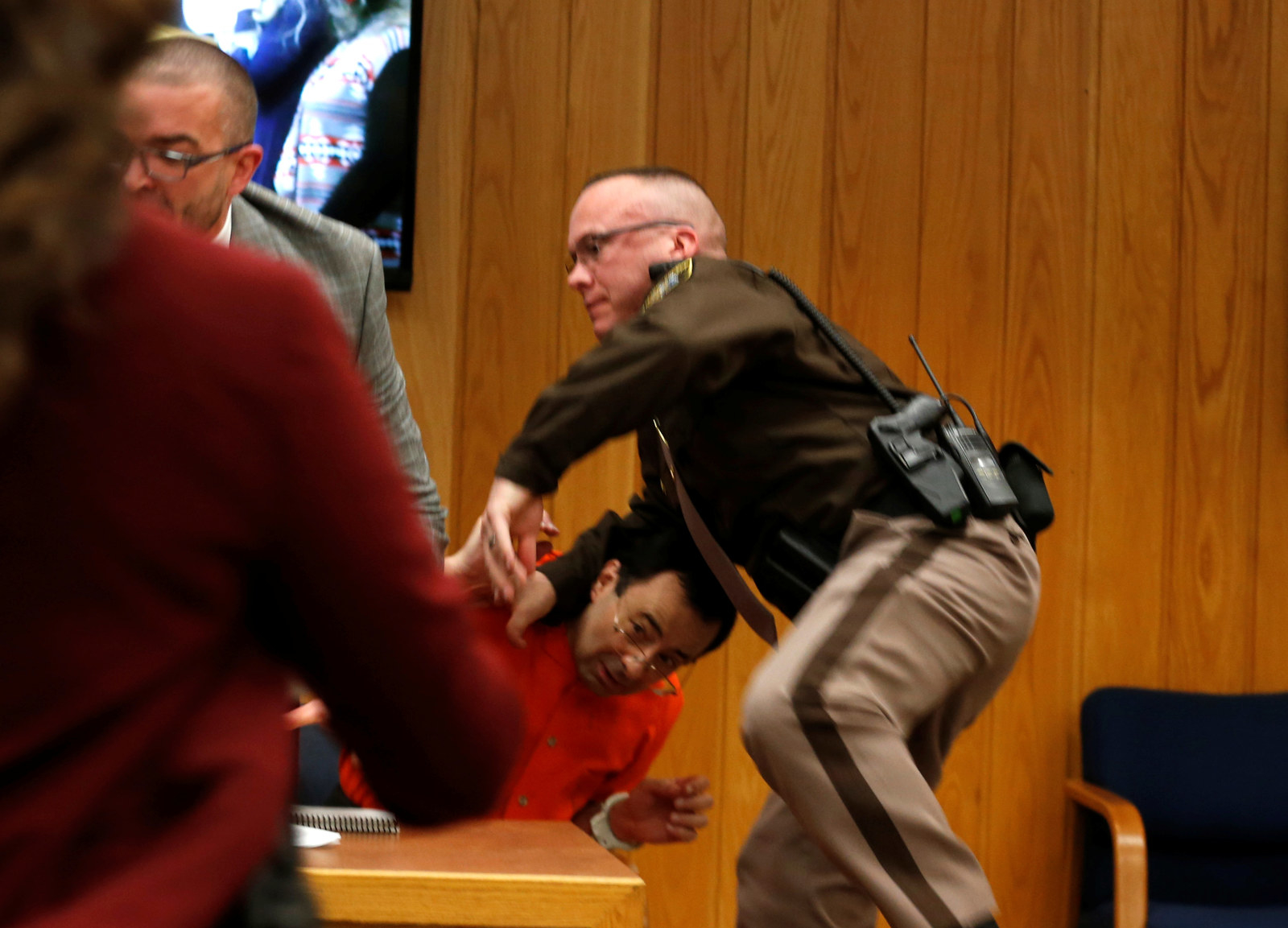 Margraves' third daughter spoke in Ingham County court last week.
Nassar, who was sentenced to 40 to 175 years behind bars last week for sexually abusing young athletes under the guise of medical treatment, is in court again this week to face sentencing on similar charges in a different Michigan county.

More than 60 women are expected to deliver victim impact statements in Eaton County.
Speaking to reporters after the incident, Margraves said he was embarrassed by his outburst in court and apologized, saying he did not want to divert attention from his daughters, or other survivors who were speaking out against Nassar.
He said he hadn't heard many of the details of the abuse his daughters faced until Friday, and that seeing Nassar shake his head at times, "that's when I lost control."
"I'm not advocating that anyone should do that," Margraves said. "I feel very remorseful. I was embarrassed."
Despite Nassar's conviction, Margraves said the experience has still left a heavy toll on his family.
"I was blinded by the fancy degrees hanging on the wall," Margraves said, describing how he took his daughters to Nassar for various sports injuries. "I delivered, unintentionally my three daughters to a demon."
"But this is a strong family," he said. "We will get through it."
After the court took a break for lunch Judge Cunningham addressed Margraves, who had been held in a holding cell for approximately two hours since his arrest.
The judge told Margraves he was in contempt of court and informed him she could give him a jail sentence or fine him more than $7,000. Ultimately, Judge Cunningham said she would not order a punishment, trusting that Margraves would not have another outburst in court.
"You have to understand this is a court room," she said "We enforce the rules of law. It's not acceptable we combat assault with assault. We have to teach our children that when people do things that are wrong ... we handle that by using legal proceedings. To punish them we cannot tolerate or condone vigilantism or any other type of action that comes down to an eye for an eye."
Margraves apologized to the judge and the court, saying his outburst was a reaction to the content of the statements his daughters read in court. He said he only knew his daughters would read a statement and not the content of it as they did not let him read it beforehand.
"I lost control. I apologize one hundred times," he said. "I calmed down. I'm embarrassed. I'm not here to upstage my daughters. I'm here to help them heal."
Margraves and his attorney said they were thankful for the leniency from the judge. They were not sure, they said, if sheriffs officials or prosecutors would pursue any other charges from the outburst.
The father of three, however, did not offer any apology to Nassar, adding only that he wished additional punishment for him aside from the courts.
"I could only hope that when the day comes, that Larry Nasser has ended his days on this earth, that he will be escorted to one of the deepest, darkest hottest pits in hell there is for him and people like him," Margraves said. "I hope there's a lot of pain attached to it, because he's certainly left a lot of pain on this earth. That's all I have to say."
Sal Hernandez contributed to this report.