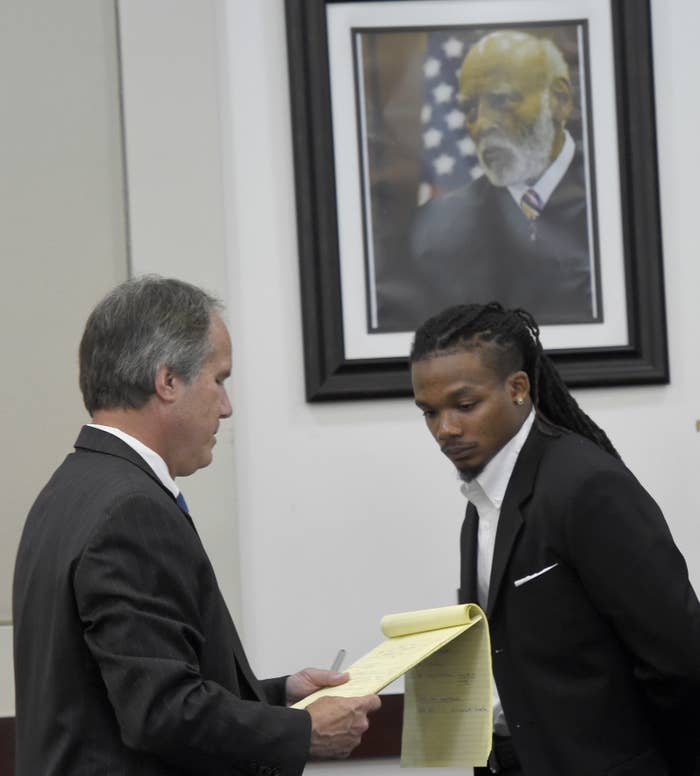 A former Vanderbilt football player was found guilty Friday in the rape of an unconscious female student — the third former athlete from the Nashville university to be convicted in a 2013 gang rape.
Brandon Banks, now 23, was found guilty on one count each of aggravated rape and aggravated sexual battery for using a water bottle to penetrate an unconscious Vanderbilt student four years ago. He was found not guilty on five other similar charges.
Police discovered a rape had occurred when they were called to the dorm to investigate a report of vandalism. Video surveillance from the building viewed by police also showed four men carrying an unconscious woman.
Last year, Brandon Vandenburg was sentenced to 17 years behind bars for encouraging his teammates to sexually assault the woman, who at the time was a senior at the university.
Prosecutors accused Vandenburg of pushing the victim to drink, and then encouraging his teammates to sexually assault her while she was unconscious. Vandenburg was also convicted of recording the assault.

Corey Batey, who was also on the football team at the time, was convicted and sentenced to 15 years in prison for his role in the rape.
Prosecutor Jan Norman told the jury that deleted video — recovered by Metro Nashville Police detectives from an iPhone weeks after the assaults — shows Banks penetrating the woman with a water bottle. The prosecutor showed the jury photos of the act, according to the Tennessean newspaper.

"When you examine the evidence in this case, it doesn't allow for excuses," Norman said during closing arguments.
Banks's lawyer called the images a "highlight reel" of what happened, saying they don't fully capture what happened in the 30 minutes inside the dorm room.
Banks testified that Vandenburg — who was casually dating the victim at the time — told the men "we're going to fuck this bitch," handed out condoms, and gave Banks the water bottle, instructing him "to put the f-ing bottle in her."

Jaborian "Tip" McKenzie — a fourth teammates charged in the case and who is awaiting trial — testified that Banks assaulted the woman with the bottle.

"It's Brandon Vandenburg recording, laughing, egging it on," he tesified. "Brandon Banks reaching squeezing a bottle. Cory Batey attempting to have sex and Vandenburg saying you're not hard yet."

The defense argued that Vandenburg "was pressuring" his client to participate in the assault.
"Mr. Vandenburg was pressuring and goading Mr. Banks," defense attorney Katie Hagan said during opening statements, arguing that he was acting under duress at the time.

Banks testified that he was frequently teased by his teammates for being physically smaller than most members of the football team. He also said that he was often called "gay" and "a fag" when he told them he hadn't had sex with any women on campus because he has a girlfriend.
"All of us here wish it hadn't happened, but to convict Brandon Banks of these crimes would be just as much as an injustice," Hagan said during closing arguments.

But Norman, the prosecutor, argued that Banks was a willing participant, noting that there were 23 photos of the incident were found on his phone.

"They're memorializing each other's accomplishments in that room — what they were doing, what they were cheering each other on to do, what they were encouraging each other to do," Norman told jurors.