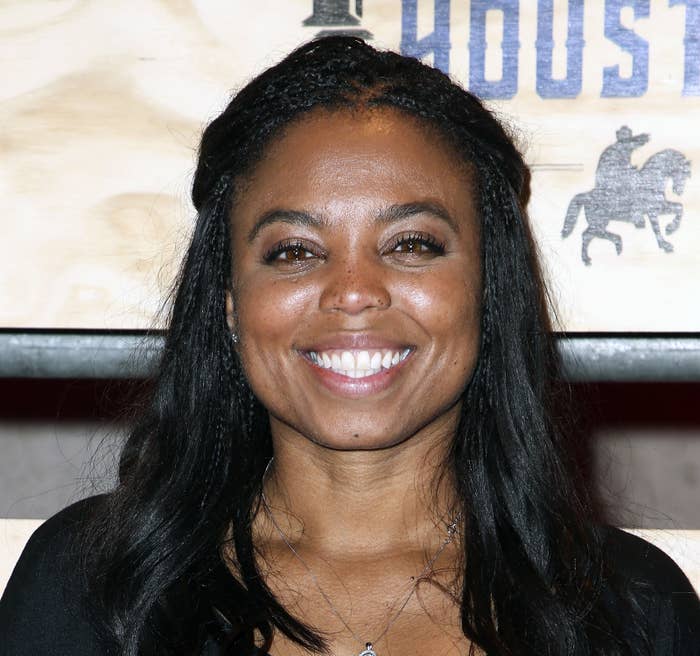 President Trump has criticized ESPN host Jemele Hill on Twitter, following her suspension from her job for her social media posts.

On Tuesday morning, Trump tweeted: "With Jemele Hill at the mike, it is no wonder ESPN ratings have "tanked," in fact, tanked so badly it is the talk of the industry!"

The network suspended the SportsCenter host for two weeks after what the network said was a second violation of its social media guidelines. Hill had previously called President Trump a white supremacist.
"Jemele Hill has been suspended for two weeks for a second violation of our social media guidelines," a statement from ESPN reads. "She previously acknowledged letting her colleagues and company down with an impulsive tweet. In the aftermath, all employees were reminded of how individual tweets may reflect negatively on ESPN and that such actions would have consequences. Hence this decision."

It was not immediately clear which tweet led to her suspension, but on Sunday, Hill tweeted to her followers to consider boycotting Dallas Cowboys advertisers after owner Jerry Jones threatened to bench any player who takes a knee during the national anthem.
On Monday she tweeted, "Just so we're clear: I'm not advocating a NFL boycott. But an unfair burden has been put on players in Dallas & Miami w/ anthem directives."

Almost two weeks, Hill broke her silence, telling TMZ at Los Angeles International Airport that she, "put ESPN in a bad spot."
"I deserved a suspension," Hill said, adding that she "violated the policy. Going forward we'll be in a good, healthy place."
But Hill added, while she might have put "ESPN in a "bad spot," she will "never take back what she said."
"So you can take that to means what it means," Hill said about her tweets about the president.
During a tweetstorm last month, Hill called Trump an "unfit, bigoted, incompetent moron" who had empowered white supremacists.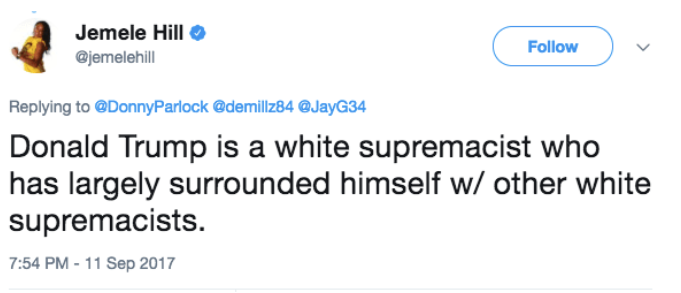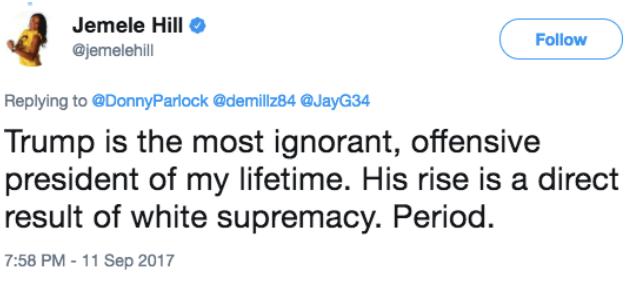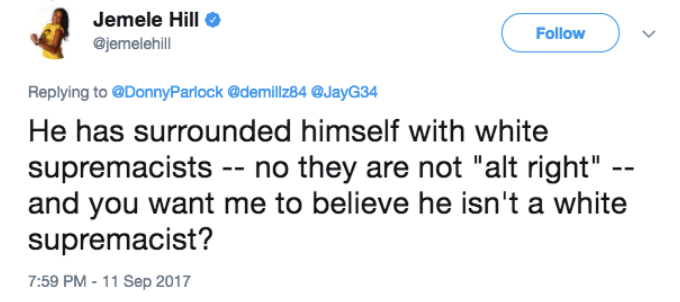 Trump attacked ESPN over the comments and called for the SportsCenter co-host to apologize for "untruths." White House Press Secretary Sarah Huckabee Sanders said the tweet was a "fireable offense" and that the sports network was being "hypocritical" for not firing Hill for her "political statement."
Last year, ESPN fired analyst and former MLB pitcher Curt Schilling over an anti-transgender Facebook post.
"I think it is a fireable offense based on the standard that ESPN has set themselves by saying that people that go too far and make political comments have been suspended from their own network. I think that that is a consistency they should probably focus on," Sanders said.
ESPN at the time said that Hill's views do not represent the network's position. Hill echoed that comment by later saying, "my comments on Twitter expressed my personal beliefs. My regret is that my comments and the public way I made them painted ESPN in an unfair light."