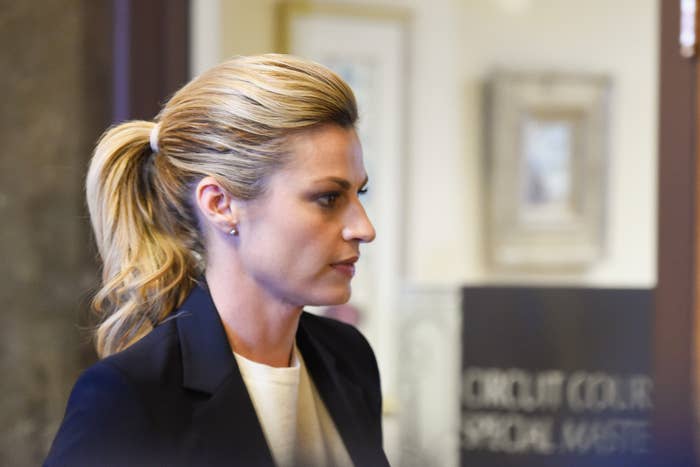 Attorneys delivered their closing arguments for more than four hours Friday in a civil case brought by sportscaster Erin Andrews against a man convicted of stalking her, and the companies that owned and operated the hotel where she was secretly videotaped nude.
The jury was expected to begin deliberations Monday in the case. Andrews is seeking $75 million in damages from Michael David Barrett, as well as the owners and operators of the Nashville Marriott, for the 2008 incident.
Barrett confessed to altering the peepholes in hotel room doors in Nashville and Columbus, recording Andrews nude, and posting the video online. Still images of her naked body were soon splashed across tabloids and online. Barrett was sentenced to serve two and a half years behind bars.
Andrews' lawyer, Brett Broilett, called out the Nashville Marriott for not following its own policy on guest safety.
Broilett alleged Barrett called the hotel and requested to stay in the room next to Andrews. The hotel staff allegedly fulfilled the request without checking with Andrews first.
"Who's the manager who was supposed to call Erin Andrews and didn't?" Broilett said during closing arguments in court in Nashville. "Was it because things were so lenient and lax?"
Broilett argued that Marriott's policy of keeping guests happy to make sure they come back — a policy he argues is in place to make the hotel company more money — put Andrews' safety at risk.
He went on to say that even though Andrews may have a happy, positive public persona, she feels traumatized in her personal life.
"The people we see on TV also have a personal life," Broilett said, comparing the sportscaster to actor Robin Williams, who privately struggled with depression and eventually committed suicide. "And sometimes that personal life is much more challenging than when they light up in front of the camera."
The attorney representing the companies that own the hotel said they should not be held responsible for Barrett's actions.
"We concede that Ms. Andrews is a victim of a crime, a terrible disgusting crime by Mr. Barrett," Marc Dedman told jurors, according to the Associated Press.
Andrews testified during the trial that she will forever be haunted by the recording.
"This will always be there," she said, adding that she still receives tweets and nasty messages about it. "There will always be a reminder every single day."
Andrews said that ESPN insisted she address the video in a nationally televised interview before she could return to her on-air job.
She testified that her bosses recommended she speak on Good Morning America, since the show fell under the same corporate ownership as ESPN. Andrews did not do the Good Morning America interview and eventually chose to speak on The Oprah Winfrey Show, although she said she did not want to do any interview in the first place.
Andrews returned to her job the same week the air date of the Oprah interview was announced.
ESPN maintained in a statement that they supported Andrews throughout.
During her testimony, Andrews described the protections she takes when traveling, including checking air conditioner vents, alarm clocks, and bathrooms in hotel rooms for cameras.
This incident will also deter young women from pursing a career in sports, she said.
"I think what really hits home for me and hurts me the worst is when girls, high school, college, they tweet me and say, 'I want to be Erin Andrews – except for the Marriott stalking thing,'" she said.
Defense lawyer Marc Dedman pointed to the contracts Andrews signed with ESPN and Fox Sports, her role as host on Dancing With The Stars, and her multiple endorsement deals, claiming the incident has helped her career.
"Your income has gone up substantially since this occurred," Dedman said.