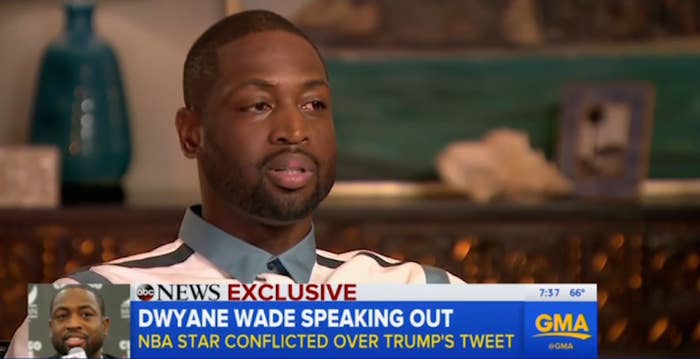 Dwyane Wade said Donald Trump's tweet, sent after the NBA star's cousin was gunned down in Chicago, left him "conflicted."
Wade's cousin, Nykea Aldridge, was fatally shot while pushing a child in a stroller in Chicago on Aug. 26. She was caught in the crossfire after two men approached another from behind and opened fire.

The following day, Trump tweeted, "Dwyane Wade's cousin was just shot and killed walking her baby in Chicago. Just what I have been saying. African-Americans will VOTE TRUMP!"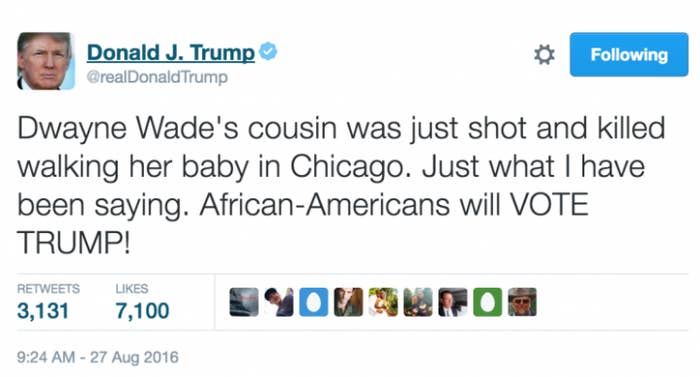 "On one hand, your cousin's death is used as a ploy for political gain," Wade told Good Morning America's George Stephanopoulos. "I was grateful that it started a conversation, but on the other hand, it just left a bad taste in my mouth because of what my family is dealing with."
Wade went on to say that he feels hurt that the media focused on him and not his cousin.
"Instead of talking about a mother of four and getting to know her and getting to know how amazing, how great she was as an individual, most of them said, 'This is Dwyane Wade's cousin,'" he said. "That was the whole thing from her murder. That kind of hurt me and put me in a dark place for a few hours."
Wade also spoke about the widespread violence in Chicago — which he also experienced when he was young and growing up there.
Wade signed with the Bulls last month. On Friday he told GMA he wants to make a difference in his hometown.
"My purpose for being back in the city is bigger than basketball," he said. "Basketball is a big part of it, of course — it's what I do for a living. But I think my purpose at the end of the day hopefully is to come to Chicago and be a part, be a voice that can help bring people together."

Watch the full interview here: