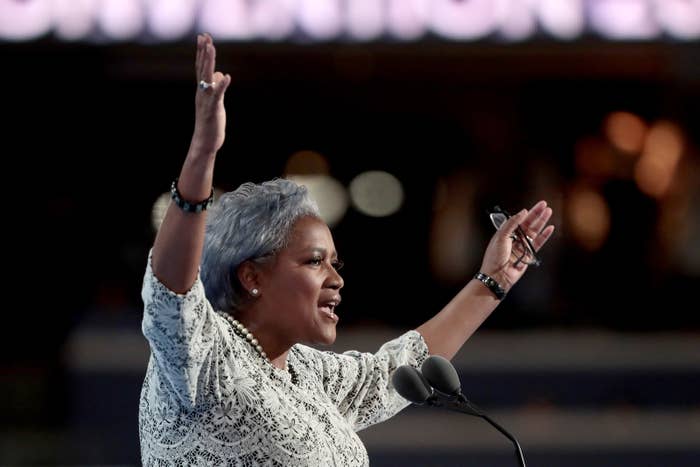 Donna Brazile, a former CNN contributor and Bill Clinton campaign adviser, apparently emailed a Hillary Clinton campaign staffer a question that was expected to be asked at the CNN Democratic presidential town hall debate in March.
In an email titled, "From time to time I get the questions in advance," Brazile appeared to tip off Clinton communications director Jennifer Palmieri to a question about the candidate's stance on the death penalty.
"Here's one that worries me about HRC," read the email sent by Brazile, who is currently serving as the acting chair of the Democratic National Committee.
19 states and the District of Columbia have banned the death penalty. 31 states, including Ohio, still have the death penalty. According to the National Coalition to Abolish the Death Penalty, since 1973, 156 people have been on death row and later set free. Since 1976, 1,414 people have been executed in the U.S. That's 11% of Americans who were sentenced to die, but later exonerated and freed. Should Ohio and the 30 other states join the current list and abolish the death penalty?

Palmieri responded by saying the question is "one she gets asked about. Not everyone likes her answer but can share it." (Palmieri didn't immediately respond to a request for comment.)

Palmieri also instructed Bestaida Alcantara, Clinton's director of media planning, to send the candidate's answer on the death penalty.

"I never had access to questions and would never have shared them with the candidates if I did," Brazile said in a statement Tuesday.
A CNN spokesperson said the network has "never, ever given a town hall question to anyone beforehand," the spokesperson said in an email to BuzzFeed News.
And in an interview with BuzzFeed News, Brazile denied sending the email, saying, "I did not tip off anyone." She added, "I don't read Wikileaks," she said. "I refuse to play the Wikileaks game."
"As a longtime political activist with deep ties to our party, I supported all of our candidates for president," she later said in a statement. "I often shared my thoughts with each and every campaign, and any suggestions that indicate otherwise are simply untrue. As it pertains to the CNN Debates, I never had access to questions and would never have shared them with the candidates if I did."

Business Insider, citing a a "top Democratic party source," reported the question was one that Brazile would face at a panel.
According to the official Democratic Presidential Town Hall at Ohio University on March 13 transcript, a question asked was:
"I came perilously close to my own execution, and in light of that, what I have just shared with you and in light of the fact that there are documented cases of innocent people who have been executed in our country, I would like to know how can you still take your stance on the death penalty in light of what we know right now."
Over the past several days Wikileaks has release emails from the account of John Podesta, the Clinton campaign chairman. The US government, in a statement last week, blamed Russia for a series of hacks on Democratic Party officials, stating, "the recent disclosures of alleged hacked e-mails on sites like DCLeaks.com and WikiLeaks and by the Guccifer 2.0 online persona are consistent with the methods and motivations of Russian-directed efforts."

"We are in the process of verifying the authenticity of these documents because it is common for Russia to spread misinformation and forge documents, but we cannot bow down to Putin's wishes and allow foreign actors to try and divide our country with the hope of affecting the outcome on Election Day," Brazile said in her statement Tuesday. "There is too much at stake."
On Wednesday, Politico reported that Roland Martin, a host on the TV One cable network who was co-hosting the town hall with CNN's Jake Tapper, sent three questions — one pertaining to the death penalty — to CNN. The question he sent uses the same language as Brazile's email the previous day.
Martin told Politico he does not remember consulting with Brazile over the question. It remains unclear, then, how Brazile may have had a version of it.
"As we have said since news of this broke, CNN did not share any questions with Donna Brazile, or anyone else for that matter, prior to the town hall," a CNN spokesperson told BuzzFeed News in an email. "Given that our broadcast partners for the town hall at TV One sent this question to us the day AFTER it appeared in Donna's email, we have every reason to believe it came from them."
CNN suspended Brazile's contributor agreement in July when she took over for Debbie Wasserman Schultz as acting head of the Democratic National Committee.
On Monday, the New York Times reported that Brazile also forwarded the Clinton campaign a January 2016 email obtained from the Bernie Sanders campaign.