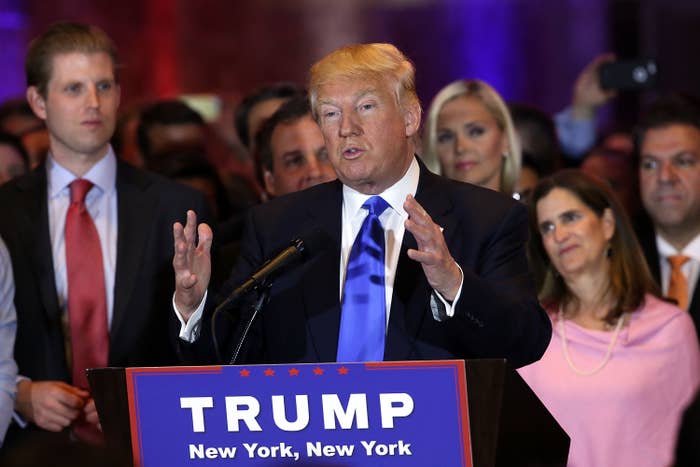 After sweeping all five Republican primaries , Donald Trump said he is the presumptive nominee and will easily beat Hillary Clinton in a general election because "the only thing she has going for her is the woman's card."
"If Hillary Clinton was a man I don't think she'd get 5% of the vote," he said. "The only thing she has got going is the woman's card. The beautiful thing is, women don't like her. Look how well I did with women."
Earlier in the evening, during her victory speech, Clinton addressed Trump's comments — which he also said Tuesday morning on "Fox and Friends."
"The other day Mr. Trump accused me of playing the, quote, woman card. Well if fighting for women's health care and paid family leave and equal pay is playing the woman's card, then deal me in," Clinton said.
The Clinton campaign has been bracing for "personal attacks" from the Trump camp, BuzzFeed News reported in March.
Trump also during his victory speech Tuesday night said he'll do more for women than the Democratic candidate. He also said beating Clinton will be easier than the beating the several candidates who ran for the Republican nomination.
"I call her crooked Hillary," he said. "She'll be a horrible president ... She does not have the strength and the stamina."