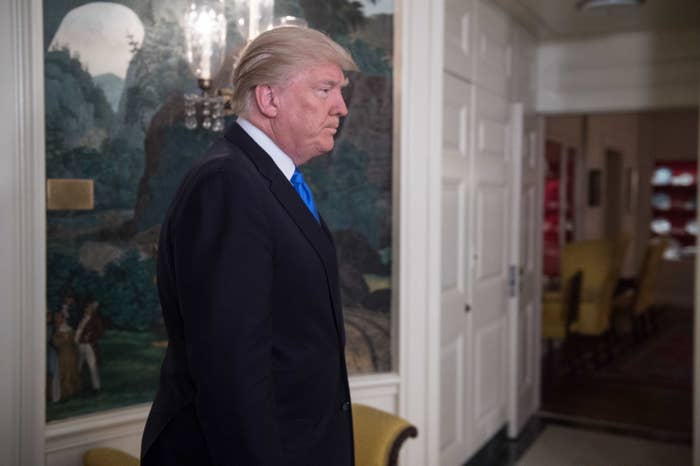 Donald Trump delivered a statement Wednesday morning praising law enforcement's swift actions after a gunman opened fire at members of Congress who were practicing for an upcoming charity baseball game.

"Many lives would have been lost, if not for the heroic actions of the two Capitol police officers who took down the gunman despite sustaining gunshot wounds during a very, very brutal assault," Trump said, later adding that the officers' sacrifice "makes democracy possible."

Rep. Steve Scalise, two Capitol Police officers, a congressional aide, and a lobbyist were shot during a GOP baseball practice in Virginia Wednesday morning, officials said.

Republican congressmen and their staffers were at the Eugene Simpson Stadium Park baseball fields in Alexandria when a shooter opened fire shortly after 7 a.m. local time.

"Congressman Scalise is a friend and a very good friend," Trump said. "He's a patriot and he's a fighter. He will recover from this assault."
Trump went on to say that everyone on that baseball field are public servants who love their country.
"We may have our differences but we do well, in times like these, to remember that everyone who serves in our nation's capitol is here because, above all, they love our country," Trump said. "We can all agree that we are blessed to be Americans that our children deserve to grow up in a nation of safety and peace, and we are strongest when we are unified and when we work together for the common good."
Authorities identified the alleged shooter as James T. Hodgkinson, 66, of Bellville Illinois. His wife told ABC News he had been living in Alexandria for the past two months.
Trump said the gunman has died from his injuries.
Scalise was struck in the hip and remains in stable condition at a local hospital. Rep. Roger Williams's staffer Zack Barth was also shot in the melee. He is expected to make a full recovery, Williams said.
The two Capitol police officers that were shot are in "good condition" and are being treated at a hospital, Capitol Police Chief Matthew Verderosa said. Matt Mika, a lobbyist for Tyson Foods, was injured in the shooting, according to the Washington Post and NBC. His condition was not immediately known.