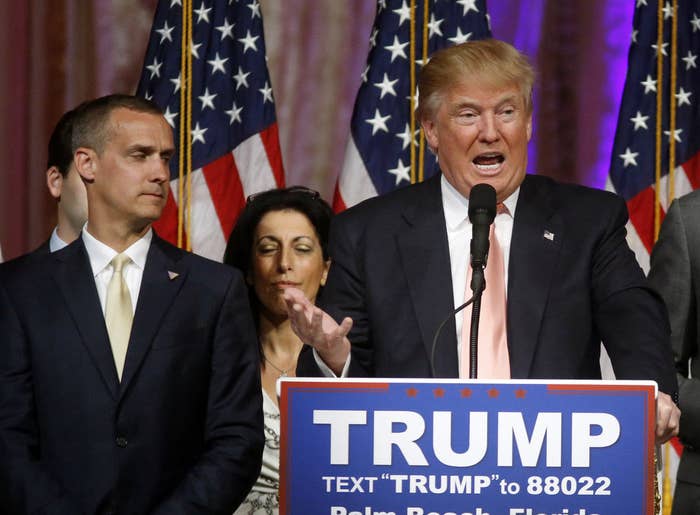 Donald Trump on Tuesday continued to defend his campaign manager after he was charged with simple battery for allegedly manhandling former Breitbart reporter Michelle Fields at an event in Jupiter, Florida.
"It's a sad day in this country when a man can be destroyed over something like that," Trump said while taking questions from reporters on his plane.
Trump insisted Corey Lewandowski, who was charged Tuesday with simple assault, is a "fine man" and said he'll stand by him.
"I don't discard people," the GOP frontrunner said. "I stay with people."
Trump said Lewandowski was only trying to block Fields "and create a little room" when she ran up and tried to ask questions after the press conference concluded.
Fields was "grabbing at me and [Lewandowski was] acting as an intermediary trying to block her," Trump said. "The news conference was over. She was running up and grabbing me asking questions."
Fields "seriously hurt a very good person," Trump added. It's "a very, very sad day in this country when a man can be destroyed over something" like this.
Trump also noted that he provided police the video of the incident as it happened on his property.
"If you look at that tape, he was very seriously maligned," Trump said, calling the footage "conclusive" and "unfair."
The GOP frontrunner said he had advised Lewandowski to not settle the case and "go all the way."
Trump then went on to doubt Fields' statements to police and the bruises she allegedly had following the incident.
"You were pushed around more getting on this plane right now than she was pushed around," he told reporters.
"I don't know if they were bruises from that," Trump said when asked about Fields telling police she had a bruise on her arm from the altercation. "How do you know those bruises weren't there before? I'm not a lawyer."
"Don't you think she would have yelled out a scream? … Her facial expression doesn't even change," he said of the video of the incident.
Trump addressed the controversy again at a campaign rally in Janesville, Wisconsin, Tuesday evening, reiterating that he would not fire Lewandowski and saying that Fields grabbed or hit him.
Lewandowski may have "touched her a little bit," he said, but "it was almost like he was trying to keep her off me."
The candidate even suggested Lewandowski "was helping" Fields from falling.
Lewandowski has not addressed the charges directly.