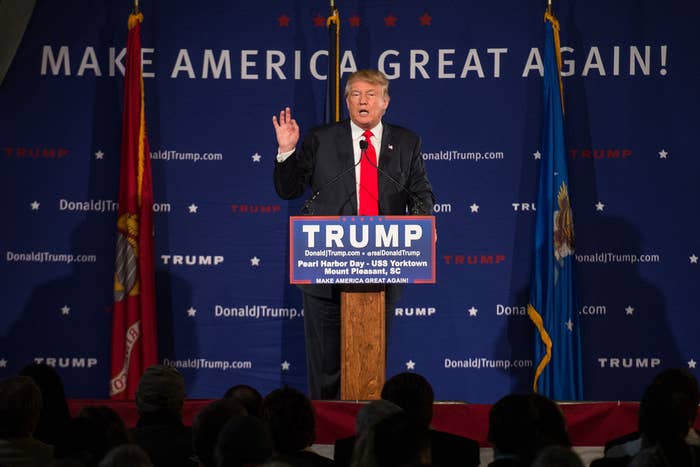 Donald Trump appeared on MSNBC's Morning Joe Tuesday defending his call to ban Muslims from entering the United States.
On Monday, Trump released a statement calling for "a total and complete shutdown of Muslims entering the United States until our country's representatives can figure out what is going on."
On Morning Joe, Trump said his proposal would be temporary but "has to be done."
"We have to get our hands around a very serious problem," he said.
Trump suggested customs agents should ask people to disclose their religion upon entering the country. If they indicated they are Muslim, they shouldn't be let in the country, Trump said, adding that he would waive the Muslim ban on world leaders.
In the past month, Trump has repeatedly attacked Muslims following terrorist attacks in Paris and in San Bernardino, California. The presidential candidate has called for the surveillance and closure of mosques, and falsely claimed that thousands of Muslims in New Jersey celebrated the attacks on Sept. 11.
"Look at Paris," he said on Tuesday. "I hate to say this, but Paris is no longer the same city it was. They have sections that are radicalized that police are afraid to go in."
When pressed by host Joe Scarborough to give examples of areas in Paris he is referring to, Trump didn't name a neighborhood, but said he'll "get you that information."
"We are at war with radical Islam," Trump said. "We will have more World Trade Center [attacks] if we don't toughen up and smarten up."
When asked how long this temporary ban will last and how officials will know when "the coast is clear," Trump responded, "We need people to get their arms around the situation."
The hosts argued that the United States needs the Muslim-American community on its side, which Trump agreed with, adding that Muslim-Americans need to help law enforcement by turning in "the bad ones."
"They have to help us and they're not," Trump said. "The Muslim community is not reporting what is going on. They should be reporting their next door neighbors who are making pipe bombs."
Speaking on CNN shortly after, a Trump spokesperson directed their critique at Ahmed Mohammed, the 14-year-old who was arrested at school for bringing in a homemade clock thought to be a bomb.
"How can we live in this backwards way of terrorism?" the spokesperson asked.