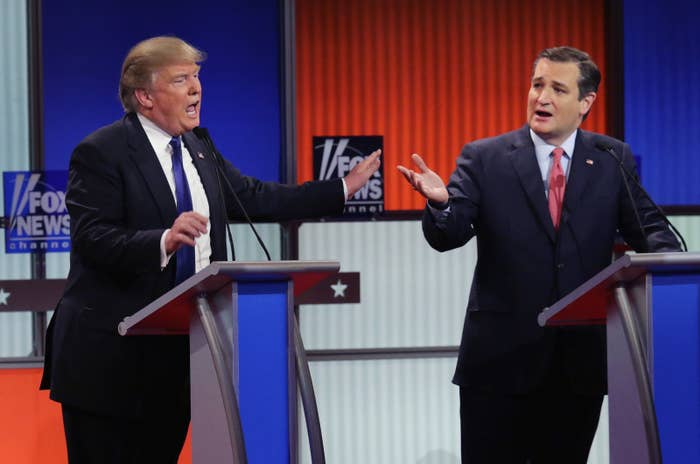 Republican presidential nominee Donald Trump used his remarks to campaign staffers and volunteers Friday to revive conspiracy theories linking Ted Cruz's father with Lee Harvey Oswald, the man who killed President John F. Kennedy.
"I don't know his father. I met him once. I think he's a lovely guy," Trump said the day after accepting the presidential nomination in Cleveland. "All I did is point out the fact that on the cover of the National Enquirer there was a picture of him and crazy Lee Harvey Oswald having breakfast."

In May, the National Enquirer published a story claiming that Rafael Cruz was pictured with Oswald in 1963. Trump cited the story the day of the Indiana primary, suggesting Cruz's father was linked to Kennedy's assassination.
"Did anybody ever deny it was the father?" Trump said Friday. "They're not saying, 'Oh, that wasn't my father.' That's a little hard to do. It looks like him."
Trump went onto defend a tweet that included an unflattering photo of Cruz's wife, Heidi, saying that Cruz's team started the feud by running a racy photo of his wife in an ad in Utah.
The ad, which included Melania Trump's cover in GQ magazine, was published by a PAC unaffiliated with Cruz's campaign.
"Folks, a lot of us are political people," Trump said. "We're not babies. His people are on the PAC."
Earlier this week at the Republican National Convention Cruz refused to endorse Trump for president.
"I don't want his endorsement," Trump said Friday. "Just, Ted, stay home, relax, enjoy yourself."
Meanwhile, President Obama dismissed Trump's depiction of a nation in crisis during his nomination acceptance speech, saying violence and illegal immigration have decreased under his administration.
"This idea that America is somehow on the verge of collapse, this vision of violence and chaos everywhere, doesn't really jibe with the experience of most people," Obama said.
Speaking about the upcoming election, Obama added: "We're not going to make good decisions based on fears that don't have a basis in fact."