Surprise, Many Democrats Say A New Supreme Court Justice Shouldn't Be Confirmed Until After November's Elections
They called on Republicans to follow Mitch McConnell's 2016 lead when he refused to hold a hearing on former president Obama's Supreme Court nominee until after the general election.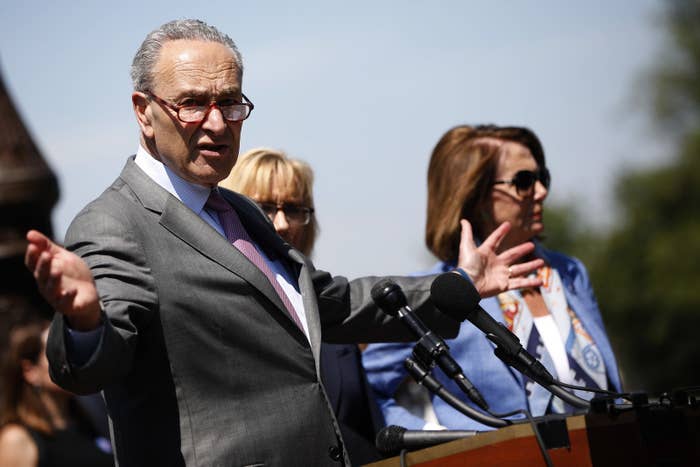 Senate Minority Leader Chuck Schumer and several Senate Democrats called on Republicans to wait to confirm a new Supreme Court justice until after the November midterm elections — reminding them that's what they did before the 2016 elections.
"Anything but that would be the absolute height of hypocrisy," Senate Minority Leader Chuck Schumer said on the floor shortly after Justice Anthony Kennedy announced he was retiring.
Schumer urged Republicans to "follow the rule they set in 2016, not to consider a Supreme Court justice in an election year."
He said that, at the time, Senate Majority Leader Mitch McConnell told "anyone that listened that the Senate had the right to advise and consent and that was every bit as important as the president's right to nominate."

"Millions of people are just months away from determining the senators who should vote to confirm or reject a president's nominee and their voices deserve to be heard now as leader McConnell thought they should deserve to be heard then. Anything but that would be the absolute height of hypocrisy."
During the 2016 presidential campaign, McConnell refused to consider Merrick Garland — then-president Barack Obama's nominee to replace the seat vacated by Antonin Scalia.
"It is a president's constitutional right to nominate a Supreme Court justice, and it is the Senate's constitutional right to act as a check on a president and withhold its consent," McConnell said in 2016.

"The American people should have a voice in the selection of their next Supreme Court Justice," McConnell also said at the time.

That 2016 seat on the Supreme Court was left open until after Donald Trump won the presidency and nominated Neil Gorsuch, whom the Senate confirmed.
With Kennedy's retirement, Trump will get a second chance to name a nominee to the Supreme Court — a decision that could affect the country for decades.

Trump said the task of picking his nominee will "begin immediately" and will "come from the list of 25 people" that he previously had issued. "Hopefully we will pick someone who is just as outstanding."

Other Democratic senators echoed Schumer, including Kamala Harris, who in a statement said the vacancy in the Supreme Court "puts issues that affect every single American in the balance."
"Given the stakes of this seat which will determine the fate of protected constitutional rights, the American people, who are set to vote in less than four months, deserve to have their voice heard," Harris's statement said. "We should not vote on confirmation until they have voted at the ballot box."
Sen. Dianne Feinstein issued a statement saying that with the midterm elections less than four months away, there should be no consideration until after the public decides which party will control the Senate.
"It's important for Americans to remember what's at stake with this vacancy," she said. "In recent years, the Supreme Court's conservative majority has made profound changes to how our laws are interpreted."
Sen. Dick Durbin, a member of the Judiciary Committee, issued a statement thanking Kennedy for his service, adding that McConnell "set the new standard" by giving the American people a say in an upcoming election before justice seats are filled.

"With so much at stake for the people of our country, the U.S. Senate must be consistent and consider the president's nominee once the new Congress is seated in January."
CORRECTION
Dianne Feinstein's name was misspelled in an earlier version of this post.