Defense Team For Officer Who Shot Akai Gurley Focuses On Danger Of The Job
Lawyers for Peter Liang, who is charged for fatally shooting Akai Gurley, said the officer was allowed to have his gun drawn while patrolling a housing project's stairwell.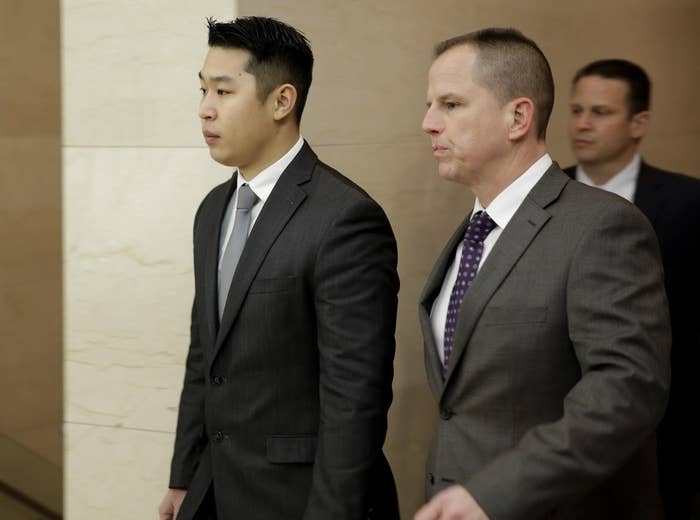 Lawyers for the NYPD officer charged with fatally shooting an unarmed black man in 2014 sought to portray Brooklyn's Pink Houses — where the shooting occurred — as one of the most dangerous buildings in the city to conduct one of the most dangerous assignments on the force.
Rookie Officer Peter Liang, 28, is on trial for manslaughter in Brooklyn Supreme Court for fatally shooting Akai Gurley, 28, on November 20, 2014, while the officer was conducting a vertical patrol — where officers reach to the top of a housing facility and walk down the stairs, checking each floor. Liang, while on the top floor, had his gun out and fired — the bullet hit a wall, ricocheted, and fatally struck Gurley on a lower floor, according to testimony.
On the second day of trial, Defense attorney Robert Brown asked both officers to recount shootings that occurred at the Pink Houses the weeks before Gurley was shot, seemingly to establish it is a high-crime area.
"Would you agree that roof landings are one of the most dangerous places?" Brown asked NYPD officer Andrae Fernandez, who responded to the shooting call.
"Yes," Fernandez said
"Have you observed bullet holes on roof landings?" Brown asked.
"Yes."
"Have you made arrests on roof landings?"
"Yes."
Also at issue Tuesday was whether Liang should have had his weapon out in the first place. Fernandez and his partner, Officer Salvatore Tramontana, who also responded to the shooting, testified that it wasn't unusual for officers conducting vertical patrols to have their guns drawn.
"Is there a rule preventing you from taking your gun out at a particular time?" Brown asked Tramontana.
"No," he answered.
The defense also asked the officers specific questions about their past behavior.
"Have you ever taken your gun out," Brown asked Fernandez. The officer responded "yes."
"Fair to say hundreds of times?" Brown asked Fernandez, who has been on the force for eight years. "That's fair," he answered.
To drive the point, Brown asked once again, "During vertical patrols, it's not uncommon to have your gun out, right?" The officer responded "yes."
Fernandez also said that housing police officers are "informally trained" to have guns out during vertical patrol.
NYPD policy requires officers to use their discretion to determine when to have their guns drawn.
"You can't anticipate every situation, and that's why you train them to use their discretion," NYPD Commissioner Bill Bratton said in 2014.
When pressed by prosecutors, officer Tramontana said that when he ran into the Pink Houses while responding to the call about Gurley's shooting, he did not remove his gun from his holster.
"Sometimes you don't know when to pull it out," he said.
Both officers testified that when they arrived to the scene, Melissa Butler, Gurley's friend who was with him when he was shot, was performing CPR on Gurley. The two officers took over administering first aid.
Tramontana and Fernandez also said the lights in the stairwell on the seventh and eighth floor landings were out – a point frequently mentioned by the defense.
Video taken from crime scene investigators later that night and played for the jurors also shows lights only operated up until the 6th floor.
The video also shows Gurley's bloodied clothing and medical supplies left behind on the 5th floor landing.
Crime scene detective Matthew Steiner used diagrams in the courtroom to explain to jurors the direction the bullet was shot, and where it hit the wall between the two floors.
View the diagrams:
Download PDF