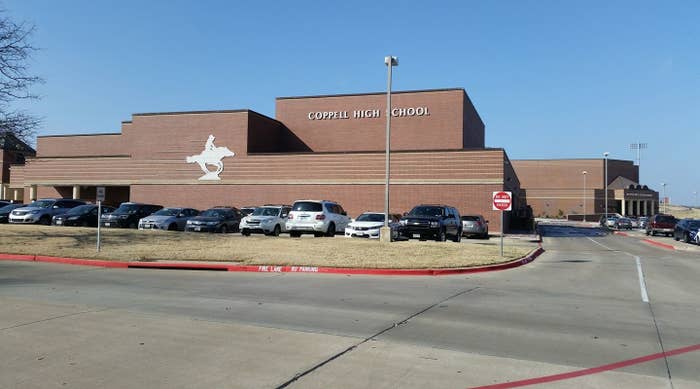 A post widely circulating around Facebook claimed a high school senior with Asperger's Syndrome was sexually assaulted by three classmates in his Texas school's bathroom — though police said Tuesday that the incident did not meet the criteria for criminal charges.
According to the post, which claims to be written by the victim's cousin and has garnered more than 10,000 shares, two boys coerced a teen into pulling down his pants and exposing himself, while another male student stood guard at the bathroom door.
The post also said two boys "sexually manipulated" the teen and snapped pictures of his genitals and shared the picture on Twitter and Snapchat.
"Everyone in the school saw the picture," the post reads. "My cousin was scared for his life. People have taken advantage of his innocence and social awkwardness before, but this is the epitome of humiliation."
A spokesperson for the police department said authorities were made aware of an incident and that the department conducted an extensive investigation, which included interviews with the parties involved.
"Based on those interviews with all parties and other evidence that was reviewed it was determined that the incident in question did not meet the criteria for criminal charges," Coppell police said in a statement, without providing detail of what is alleged to have happened.
The teen and his parents were interviewed last week and understood that no criminal offense occurred based on the facts presented, police said.
The Coppell Independent School District issued a statement saying it is aware of a social media post circulating online.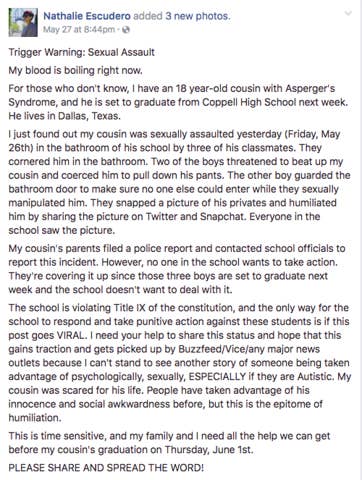 "We would like to take the opportunity to assure our community that any and all allegations of sexual abuse/assault are taken seriously and investigations by Coppell ISD and the Coppell Police Department are being conducted in accordance to Board policy and the Student Code of Conduct," the statement reads. "Our number one priority is to provide a safe learning environment for all Coppell ISD students."

The original Facebook post detailing the incident slammed the school for not taking action against the alleged perpetrators.
"They're covering it up since those three boys are set to graduate next week and the school doesn't want to deal with it," the post reads.
The person who wrote the Facebook post did not respond to BuzzFeed News's request for comment. Messages to Coppell High School's Board of Trustees were also not immediately returned.