Columbia University's No Red Tape student group protested the school's handling of alleged sexual assaults on campus Sunday night by projecting "Columbia Protects Rapists" on the main administration building – located at the center of campus.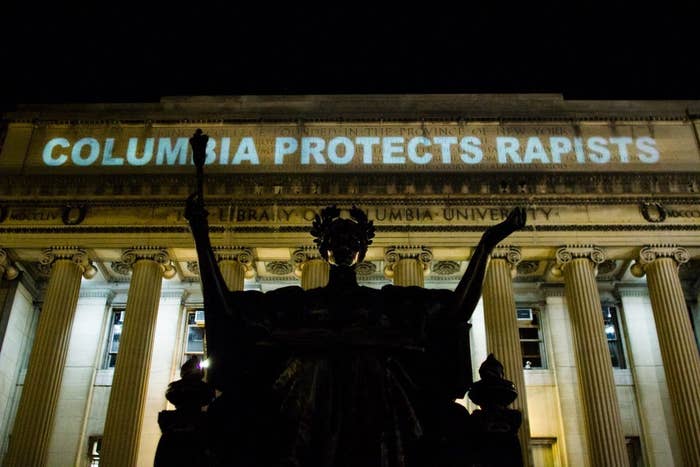 The protest was planned to coincide with Days on Campus, a weekend for prospective students visiting the school, Julia Crain, a member of No Red Tape, told BuzzFeed News.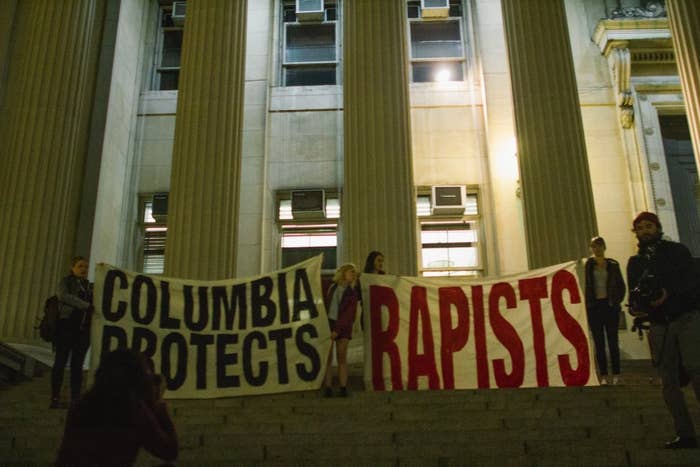 "The university has proven time and time again that their main concern is their public image and this weekend, their public image was vulnerable," Crain said.
The incoming students, Crain said, deserve to know the truth about how colleges handle reports of sexual assault and should be able to make informed decisions about where they go to school.
Members of the administration and campus police tried breaking up the rally, Crain said, telling the protesters they could project the phrases on to Low Library only after the visiting students left campus.
In a statement to BuzzFeed News, Columbia said it has consistently supported student freedom of expression "as a defining value of our university community."
But that right, the university added, "is best exercised when debate is informed by accurate facts, changing realities and respect for other views."
Columbia's handing of sexual assault cases is currently under investigation by the Department of Education after a federal complaint was filed in 2014 alleging that the school violated Title IX, Title II, and the Clery Act.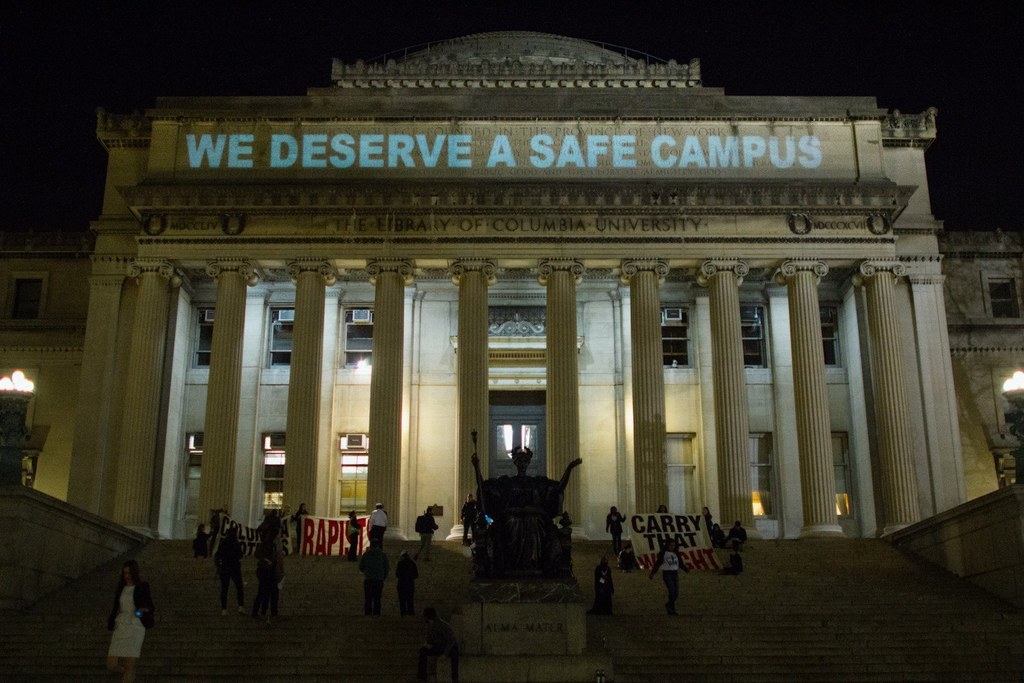 Also, Columbia senior Emma Sulkowicz gained national attention in the fall after she carried a mattress around campus, saying she would only stop when the man that allegedly raped her leaves the school.
"I'll do this until he leaves on his own or if the school expels him — anything that means we're not going to school together. But I'm prepared to do it until I receive my diploma," Sulkowicz told BuzzFeed in September.
No Red Tape and Carry The Weight organized a National Day of Action in November, where students on 130 national and international campuses carried mattresses for the day in solidarity with Sulkowicz.
At the end of the day, 28 Columbia students left their mattresses outside the university's president's house.
Residential Life's Graduate Hall Director Rainikka Corprew attempted to block the projector, blocking the words from appearing on the building, according to the Columbia Spectator.
According to the Spectator, Corprew told the activists, "I feel like I'm being violated in the same way that you're defending women's bodies ... It's like you're becoming the oppressors."
Zoe Ridolfi-Starr, co-founder of No Red Tape, told BuzzFeed News Corprew also made that comment to her.
"I don't know what kind of person you have to be to look at a young woman who is a survivor, who is trying to make campus safer, and call me an abuser," Ridolfi-Starr said. "It was painful, I didn't know what to say."
Crain said she also heard Corprew say the activists were violating and oppressing her, adding that Corprew's actions were "horrifying, when we were speaking out as survivors and allies of rape on this campus."
Corprew refused to comment for this story other than to say that quote is incorrect.
The protest was the start of Monday's National Day of Action, in which students across the country spoke out against their university's handling of sexual assault cases.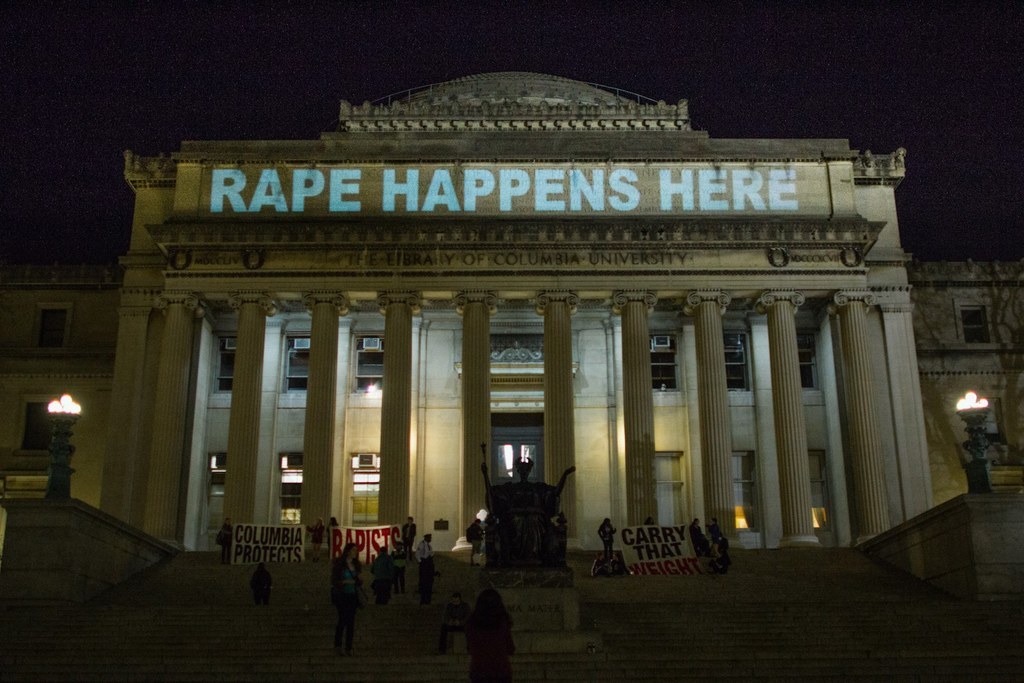 "The reason we're so adamant about speaking out is really because of how egregiously Columbia, and other schools, have handled sexual assaults," Crain said, adding that as a student group they are fighting for stronger sanctions.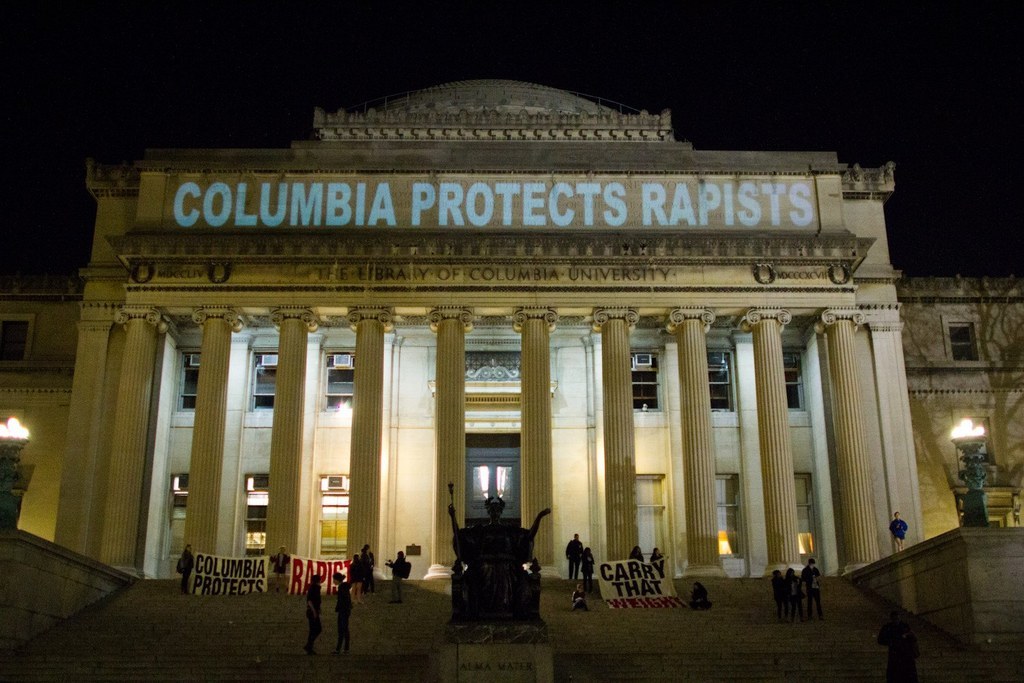 In addition to harsher punishments, such as longer suspension periods, Crain said they want the university to educate perpetrators so they don't repeat the offense once they return to campus.
In its statement, Columbia noted that many protesters have been meeting regularly over the past year with senior administrators.
"Their voices have been and continue to be heard, along with those of many others in the university community," the university said.
As a result of those conversations, Columbia said it has instituted a range of "enhanced efforts" to prevent and respond to "gender-based misconduct," including:
* Under our new executive vice-president for University Life, Columbia has launched an innovative Sexual Respect and Community Citizenship Initiative, which has engaged our entire student body.
* Last year, the university instituted a revised policy for the investigation and hearing of gender-based misconduct claims that protects the rights of all parties involved and is widely viewed as a national model.
* Two Sexual Violence Response & Rape Crisis/Anti-Violence Support Centers (rape crisis centers) have been opened during this academic year to provide additional support, services, and prevention training: a second one on the Morningside campus and another at the University Medical Center.
* Columbia's Gender-Based Misconduct Office is operating with an expanded staff of highly experienced investigators and case managers who are implementing our new policy and supporting students in need.
* The university is conducting a major research initiative for the purpose of advancing prevention of gender-based misconduct called SHIFT, the Sexual Health Initiative to Foster Transformation, led by respected scholars and clinicians at our Medical Center.
* Finally, we are in the process of conducting the first-ever, comprehensive survey of Columbia students designed to assess their experiences and perceptions of sexual misconduct, an initiative undertaken in partnership with the Association of American Universities and 26 other schools; in the fall, the AAU will release the aggregate results from across all participating universities.