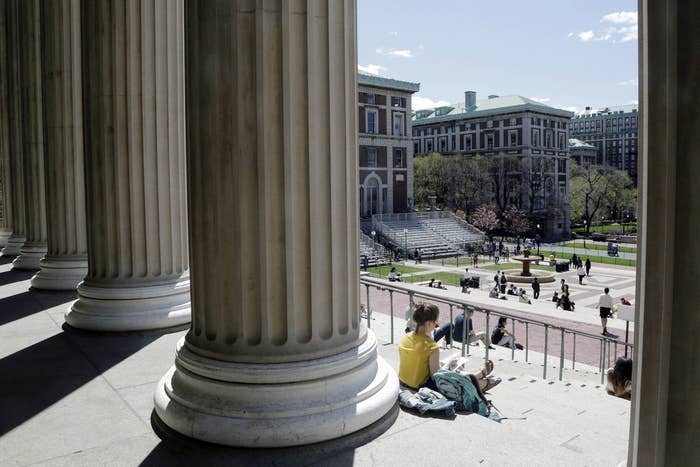 An assistant professor at Columbia University filed a gender discrimination lawsuit against the university Tuesday, claiming the school officials violated federal gender equality law when they "dismissed and belittled" her claims of being sexually harassed by a male colleague.
Enrichetta Ravina, an assistant professor of finance and economics, alleged in the federal lawsuit that the school failed to protect her from sexual harassment by Professor Geert Bekaert, who she said controlled crucial data she needed to conduct research in order to receive tenure.
"The university treats allegations of harassment with the utmost seriousness but does not comment on pending litigation," a Columbia University spokesperson said in a statement.
"I am sickened that a colleague — I was never Prof. Ravina's supervisor or superior — would manufacture false stories, statements and events and attempt to destroy my reputation," Bekaert said in a statement to BuzzFeed News.
Ravina alleged that Bekaert waited until she had invested substantial time in the data set — when abandoning it would have "grievously delayed" her research — before harassing her.
Ravina also alleged that Bekaert — who she said had the ability to revoke her access to the data set — began touching her inappropriately, calling her sexy, saying how horny he was, and describing his sexual exploits and how often he viewed pornography.
Bekaert said her accusations were completely false.
"I am a busy professional and have worked and continue to work with scores of collaborators, male and female, all of whom can attest to the personal and professional standards I hold high in joint research," he said.
Ravina said she rejected Bekaert's advances and that he retaliated by sabotaging her work.
"The more she resisted his sexual advances, the worse his behavior became," according to the lawsuit. "He made it clear that he would stall their collaboration and Ms. Ravina's publication efforts until and unless she gave in to his sexual advances."
She said Bekaert allegedly told her if she were "nicer" to him, he would allow her work to proceed faster.
Ravina sad she reported the harassment to Columbia University officials, who she claims dismissed her accusations.
"Columbia's senior leaders repeatedly dismissed and even mocked her complaints, calling her situation a 'soap opera' accusing her of flirting with her harasser, and giving her 'life advice' to give up her research agenda and start over," according to the lawsuit. "Columbia's senior leaders made clear that there was nothing they could do to protect Ms. Ravina."
Ravina claims that not only did the school not help protect her, but that officials retaliated against her by revoking paid leave and by reducing the time she had to submit materials for her tenure application.
She is suing the university for more than $20 million and for a court order to have until 2018 to submit materials for tenure.