On Sept. 4, 2017, Jaila Gladden left her apartment in Carrollton, Georgia — about 50 miles west of Atlanta — at around 11:30 p.m. to buy some medicine and tea from a local grocery store.
Wearing a fluorescent green Nike shirt, Gladden walked around the Kroger store, posting videos on Snapchat before paying. While she was walking back to her car in the store's parking lot, Gladden said a man asked her for a lighter.
She said she didn't have one and continued walking. Once she got to her vehicle, Gladden said she felt a knife press against her abdomen, and the same man ordered her to get into her car. She said she went in through the driver's seat and climbed into the passenger's side. The man asked her if she knew how to get to Atlanta.
In an interview with BuzzFeed News, Gladden for the first time recounted the harrowing night she says she was kidnapped and raped by a stranger, and how her quick-thinking use of her cell phone was instrumental in her rescue. Gladden is sharing her story because, she says, her ordeal could have been prevented with better security in the parking lot. This account draws from police reports from departments in Carrollton and Atlanta unless otherwise noted.

Authorities have charged Timothy Wilson with kidnapping, hijacking a motor vehicle, aggravated assault, rape, aggravated sodomy, false imprisonment, and aggravated assault against a police officer, according to prison records. He is in jail awaiting trial and his public defender attorney didn't answer a request for comment.
Gladden, a senior at the University of West Georgia, was sitting in the passenger seat as the man drove her green Honda Accord toward Atlanta.
The man stopped to park the car behind an abandoned church, and Gladden said he told her to take off her clothes. Gladden pleaded with him, but he told her there was "no purpose in crying."
Gladden said he then raped her inside the car. When he was done they continued driving.
The man said he needed money and planned to rob a gas station and then drive to Michigan. As a Georgia native, Gladden knew that most cashiers of Atlanta gas stations were behind protective bars.
"When he initially picked me up I was watching where he drove," Gladden said. "He never took eyes off the road."
Gladden told him she couldn't guide him toward gas stations unless she had her phone to google the locations.
He gave Gladden her phone back and she turned the screen's brightness down and surreptitiously shared her location in a text message to her boyfriend.
"It was the most logical thing to do," she said.
Tamir Bryant, Gladden's boyfriend, was asleep when his phone buzzed. When he saw Gladden's location he asked her why she was in Atlanta.
"Kid napped," Gladden responded.
"Stop playing rn," Bryant replied. "I'm headed to the police station."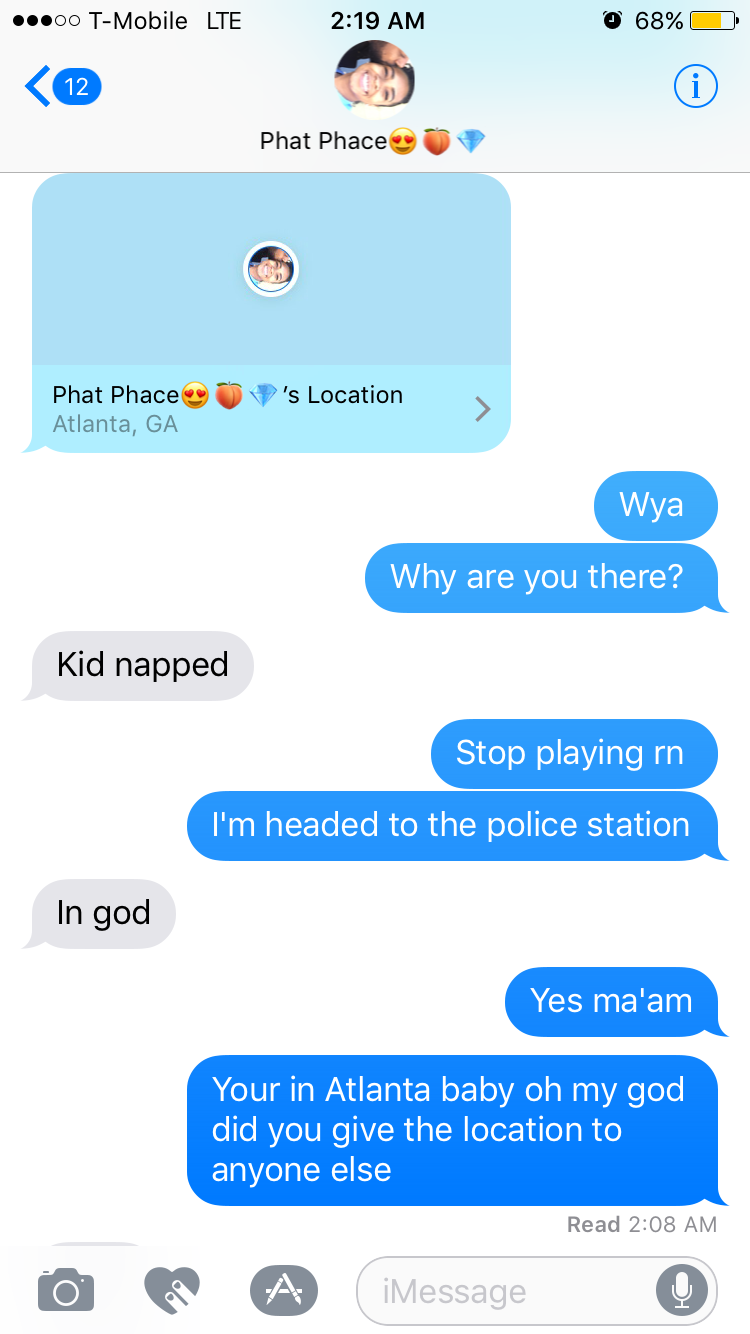 "I immediately realized it was serious," Bryant told BuzzFeed News. "She would never play like that. She would never say that for no reason."

The man, who hadn't realized she was texting her boyfriend, took away Gladden's phone and put her in the trunk of the car as he entered a gas station, she said. He was unsuccessful in robbing it. "He then told me he was going to rob a Walmart or a Kroger to get the money," she said.
Gladden again told him she needed her phone back to look up directions. He gave it to her and she was able to make more contact with her boyfriend.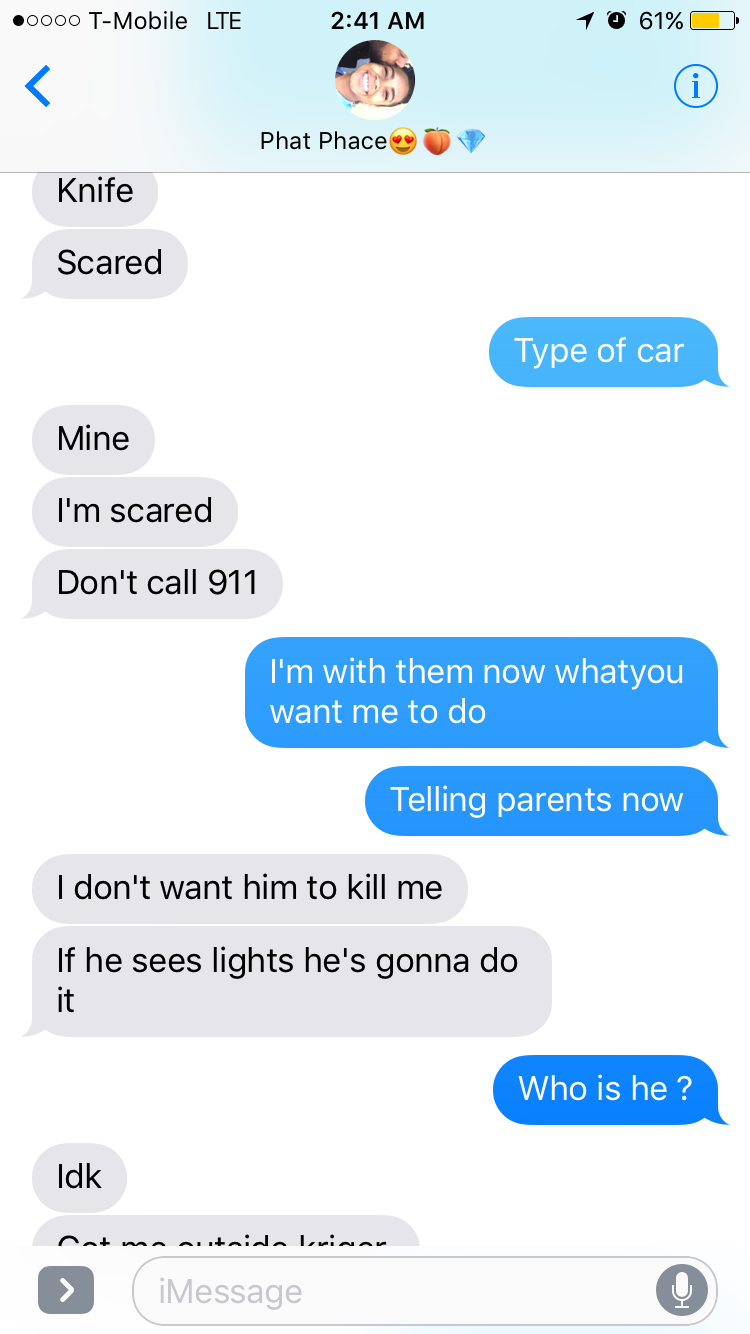 Gladden had guided the man toward the closest Kroger. He parked across the street in the parking lot of an apartment complex and again put her in the trunk. He came back moments later, let her out, and said there was a security guard outside — so he said he'd pass the night in the parking lot and that he'd try to rob the Kroger in the morning, she told BuzzFeed News.

By that time Bryant had arrived at the police station — he was so panicked he forgot to turn on his own headlights. "I was freaking out," he said about being able to see her location moving along the highway.
Gladden sent him two one-word texts: "knife" and "scared."
A police officer asked Bryant to find out what kind of car Gladden was in. "mine" she responded.
With the help of Gladden's roommate, officers identified the make and model of Gladden's car and notified the Atlanta Police Department. Bryant provided authorities with real-time updates of Gladden's location.
"I don't want him to kill me," she texted.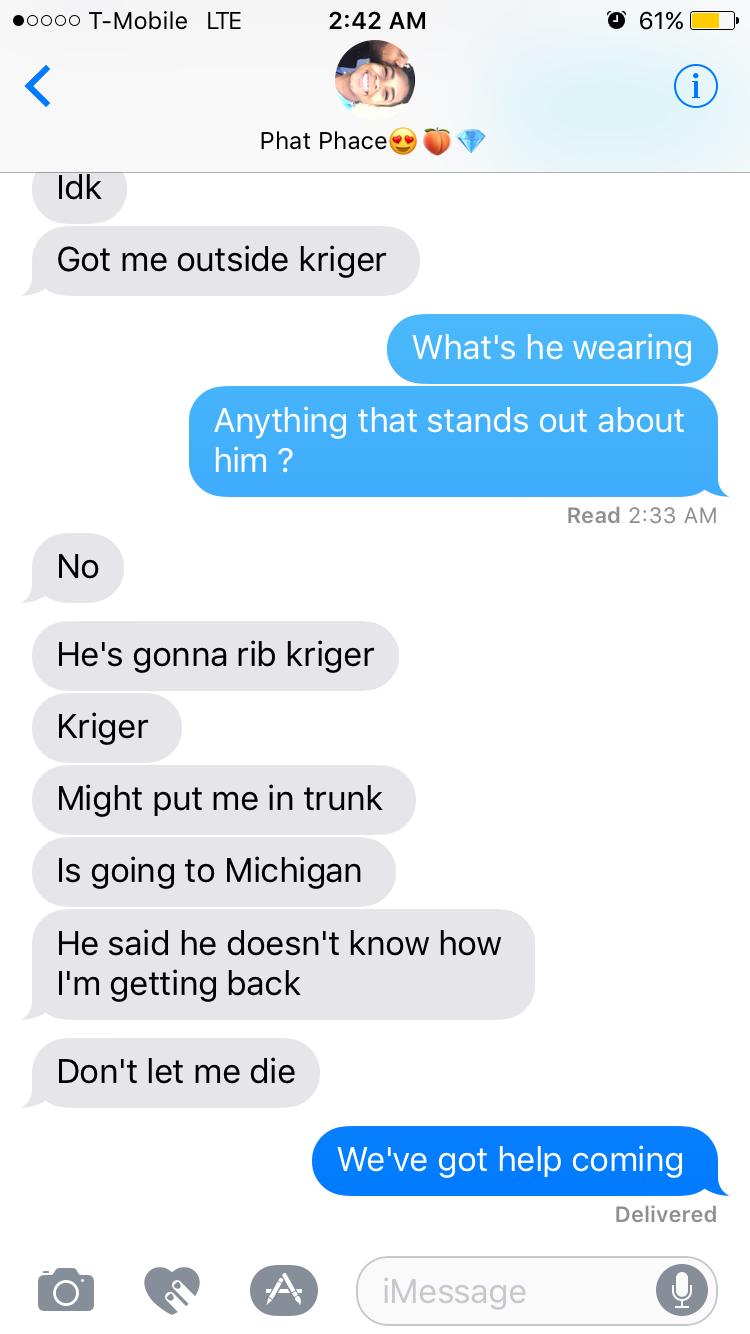 "Gladden then stopped reading text messages, and stopped responding at this point," according to the police report.

A police officer in Atlanta who was canvassing a parking lot saw an idle car matching the description, with its engine running and the lights turned off. Once the driver spotted the officer, he turned the lights on and sped toward the exit, colliding with four cars and the parked patrol car. He'd nearly hit the officer.
The officers drew their weapons and instructed the driver to stop. The driver ignored them, and eventually crashed into a fence.
Gladden got out of the car and ran toward the police officers, telling them the man jumped the fence and fled.
Back at the Carrollton police station, Bryant "burst out of the interview room saying he had Gladden on FaceTime," according to the police report.
"I saw police lights in the background; she was running and crying," Bryant told BuzzFeed News.
Bryant credits his girlfriend's sharing her location via text message as the reason police were able to find her as quickly as they did.
"If I didn't get the location, who knows what would have happened," Bryant said. "Her doing it on her own — she was able to outsmart the bad guy."
A spokesperson for the Carrollton police said in a statement that the public should "take lessons" from Gladden having her location feature turned on and texting her boyfriend.
"If this victim did not have her phone and did not think quickly she may not have been as lucky," the spokesperson said.
Gladden said she felt this all could have been prevented with better security at the parking lot where she was abducted. Her lawyer, Rod Dixon, said the Kroger location where she was abducted should have had a security guard — similar to the one in Atlanta near to where she was rescued. A spokesperson for Kroger referred all questions to authorities.
Dixon called his client a "hero" who "saved her own life."
Wilson was arrested about 10 hours after he allegedly fled from the car.
Gladden plans to go to graduate school and eventually become an occupational therapist. She said she wants people to be aware that bad things can happen at any moment.
"He's taken a lot away from my life and it doesn't need to happen again," she said. "It shouldn't have happened in the first place."