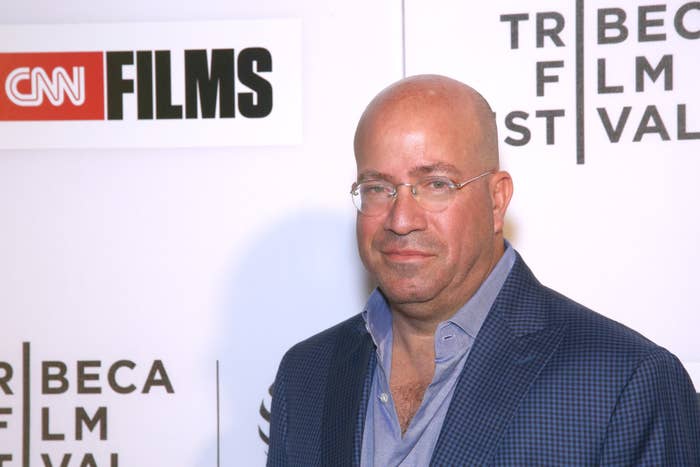 CAMBRIDGE, Massachusetts — CNN President Jeff Zucker on Friday said it was a "mistake" to air so many Trump rallies "and let them run" in 2015, giving the candidate an unfettered platform to call Mexicans rapists, support bans on Muslims from entering the US, and overall grow his base, which includes white nationalists.
"If we made any mistake last year, it's that we probably did put on too many of his campaign rallies in those early months and let them run," Zucker said at a talk at the Harvard Kennedy School. "Listen, because you never knew what he would say, there was an attraction to put those on air."
Moderator Lois Romano, from the Washington Post, focused heavily on Trump's journey to becoming the Republican nominee and CNN's role in the election coverage.
Zucker said he has "a unique relationship" with Trump — he was president of NBC Entertainment when The Apprentice began airing — but rejected the idea that he helped Trump secure CNN coverage and the Republican nomination. He would not say whether he thought Trump was fit to be president.

He said that when they asked Trump for an interview, he said yes. "We never got that from other Republican candidates," he said. "Marco Rubio and Jeb Bush went two months without agreeing to do an interview. That's not Trump's fault. That's not CNN's fault."
When asked what Trump is like personally, Zucker referred to the growing list of accusations from women that Trump groped or grabbed them without their consent, saying he was "unaware of any of the allegations." In the past week, a growing list of women have accused Trump of sexual misconduct after the release of a 2005 Access Hollywood tape showed him bragging to Billy Bush about kissing women, grabbing them "by the pussy," and attempting to have sex with a married woman.
This week it was reported that NBC is parting ways with Bush.
"I'm not excusing what he did, at all," Zucker said of Bush. "But I don't know if it's so clear-cut he should lose his job."

Zucker said he knew The Apprentice would be a hit because Trump was a "publicity magnet."
"Trump delivered on PR, he delivered on big ratings," he said, adding that Trump would often claim the ratings were bigger than they were.
Trump, who hosted The Apprentice, was making $40,000 per episode, Zucker said. Trump then asked "to be paid like the cast of Friends" — $1 million per episode — but Zucker said he refused.
Instead he offered Trump $60,000 per episode, which Trump initially turned down. Zucker said Trump called him the next day and agreed to the raise.

Zucker finished his talk by defending CNN's coverage of Trump, saying the network's reporters always pushed back on the Republican nominee's comments.
"I feel very good about the job CNN did on pushing back on some of the things he said — and the birther [comments] being the most prominent of those," Zucker said.
Zucker refused an interview with BuzzFeed News after the event, saying, "I really have to go."