Christine Hallquist Makes History Becoming The First Openly Transgender Candidate For Governor
"I'm so proud to be the face of the Democrats tonight," she told her supporters Tuesday.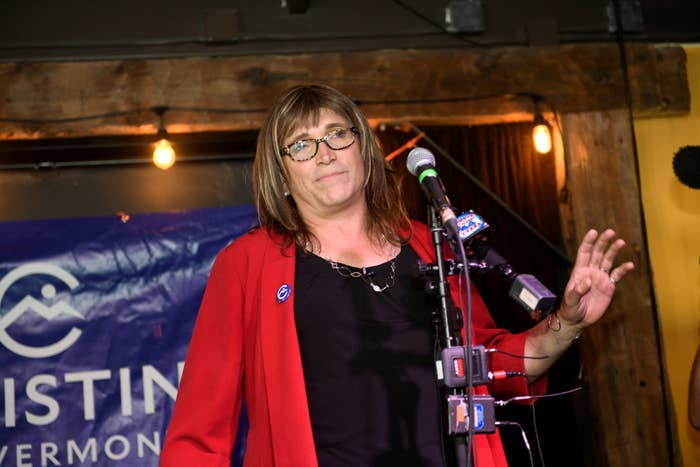 Christine Hallquist made history Tuesday night by becoming the first openly transgender candidate to clinch the nomination for governor in US history.

The Democratic nominee for governor of Vermont beat out three other Democrats — including a 14-year-old-boy — in the primary and will face Republican incumbent Phil Scott in November.
Hallquist, a former energy company executive, celebrated her historic win in Burlington, telling her supporters, "I'm so proud to be the face of the Democrats tonight."
Hallquist's nomination came on a night of many "firsts," including Ilhan Omar's primary win for US Rep. Keith Ellison's vacated House seat in Minnesota, likely making her one of the first Muslim women to be elected to Congress. In Connecticut, Jahana Hayes' primary win could make her the state's first black Democrat in Congress.
Hallquist previously told reporters that her decision to run for office was a result of the 2016 presidential election as well as president Donald Trump's anti-transgender policies, including his attempt to ban trans people from the military.

"This isn't something I was thinking about doing," Hallquist said. "I say, in the physics world, for every action, there's an opposite and equal reaction. This is a reaction to 2016."
Hallquist, 62, ran on a platform supporting issues such as a $15 minimum wage, Medicare for All, and free higher education.
She joins the diverse group of candidates running in this year's midterm elections.
About 400 LGBT candidates are running for state or federal office in this election cycle, according to the Victory Fund. Currently, 13 openly trans people are serving in elected office in the United States.

"Many thought it unthinkable a viable trans gubernatorial candidate like Christine would emerge so soon," President and CEO of LGBT Victory Fund, Mayor Annise Parker, said in a statement. "Yet Vermont voters chose Christine not because of her gender identity, but because she is an open and authentic candidate with a long history of service to the state, and who speaks to the issues most important to voters."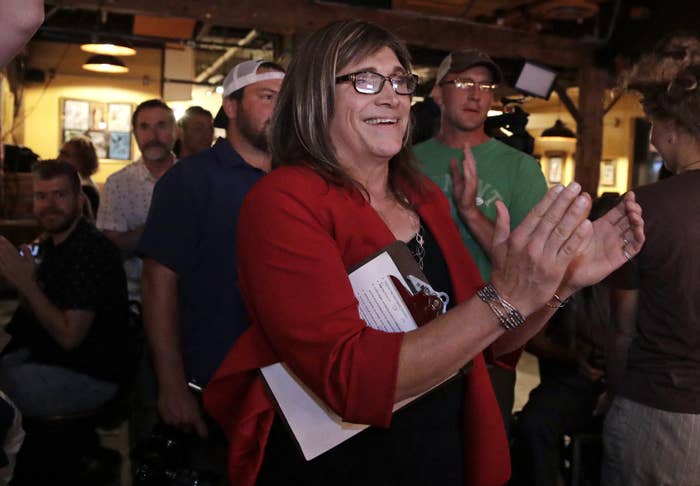 Hallquist grew up in upstate New York and always felt like she was a girl, she told Seven Days, an alt-weekly news outlet in Vermont. Her career in engineering took her to Vermont in 1976, and in 1998 she joined Vermont Electric Cooperative. In 2005 she was named the CEO of the company.

While Hallquist came out as a woman to her wife Pat early in their marriage, she did not begin identifying as a woman publicly until 2015, according to the Washington Post.
In June, Hallquist told CNN that the public's response to her transition gave her confidence to run for office.
"I was sure I was going to lose my job. I was sure I was going to lose respect. But that didn't happen," Hallquist said. "So this describes the beauty of Vermont. Now I'm at this point where I can't do enough to give back to Vermont."
A score of public officials congratulated Hallquist on Twitter, including Bernie Sanders, who is also from Vermont.