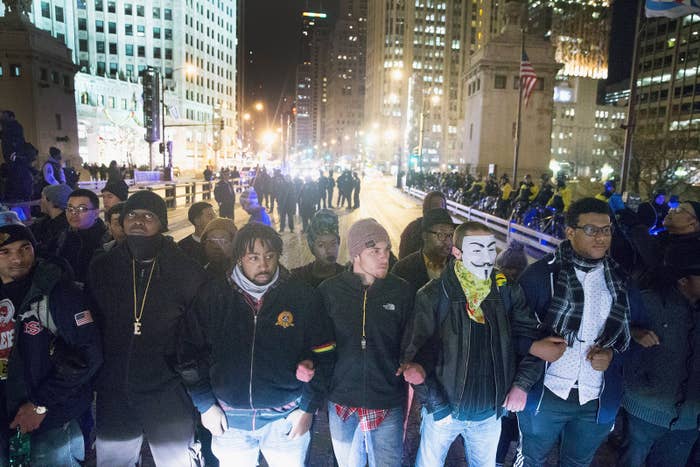 CHICAGO — The city's high-end shopping hub along Michigan Avenue was bustling the day before Thanksgiving. Holiday lights adorned storefronts, shoppers clutched bags from Nordstrom and the Apple store — and a group of young demonstrators carried "Justice for Laquan" posters and chanted "16 shots!"
The demonstrators were referring to the number of bullets police Officer Jason Van Dyke fired into Laquan McDonald in less than 15 seconds. The shooting happened in October 2014, but demonstrations erupted this week when Chicago law enforcement authorities — which have a long history of police brutality against black residents — charged Van Dyke with murder and released video footage showing the officer firing upon the 17-year-old while he was on the ground.
Lajairick Ray came out for the second day of protests while the sun was still up — and marched on Michigan Avenue all night with about 150 others. He and several others said they were denouncing the racial and financial divide that exists in Chicago.
Known as the Magnificent Mile – or Mag Mile — it features stores like Saks Fifth Avenue, Gucci, Louis Vuitton, and Chanel. High-rise apartments line Lake Shore Drive and overlook Lake Michigan. According to the Chicago Tribune, rent on Mag Mile is the third most expensive in the country, following Rodeo Drive in Beverly Hills and New York City's Fifth Avenue.
Along the mile, onlookers from bars and restaurants frequently pulled out their phones and filmed the demonstration. Few people interacted with the protesters — they instead stood back on the sidewalk and observed.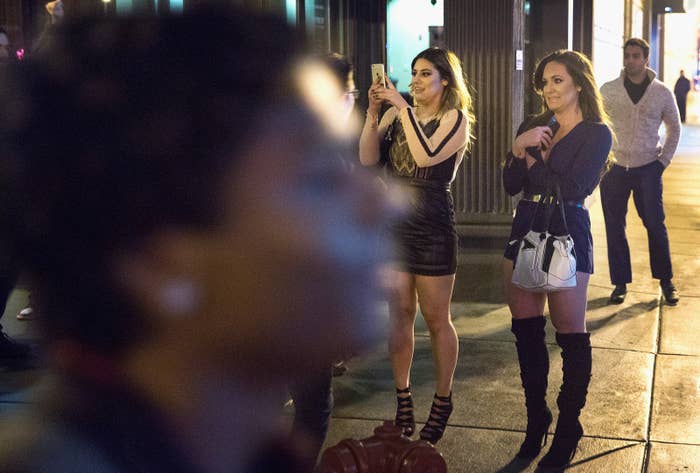 Ray told BuzzFeed News he grew up in the south side of Chicago and now lives on the east. When asked if he comes to the Mag Mile often, he chuckled, shook his head and said "absolutely not."
Wearing a Looney Tunes jacket and short dreads, he described how the downtown area the protesters were trying to disrupt Wednesday is mainly for "rich people – people with money" who do not feel the same pressures from police as black people do in Chicago.
"I grew up poor my whole life," he said. Usually, he said, "I have no business here."
On Friday — Black Friday — protesters are planning to shut down Michigan Avenue on one of the year's busiest shopping days. There seems to be several protests in the works, and members of the Stop Mass Incarceration Network of Chicago passed out flyers Wednesday night calling for a gathering at 11 a.m. on Michigan Avenue.
"It's not a race thing. It's not a black or white thing," Ray said. "It's about class."
Kyle Rutledge echoed Ray's sentiment, saying he routinely gets pulled over in his car and searched by police when he drives through Chicago.
"We're routinely stopped," Rutledge told BuzzFeed News. "We're not thugs, [we have] no criminal record, but it still happens."
A number of demonstrators also told BuzzFeed News they they were not just protesting because of the video, but because it's time for the Chicago Police Department to change its methods.
"Our message gets ignored," Ray said. "No one was listening to us yesterday. They're not listening today."
"We're here to push against the hypocrisy of someone being arrested within 24 hours — but it took more than 400 days to arrest [Van Dyke], even when they had the video," said Melissa Duprey, referencing the Tuesday night arrest of Malcolm London – a well-known activist. A judge dismissed London's charges of aggravated battery on a police officer on Wednesday, to cheers from his supporters in the courtroom.
London's arrest, when held against the days it took to arrest the officer, "isn't very surprising of Chicago," Duprey said.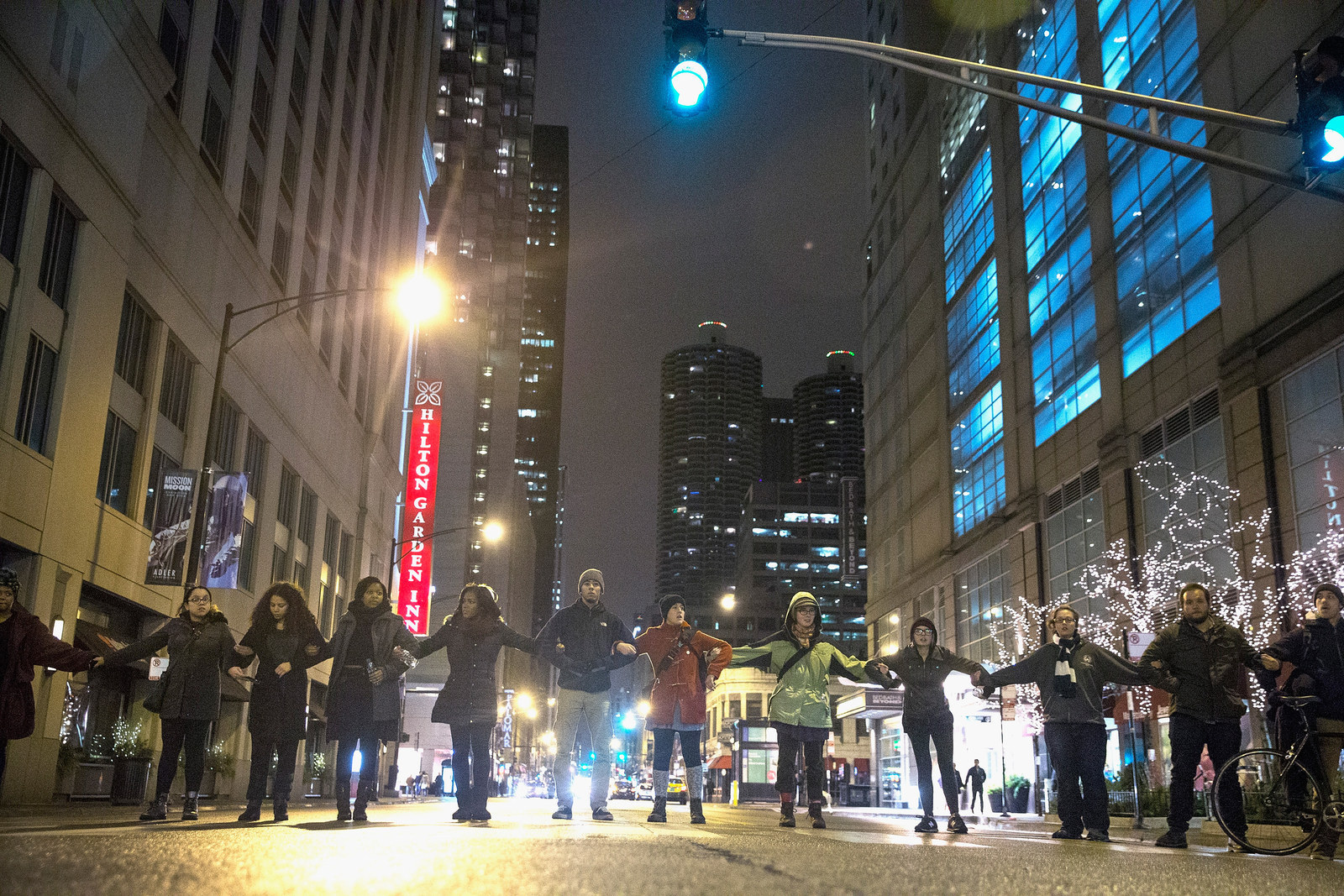 Throughout the night the crowd chanted the names of other people who died in police interactions across the country – Eric Garner, Tamir Rice, Rekia Boyd. During the chants, cars on the street honked their horns in support with many drivers rolling down their windows to fist-pump the protesters.
"I grew up here," said Rachel Williams. "This is what cops know. It's all they know – there's a system in place that allows for violence to happen."
Williams, a member of organizing group BYP100, said the police department instigated the tense environment by reportedly ordering officers who usually wear plainclothes to be in uniform until November 29.
"They're telling us they're preparing for war," Williams said. "We wanted CPD to stay home, so we can have a peaceful, non-violent demonstration."
Ahmed Hamad, who has lived in the area for five years, said that while he knew police brutality is a long-standing issue in Chicago, he was appalled at seeing it in such vivid, graphic detail when the video was released Tuesday.
"To say it's not shocking means I'm not human," Hamad told BuzzFeed News. "The image of a teen getting shot 16 times is disgusting. How does that make you fee as a human being?"
Throughout the night, the protesters mostly remained peaceful and the police presence was heavy. In all, 4 people were arrested — two for resisting an officer, one for damage of public property and one for battery.
When protesters staged a sit-in outside the Trump International Hotel and Tower, police officers on bicycles formed a barricade in front of the building's entrance. Some protesters confronted officers, asking if they knew Van Dyke and if they were friends with him.

"We can't allow the murder of Laquan McDonald, or anyone else, be ignored," Christian Branch told BuzzFeed News. "Not even on Thanksgiving."
When protesters reached Millennium Park, some hopped over barriers set for Thursday's thanksgiving parade and at one point a group began tearing the lights off the city's Christmas tree — lit in a ceremony not long after Mayor Rahm Emanuel appeared with police officials to discuss and release the video.
While tugging at the lights, some protesters yelled that Chicago police officers cared more about protecting public property – like the tree – on the "nice" part of town than protecting black lives.
Some shouted, "You protect this, but you don't protect us."