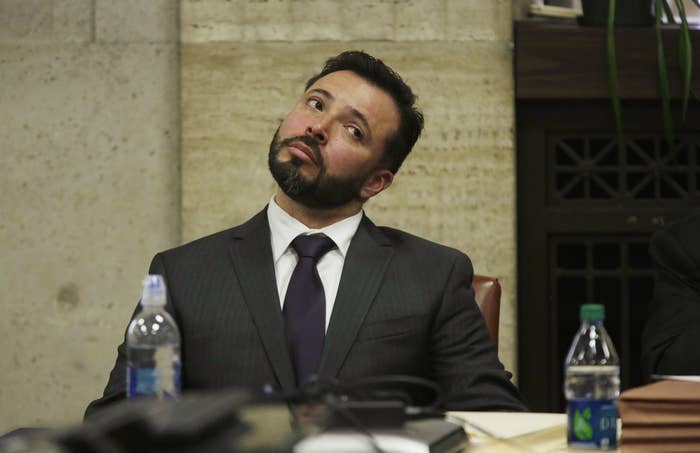 A Cook County judge on Monday unexpectedly dismissed involuntary manslaughter charges against a Chicago cop, the city's first police officer to go on trial in nearly 20 years, according to the Chicago Tribune.
Before announcing his decision, Judge Dennis Porter warned the courtroom that what he was about to say might upset anyone prone to emotional outburst. "It might be a good time to leave right now," he said, according to the Chicago Sun Times.
He then dismissed all charges against Chicago police officer Dante Servin in the 2012 fatal shooting of 22-year-old Rekia Boyd.
"You want me to be quiet? This motherfucker killed my sister," Boyd's brother, Martinez Sutton burst out in the courtroom, according to the Chicago Sun Times.
Prosecutors had to prove Servin acted recklessly — but the judge ruled that any time an individual points a gun at a victim and shoots, it is an intentional act, not a reckless act.
Servin cannot be retried on murder charges because of constitutional double jeopardy protection.
Servin fatally shot Boyd and injured her friend Antonio Cross after a confrontation about a loud gathering outside his house near Douglas Park in March 2012. Servin was off duty at the time.
Following the shooting, Servin said he shot his gun because he believed Cross had a gun on him. Cross said he was unarmed and only carrying a cellphone.
"I always maintained it was an accident what occurred to Miss Boyd," he said, adding that the incident is something that will stay with him for the rest of his life.
"Any reasonable person, any police officer especially would have reacted in the exact same manner that I reacted, and I'm glad to be alive," he said. "I saved my life that night. I'm glad that I'm not a police death statistic."
In the video, Boyd's supporters can be heard yelling "murderer" and "son of a bitch" toward Servin while he exited the courthouse.
Boyd's brother, Sutton, was also outside the courthouse expressing his anger.
"I thought maybe the judge would grow a heart, but just like the Tin Man, he never had one," he said. "But it ain't over. We all know it's murder."
Alvarez also came under fire in 2013 over her decision to not file criminal charges against a police officer in the shooting death of Flint Farmer in 2011. The same officer shot two people and killed one of them in an unrelated shooting six months earlier, according to DNAinfo.
Following Servin's acquittal, Alvarez issued a statement.
"I believe that my office had provided sufficient evidence before the court to not only demonstrate, but also to prove, that Officer Servin's conduct was clearly reckless in the senseless fatal shooting of Rekia Boyd," she said according to the statement. "Justice was denied today for Rekia Boyd and her family, and I extend my deepest sympathies as they struggle to come to terms with this unexpected decision."
Servin remains on administrative duty pending the outcome of the Independent Police Review Authority investigation, according to the Sun Times.