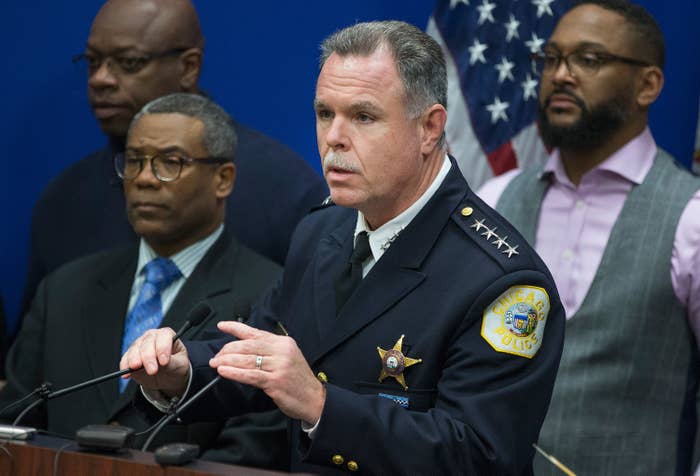 Following a week of criticism about how the city of Chicago handled the release of a dashboard camera video showing a white police officer fatally shooting 17-year-old Laquan McDonald 16 times, Mayor Rahm Emanuel announced police superintendent Garry McCarthy has resigned. He also announced a new "police accountability task force."

Emanuel noted the results of McCarthy's work as superintendent, but added that he has become "a distraction."
"At this point, in this juncture for the city, [McCarthy] has become an issue, rather than dealing with the issue," Emanuel said in a Tuesday press conference.

Hours after McCarthy's resignation was announced, the Illinois Attorney General announced she is asking federal officials to step in and investigate the Chicago Police Department.
In a letter to U.S. Attorney General Loretta Lynch, Illinois Attorney General Lisa Madigan asked federal officials to investigate the shooting of Laquan McDonald and, "wether there exists a pattern or practice of discriminatory policing."
"Trust in the Chicago Police Department is broken," Madigan said in a written statement. "Chicago cannot move ahead and rebuild trust between the police and the community without an outside, independent investigation into its police department to improve policing practices."
Emanuel said the public's trust in the police has been "shaken and eroded," and Tuesday morning asked McCarthy to resign, adding that rebuilding trust is "a work in progress."
"Now is the time for fresh eyes and new leadership to confront challenges," Emanuel said. "This is not the end of the problem but it is the beginning of the solution to the problem.
McCarthy has been superintendent of the Chicago police department since May 2011. He previously spent three decades as a police officer in New York City and also served as chief of the Newark Police Department in New Jersey. In the past four and a half years, McCarthy has faced criticism following a number of high-profile murders, including the shooting deaths of young children, according to the Chicago Tribune. During this tenure as superintendent, the city has seen a big spike in homicides.
McCarthy's deputy, John Escalante, will serve as police commissioner until a new superintendent is appointed, Emanuel said.

The Task Force on Police Accountability will "recommend reforms to the current system to improve independent oversight of police misconduct, ensure officers with repeated complaints are identified and evaluated appropriately, and establish best practice for release of videos of police-involved incidents."
Last week, following a judge's order Chicago officials released a graphic video of Officer Jason Van Dyke fatally shooting McDonald in October 2014. Van Dyke was charged with first-degree murder last Tuesday, and was released on $1.5 million bond on Monday.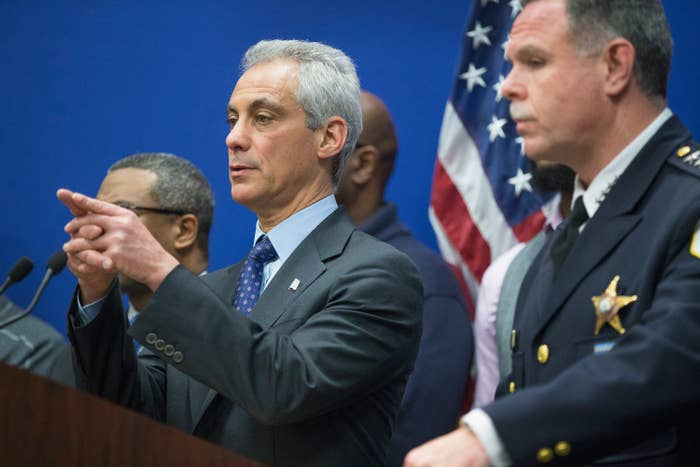 Multiple demonstrations have erupted in the streets of downtown Chicago since the video's release, with protesters criticizing city officials for taking 13 months to make the video public. Emanuel has argued that he did not release the recording because he did not want to interfere with the investigation.
Protesters accused Emanuel of a cover up due to the lack of audio from the police video and an 86-minute gap from surveillance video taken at a nearby Burger King.

The mayor said that the Department of Justice is investigating what happened with Burger King's surveillance footage.
On Black Friday, hundreds of protesters marched down Michigan Avenue's Magnificent Mile, blocking storefronts and refusing to allow shoppers to enter the stores.
A number of protesters called for Emanuel, McCarthy, and State's Attorney Anita Alvarez to resign.
"The shooting of Laquan McDonald requires more than just words," Emanuel said in a statement. "It requires that we act; that we take more concrete steps to prevent such abuses in the future, secure the safety and the rights of all Chicagoans, and build stronger bonds of trust between our police and the communities they're sworn to serve."
At Tuesday's press conference, Emanuel said he takes responsibility for what happened, but dodged questions regarding his own resignation.
Emanuel's task force, which will include victims' rights representatives, law enforcement organizations, and youth leaders. Former Massachusetts governor and Chicago native Deval Patrick will serve as a senior adviser. The task force will have four months to make recommendations for changes in the police department.