Thousands of people have taken to the streets in parades worldwide to celebrate LGBT pride.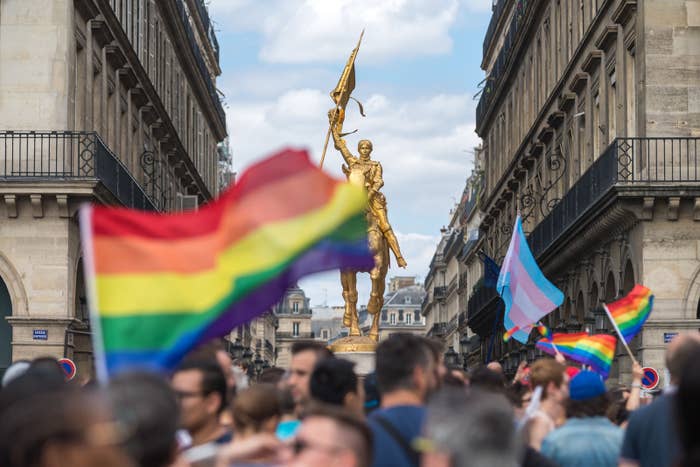 In New York City, more than 40,000 people are expected to march in over 80 floats in the city's 48th annual parade — including Chelsea Manning, who is celebrating her first pride as a free woman.
The American Civil Liberties Union tweeted a photo of Manning standing on a float adorned with a rainbow-colored heart saying "Happy first Pride march, Chelsea Manning!"
Manning later replied to BuzzFeed's Twitter account clarifying that it was not her first pride parade, just her first since her release from prison.
She also posted a photo from the parade, saying she was honored to represent the ACLU at this year's parade.
Gavin Grimm, a transgender teenager from Virginia who sued his local school board for the right to use the boys restroom, rode in the parade next to Manning.
Manning, the Army intelligence officer who leaked more than 700,000 military intelligence reports and documents to WikiLeaks, was released from military prison last month after serving seven years of a 35-year sentence. While in prison, Manning came out as transgender and changed her name to Chelsea. Her sentence was commuted by then-president Barack Obama in January 2017.

Last month, Manning shared this first photo of herself following her release.

People responded to the ACLU's tweet with words of encouragement for Manning.
The ACLU did not immediately respond to BuzzFeed News' request for additional comment.

CORRECTION
Manning's sentence was commuted in January 2017. Also, this was actually Chelsea Manning's first NYC pride parade since being released from prison. An earlier version of this article stated that it was her first pride event.