Obama "Deeply Disturbed" By Video Of Chicago Teen Shooting
The president spoke out after Chicago police released video showing the 2014 police shooting of 17-year-old Laquan McDonald. BuzzFeed News' Mary Ann Georgantopoulos reports from Chicago.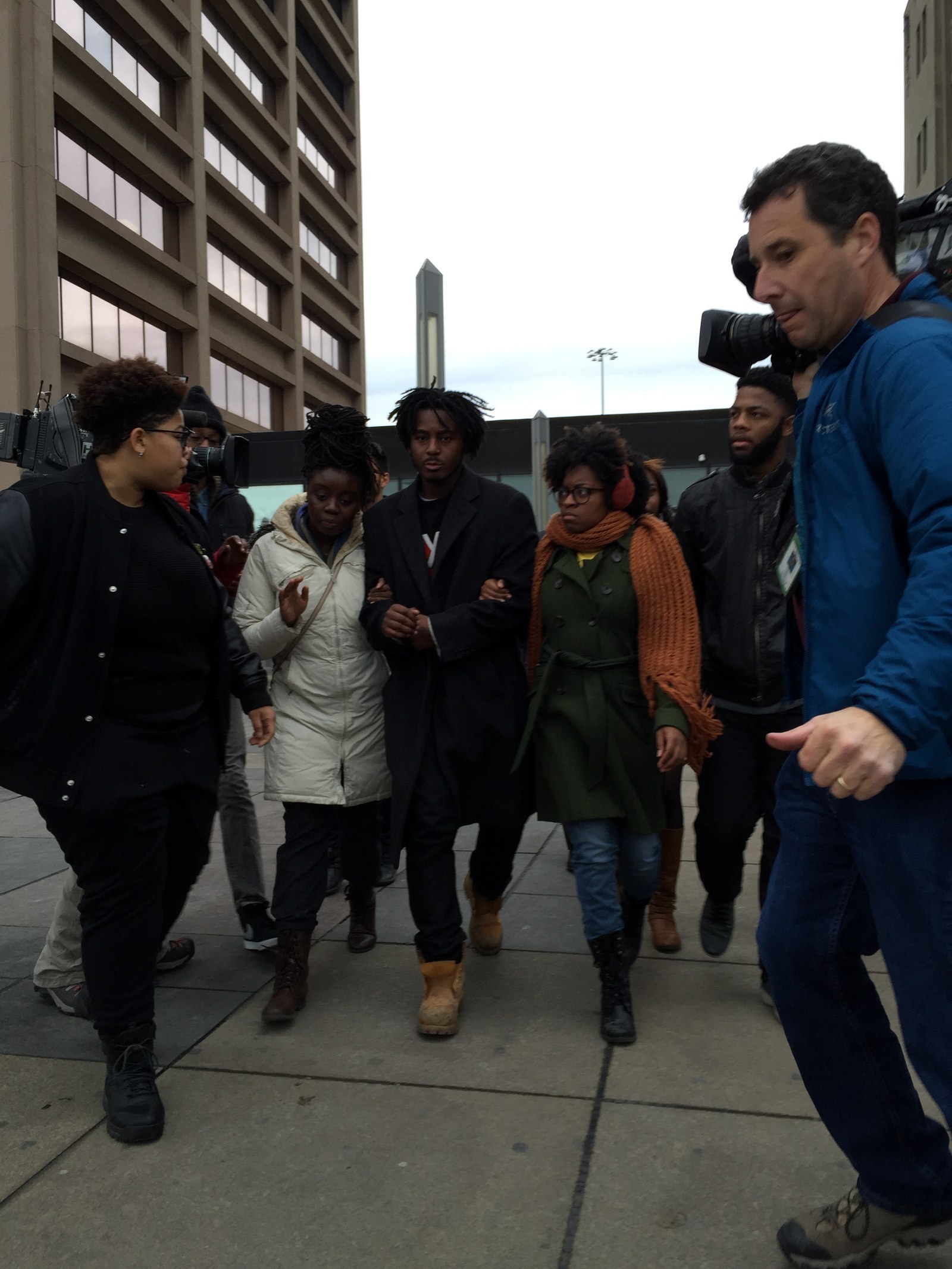 President Obama said Wednesday that he was "deeply disturbed" by police video released Tuesday showing the 2014 police shooting of Chicago teenager Laquan McDonald.
In a post on Facebook, the president asked "everybody to keep those who've suffered tragic loss in our thoughts and prayers, and to be thankful for the overwhelming majority of men and women in uniform who protect our communities with honor."
Obama added he is personally grateful that protests in his hometown have remained peaceful.
The comments came the same day a bond court judge dismissed all charges against a popular protest organizer who was accused of hitting a Chicago police officer during protests over the video release.
Malcolm London's arrest on Tuesday night prompted a demonstration Wednesday afternoon to advocate for his release.
Outside the court house, London told reporters, "I'm happy to be with my people."
The crowd that had initially gathered to demonstrate immediate broke into celebration after hearing the news, some chanting lyrics from Kendrick Lamar's "Alright."
A police report said that London punched a Chicago officer with his left fist. The punch allegedly struck the officer in the face, causing bruising around his eye, the report said. The officer was not hospitalized, and was treated and released.
According to those who knew and worked with him, London was a leading voice among the youth movement for police reform in Chicago.
"Students look up to him. He helped me believe in my voice," former classmate Nidalis Burgos told BuzzFeed News.
"He's family," said Rousemary Vega, one of the supporters who showed up at 9 am. "We're both very active in the education movement and have a lot of respect for each other."
The hearing started at 1:30 p.m. The courthouse was packed — the line to get in wrapped around the courtroom door, and not a single empty seat was available.
London stood before the judge for less than a minute before the charge of aggravated battery was dismissed.
"This didn't start last night" one supporter told BuzzFeed news. "We were not done last night, we won't be done tomorrow, not even next week."
Eyewitness accounts from people near the young activist at the time of the incident suggest he may have been targeted.

A Facebook user named Bee Kapri posted a video Wednesday detailing her view of the incident between London and police officers.
A spokesperson for the Chicago Police Department told BuzzFeed News that four officers had been injured during the protests Tuesday night, but did not immediately confirm a connection between any of the injured officers and London.

The other person who was charged with a felony Tuesday night, Dean Vanriper, was recommended to be released with electric monitoring.