Prosecutor Wants No Jail Time For NYPD Officer Convicted Of Manslaughter
Peter Liang was convicted of manslaughter in the fatal shooting of Akai Gurley.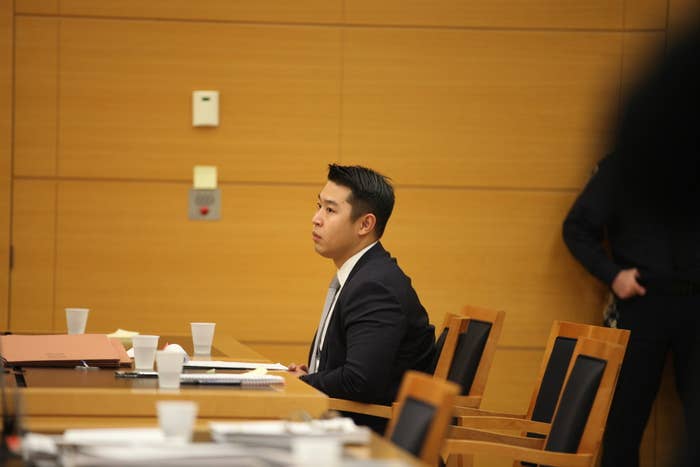 Brooklyn District Attorney Ken Thompson recommended former NYPD officer Peter Liang be sentenced to five years probation and avoid jail time in the fatal shooting of Akai Gurley.
Liang, 28, was convicted of manslaughter in the death of Gurley, an unarmed black man, last month. Liang fired his service weapon while he was on the eighth floor stair landing of the Pink Houses in Brooklyn. The bullet hit a wall, ricocheted, and fatally struck Gurley, who was standing on the seventh floor landing.
Throughout the trial, lawyers for Liang argued their client's gun accidentally went off when he was startled by a noise coming from a darkened stairwell.
"Peter Liang was indicted, prosecuted and subsequently convicted by a jury because his reckless actions caused an innocent man to lose his life," Thompson said in a statement. "There is no evidence, however, that he intended to kill or injure Akai Gurley. When Mr. Liang went into that building that night, he did so as part of his job and to keep the people of Brooklyn and our city safe."
Thompson said justice will be served if Liang is sentenced to five years probation, with the condition that he serves six months of home confinement with electric monitoring. He also recommended 500 hours of community service.
Gurley's family said in a statement that they were "outraged" by the recommendation, which they called a betrayal.
"This sentencing recommendation sends the message that police officers who kill people should not face serious consequences," Gurley's family said in a statement. "It is this on-going pattern of a severe lack of accountability for officers that unjustly kill and brutalize New Yorkers that allows the violence to continue."
Thompson gave his sentencing recommendation to Justice Danny Chun, adding that Liang does not pose a threat to public safety as he has no prior criminal history.
Liang will be sentenced at Brooklyn Supreme Court on April 14.
Read the sentencing letter:
Download PDF