Breaking NYPD Rules Shouldn't Lead To An Arrest, Lawyers For Officer Charged With Fatal Shooting Argue
The statement came on the third day of trial of Peter Liang, charged with fatally shooting Akai Gurley.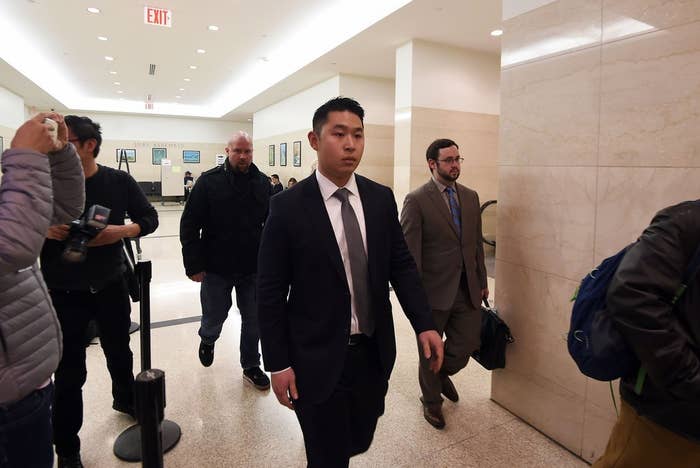 Lawyers for the NYPD officer accused of fatally shooting Akai Gurley argued Thursday that breaking a rule in the official Patrol Guide doesn't warrant criminal charges.
Prosecutors contend that rookie officer Peter Liang, 28 — charged with fatally shooting Gurley in November 2014 when a bullet from his service weapon ricocheted off a wall in a housing project stairwell — failed to report the crime quickly and didn't render medical aid.
Detective Nathan Garcia — part of the NYPD's Curriculum and Evaluation Unit, which maintains and updates the police academy syllabus — testified Thursday that Liang, who graduated from the Police Academy in 2013, received all appropriate training while he was a recruit.
Garcia also testified that the patrol guide from 2013 stated that all officers must immediately report an "unusual crime" to their supervisor and that they should render "all necessary police service" – including medical aid.
Liang, 28, is charged with manslaughter, criminally negligent homicide, assault, reckless endangerment, and two counts of official misconduct in the death of Gurley, an unarmed black man, in Brooklyn's Pink Houses.
Liang and his partner, Shaun Landau, were conducting a vertical patrol – where officers climb to the highest floor of the housing building and walk down the stairs, checking each floor — before the shooting. Liang claims he accidentally fired his gun while surveying the dimly-lit stairwell on the building's top floor, hitting Gurley who was on a lower level stairwell landing. Prosecutors claim Liang should never have had his gun out during the vertical patrol.
Despite having received the necessary training at the police academy, Liang's lawyer, Robert Brown, argued that police officers are bound by the patrol guide because policy and procedures change. He also argued that breaking a patrol guide rule should not necessarily lead to an arrest.
For example, a police officer who graduated from the academy in the '80s can no longer use a chokehold once the rule changed, Brown said, seemingly referencing the 2014 police chokehold death of Eric Garner. No police officer was charged charged in that incident.
Liang and his partner, Shaun Landau, talked for several minutes after the shooting before calling for help and neither officer administered first aid or CPR, prosecutors claim.
Brown used Landau as an example to once again stress that not following that rules does not always lead to an arrest.
"These are rules that Landau was bound to also," Robert asked Garcia, who responded, "yes."
Breaking a rule in the police guide "doesn't mean an officer is arrested," Brown followed-up.
"Correct."
Landau has not been charged in this case. He traded his testimony for immunity.
Earlier Thursday morning, Detective Mark Ascevedo, an expert in firearms analysis including trigger pull – the force required to discharge a weapon – raised questions about the defense's claim that Liang's gun went off accidentally while testifying for the prosecution.
When asked how a police-issued Glock differs from a normal one, Ascevedo said, "it requires more force to discharge."
"Will it fire if you simply place your finger on it?" assistant district attorney Joe Alexis asked.
"No," Ascevedo said.
Through a test, which included placing weight on a rod hanging from the center-most point of the gun's trigger, Ascevedo determined Liang's gun required 11.5 pounds to fire.
Police guns, Ascevedo said, require 10 to 12 pounds to discharge.
He testified that Glock, the manufacture of the guns NYPD officers use, normally require 5.5 pounds to fire.
Brown, Liang's attorney, questioned Ascevedo about the NYPD website, which states police gun triggers require 12 pounds of pressure.
"You know of no place where the 10 to 12 pound range requirement is in writing?" Brown asked Ascevedo, who could not say where that range is written.
Ascevedo testified that despite police officers brining their guns to a range to have them examined for safety issues, a gun's pull trigger is only inspected if the officer is involved in a shooting.
The last witness to testify on Thursday was Detective Michael Interdonati, who canvassed the apartments in the Pink Houses following the shooting.
Interdonati took down hand-written notes — which he later typed — during his interviews with residents, including Miguel Rivera, who testified on Tuesday. Interdonati said he ripped the pages out of his notebook and gave them to his now-retired supervisor, but those notes are now lost and even after an extensive search, cannot be found.