Both Girls Accused Of "Slender Man" Stabbing Plead Not Guilty
The girls, who were 12 when they allegedly stabbed their friend 19 times, will be tried as adults.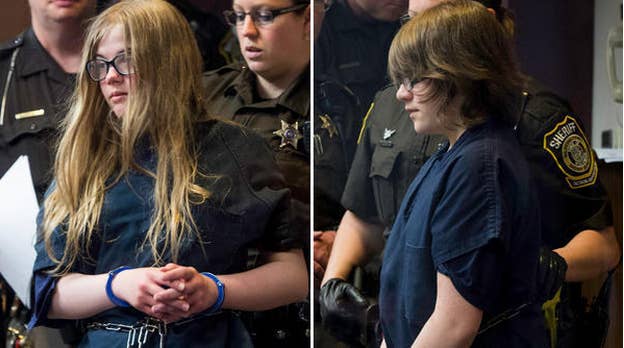 Morgan Geyser and Anissa Weier, who were both 12 years old when they allegedly stabbed their friend in May 2014 in Wisconsin as a way to impress the internet meme Slender Man, plead not guilty to attempted homicide, according to the Associated Press. They will face trial as adults.
Waukesha County Circuit Judge Michael Bohren ruled in March that there was enough evidence for both girls to stand trial in adult court — but their attorneys requested a hearing to move the case back to juvenile court. On August 10, Judge Bohren upheld his initial decision, according to reporters from WISN12 in the courtroom.
"This was an effort to kill someone, not a mistake by hitting someone too hard," Bohren said during Monday's hearing, according to WISN12. The defendants are scheduled to enter a plea next week.
The girls are charged with attempted first-degree homicide. If convicted as adults, they could each spend up to 65 years in prison. If they were convicted as juveniles they would have faced five years in prison and all records of the proceedings would be sealed.
Geyser and Weier are accused of stabbing Peyton Leutner 19 times to appease fictional Slender Man. Both girls were 12 years old at the time of the attack, and according to Wisconsin law, were automatically placed in adult court.
Prosecutors argued that the girls tricked Leutner into entering the woods with them, where they then stabbed her. Leutner survived the attack.
The girls later told police they planned the attack for months and they were trying to become "proxies" of Slender Man, who is often depicted as a tall, faceless, black-and-white figure who stalks children.
Defense lawyers argued the girls are mentally ill and would receive better treatment in the juvenile system, according to the Associated Press.