Boat Driver Forced To Kneel Next To The Bodies Of Dead Refugee Children
The boat Ak Oscart was allegedly driving capsized on its way to Greece Thursday night. WARNING: The video in this post may be distressing to some readers.
A video released by Sky News on Monday showed a Turkish boat driver — allegedly transporting refugees — kneeling next to the bodies of three children who died when his vessel capsized on its way to Greece.
Ak Oskart is in custody on the Greek island of Samos and faces charges of manslaughter, smuggling refugees, and causing a shipwreck, according to Sky News.
The boat, carrying 12 men, five women, and six children, capsized Thursday on its way from Turkey to Greece, killing three children.
Greek police officials who arrested Oskart had him kneel next to the bodybags of the three children that died and ordered him to "look." The three children were under the age of 5.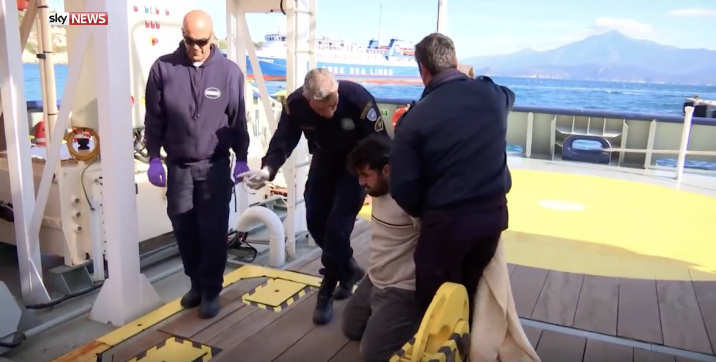 Oskart broke down crying after a man identified one of the dead bodies as his 2-year-old son, according to Sky News.
Oskart told authorities he was traveling to Greece to find work and that four people in Turkey made him drive the boat. Oskart reportedly told police he had never driven a boat before.
The mayor of Agathonisi, Evagelos Kottoros, confirmed to Skai News in Greece that a boat carrying 23 people capsized just after midnight, killing three children. The remaining 20 people are safe on the island of Samos.
He also said the driver of the boat is in police custody.
The charity MOAS said it was able to rescue 20 people from the boat.